Dec 7, 2010 — by LinuxDevices Staff — from the LinuxDevices Archive — 2 views
Google's Android creator Andy Rubin has shown off a prototype of an upcoming Motorola tablet running Android 3.0 ("Honeycomb") and a new 3D version of Google Maps on a dual-core Nvidia processor. Meanwhile, Motorola has confirmed that it is working on both a seven- and 10-inch Android tablet for release in the first half of 2011.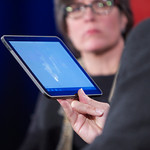 Motorola is launching an Android tablet based on Google's next-generation Android 3.0 operating system, code-named "Honeycomb," which will be optimized for tablets. Google Android creator Andy Rubin demonstrated the device Dec. 6 on stage at All Things Digital's D: Dive Into Mobile show in San Francisco.
Pictured above right with All Things Digital's Kara Swisher, the tablet was shown to run an early version of Android 3.0.
When asked to respond to the unveiling, a Motorola spokesperson told our sister publication eWEEK, "we are working on both a seven- and 10-inch Android tablet and intend to introduce a tablet in the first half of 2011. We want to make sure that any tablet we deliver is compelling and competitive in the marketplace, and we will only deliver a tablet when that occurs."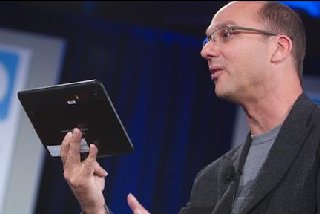 Google's Andy Rubin with Motorola tablet prototype
Source: All Things Digital
The thin, light-looking machine appeared to be closer to the 9.7-inch screen size of Apple's iPad than the seven-inch display of Samsung's Galaxy Tab, though no such dimensions were confirmed.
Rubin did confirm that the tablet (first rumored in July, then in August, and again in September) features a "dual-core Nvidia 3D processor." This is presumably a version of Nvidia's dual-core, 1GHz Tegra.
Earlier yesterday, Rubin and his team introduced Android 2.3, the "Gingerbread" build, which is slated to appear first on the Samsung Nexus S Dec. 16 from T-Mobile and Best Buy. The demo would appear to confirm the previous speculations that next generation Android 3.0 will support the higher screen resolutions and larger screen sizes of tablets beyond the current six-inch limit for optimized screen resolutions.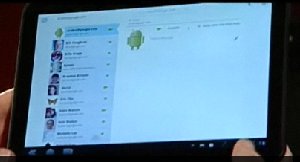 Tablet prototype showing Google Talk video chat running on Android 3.0


Source: All Things Digital
In the demo, Rubin called up the tablet screen quickly using virtual icons on the screen — there are no hard, physical buttons on the device. He then briefly displayed Google Talk video chat icons (above) in an early version of Android 3.0 before launching the next version of Google Maps for Android (see video farther below).
New Google Maps showcased
Slated to launch on Android handsets within days, the new Google Maps app leverages the tablet's 3D graphics processor to show buildings and their shadows as the user zooms to ground level. Rubin used two fingers to tilt the 3D map of San Francisco on the screen and rotate the view.
"These guys really know 3D and have been great to work with," Rubin said of Nvidia.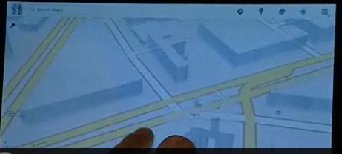 New 3D version of Google Maps for Android running on tablet prototype


Source: All Things Digital
The new Google Maps for Android app (pictured above), Rubin explained, employs vectors instead of pre-rendered tiles to dynamically render content. Previous iterations of the app feature preset tiles, which created latency when users navigated around the app.
With the new Maps, content will be drawn in real time on smartphones and, eventually, tablets. Users will be able to download their entire route in a few short seconds. Rubin said the app will be available on platforms such as Apple's iOS in the future.
Rubin also showed off Gmail on the Motorola tablet. This app resembled the Gmail for iPad app, with messages in the left pane and e-mail content on the right. Rubin confirmed the Motorola tablet, the first for the company, wasn't "due out for awhile now."
If the Motorola tablet does appear in the first half of 2011 as Motorola says, it will launch over a year after Apple blew open the gates to the tablet kingdom with its iPad. Samsung followed the iPad with its Galaxy Tab.
While hardly the first Android tablet in a sea of machines from Archos, ViewSonic and others, the Tab is the first significant Android tablet. The machine, which Samsung made available from all four major U.S. carriers, has sold more than one million units to date, buoyed by strong U.S. Black Friday sales.
Motorola, which just saw its Android handset lead eclipsed by Samsung in the U.S., according to ComScore, will have its work cut out for it trying to catch up.
Google's Andy Rubin showing off Motorola tablet prototype, Android 3.0, and a new 3D version of Google Maps


Source: All Things Digital
(Click to play)
Availability
The All Things Digital live blog of Andy Rubin's appearance at the D: Dive Into Mobile event, including an interview touching on Android, Chrome OS, Apple, and more, may be found here.
Clint Boulton is a writer for eWEEK.
---
This article was originally published on LinuxDevices.com and has been donated to the open source community by QuinStreet Inc. Please visit LinuxToday.com for up-to-date news and articles about Linux and open source.