Jul 27, 2010 — by Eric Brown — from the LinuxDevices Archive — 1 views
Kmart has begun touting a seven-inch "Gentouch78" Android 2.1 tablet for $150, as well as a Linux-based seven-inch color e-reader called "TheBook eReader," both from Augen. Meanwhile, TheStreet quotes analyst Ashok Kumar as saying Motorola will release a 10-inch tablet this November running Android 3.0.
Augen's Gentouch78 may not be able to compete on price with India's upcoming $35 tablet, but it's about as low as it goes so far in the fledgling Android tablet market.
Yes, the Android tablets are finally arriving, with new models set to go on sale in the coming weeks, including the e-reader focused, $200 Cruz Reader from Velocity Micro. Meanwhile, a version of the seven-inch, Android-ready Eken M001 was seen selling in China in April for as little as $143.
Smaller consumer electronics firms like Hollywood, Florida-based Augen, are clearly hoping to gain some momentum before heavy-hitters like Acer, Lenovo, Sharp, Toshiba, Samsung, and others enter the market in the fall. Motorola may well join them with an Android tablet, if TheStreet is to be believed (see farther below).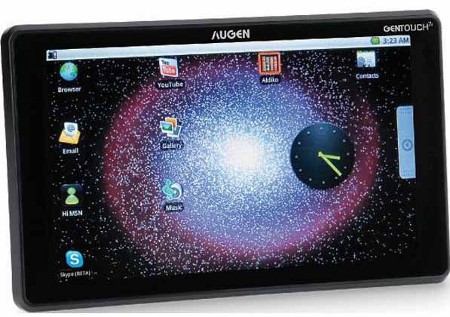 Augen Gentouch78
(Click to enlarge)
Augen's Gentouch78 (above) appeared this week on Kmart's website, which claims the device is being offered for $150 ("save $20") through the end of the month. Engadget, however, says it has not been able to find a store that has the device on its shelves, although an Augen rep was said to have told them that stores would be stocked later in the week.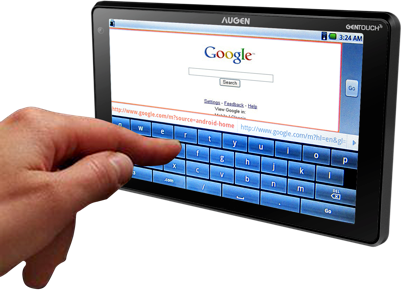 Gentouch78 showing Android 2.1's virtual keyboard
According to Augen, the Gentouch78 runs Android 2.1 on an unnamed 800MHz processor capable of playing 720p video. The tablet is said to be loaded with 256MB of DDR2 RAM and 2GB of internal flash, as well as an SD/MMC card slot for up to 16GB of storage.
The Gentouch78 is further equipped with a seven-inch, 800 x 480 color touchscreen, and offers Wi-Fi, a USB port, a Lithium battery, and an optional leather carrying case, says Augen.
The Gentouch78 supports MP3, WMA, FLAC, and AAC media formats, as well as JPEG and BMP image formats, says the company. E-reader support is said to be offered for PDF, ePUB, and HTML formats. The tablet is also touted for its Android Market support.
Augen TheBook eReader
Kmart also offers Augen's Linux-based color e-reader called the TheBook eReader. As with the Gentouch78, Augen does not appear to sell the device directly. The company is also working on an Android-based netbook, according to a placeholder page on the Augen site.
According to SlashGear, Kmart recently offered the device in limited numbers for an $89 discount price. Now, however, Kmart is selling the device for the regular $100 price.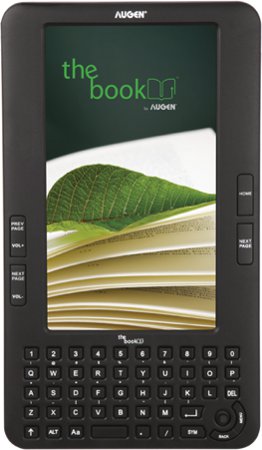 Augen TheBook eReader
The TheBook eReader runs on a 400MHz CPU, says Kmart, and according to
SlashGear
the processor is ARM-based and runs Linux 2.6.4. Kmart also lists 64MB RAM, 2GB of internal flash, and an SD/MMC card slot for up to 16GB of storage.
Like the Gentouch78, the TheBook eReader is equipped with a seven-inch, 800 x 480 pixel display, but in this case there are no touch capabilities. The device measures 8.9 x 5.1 x 0.5 inches and is reminiscent of the Kindle, with a QWERTY keypad located below the screen, as well as paging controls and other buttons on the sides of the display. Text-to-speech technology is also said to be available.
While Augen mentions Wi-Fi, Kmart only lists "Wi-Fi compatibility," so users may need to pay extra for a Wi-Fi dongle. Other features include a USB port, speakers, and a Lithium battery, says Augen.
According to Augen, its TheBook eReader offers a basic, text-centric web browser, an MP3/MP4 audio and video player, and font size adjustments. An accelerometer is also provided for switching to landscape mode, but — as noted by a review in e-reader technology site The Ebook Reader — this only works in e-reading mode.
Digital rights management is provided via Augen's content provider partner Ebooksmedia.com, using a DRM/SDK9 License, says Augen. Some 150 e-books are said to be pre-loaded on the device, which also offers e-book conversion and content management software, says the company.
The review in The Ebook Reader gives the device a mixed review. The LCD display is particularly easy to read, says the review, but there were problems with the display of PDF files and no way to add text notes to e-books.
TheBook eReader reviewed on YouTube by The Ebook Reader
(Click to play)
Motorola planning Android 3.0 tablet?
When technology companies want to leak details of upcoming products, Rodman & Renshaw analyst Ashok Kumar is often their go-to guy. Kumar has apparently struck again with news of an upcoming Motorola consumer tablet.
According to The Street, which has a mixed track record on Linux-related technology tips, Kumar says Motorola is preparing a 10-inch tablet and will run Android 3.0 ("Gingerbread"). The device will ship in November, says the video report, which offered no more details.
According to a SlashGear report on the rumor, Motorola's co-CEO Sanjay Jha confirmed back in May that the company was "thinking about the right solution" for tablets as "companion devices." Th

e story also notes that Verizon has been rumored to be readying an unknown vendor's 10.1-inch tablet for the holiday season.
At CES 2010 in January, Verizon demonstrated the seven-inch, Android-based Ultra tablet (pictured at right) from ICD (Innovative Converged Devices), and told SlashGear the device would be brought to market by Motorola.
ICD followed up with a larger Gemini tablet in April, but the device has a 11.1-inch touchscreen, not the 10 inches claimed by TheStreet. Judging from the lack of new info on the ICD site, none of these devices has yet shipped.
Availability
A bare-bones Kmart page for the Augen Gentouch78, sold as the "Augen 7" tablet," may be found here, and a more detailed Augen page on the device should be here.
The Engadget story on the Augen tablet may be found here.
The detail-heavy Kmart page on the Augen TheBook eReader, selling it for a normal, undiscounted price of $100, may be found here, and the Augen page on the TheBook should be here.
The SlashGear report on the Augen TheBook eReader may be found here, and a review by The Ebook Reader should be here.
The TheStreet page with the video segment on Motorola's upcoming Android tablet may be found here. The SlashGear story on Motorola and Verizon's tablet plans may be found here.
---
This article was originally published on LinuxDevices.com and has been donated to the open source community by QuinStreet Inc. Please visit LinuxToday.com for up-to-date news and articles about Linux and open source.