Feb 16, 2011 — by Eric Brown — from the LinuxDevices Archive — 1 views
An upcoming "I" Android release will provide Honeycomb-like tablet features for phones, Google CEO Eric Schmidt said during a Mobile World Congress (MWC) keynote. He added that Google would still welcome Nokia in the Android camp, demonstrated a video editor for Honeycomb named Movie Studio, and waxed eloquent on mobile technology's positive effect on society.
In his Feb. 15 keynote at the Mobile World Conference in Barcelona, Google CEO Eric Schmidt suggested that an upcoming version of Android starting with the letter "I" will "unite" Android's Gingerbread and Honeycomb releases, according to several sources including The Guardian.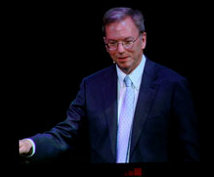 "We've got an OS for phones called 'Gingerbread' and one for tablets called 'Honeycomb'," Schmidt was quoted as saying. "G and H. You can imagine that the next will begin with 'I' and will be named after a dessert, and it will unite them." He also noted that, "Android releases follow on in a roughly six-month cycle."
Schmidt, pictured at right in a Guardian photo, will be replaced as CEO on April 4 by Google cofounder Larry Page, as Schmidt takes an advisory Executive Chairman role.

Schmidt didn't mention release numbers, but it has become clear from recent reports — as well as from product releases this week such as the Android 2.4-based HTC Flyer tablet — that Android 2.4 shares the same "Gingerbread" nickname as Android 2.3 and is due for release in April or May. The principal new feature in the reportedly incremental Android 2.4 release is the addition of dual-core support, which debuted in the tablet-oriented, Android 3.0 (pictured at left).
Schmidt's comments seemed intended to calm fears about an even greater fragmentation, if not forking, of Android into 2.x smartphone and 3.x tablet versions. It is questionable whether all of Honeycomb's big-screen oriented UI features would be ported to a smartphone, yet the Google CEO's comments suggest that there will at least be greater compatibility if not outright unification between the forks.
This would likely occur thanks to Android 3.0's "fragments" feature. Fragments are defined as modular portions of an app's code that can be recombined, removed, or added for more interactivity or customization for different devices.
Google has already said that fragments are heading for a future 2.x release. Based on Schmidt's comments, that release is likely to be the "I" release, which has already been speculated to be called "Ice Cream" or "Ice Cream Sandwich."
The release may get called Android 2.5, which should arrive in the fall according to Schmidt's release schedule. However, some have speculated that it will be Android 3.1, suggesting a closing of the tines of the Honeycomb fork.
Other comments by Schmidt noted in The Guardian report included his assertion that Chrome OS notebooks would start being produced this spring, but that Chrome OS would not be merged with Android. Schmidt was also said to have noted that HTML5 could eventually become the platform for writing both mobile or PC apps.
In addition, Schmidt noted that the dwindling number of IPv4 internet addresses is "one of the urgent problems" that the technology world needs to tackle, and that the transition to IPv6 will be a challenge.
Meanwhile, an eWEEK story reports that Schmidt also discussed Google's new autonomous search capabilities. After the keynote, in a discussion with reporters, he was also said to have promoted NFC (near field communication) wireless technology on Android phones.
Door left open for Nokia
According to a report on Schmidt's keynote by the BBC, the Google CEO said his company had "tried" to convince Nokia to adopt Android. Instead, Nokia last week said it was dumping Symbian, downplaying MeeGo, and moving instead to adopt Microsoft's Windows Phone 7.
Schmidt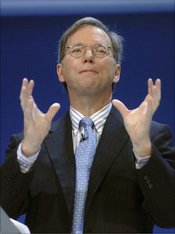 , pictured at left in a BBC shot, also appears to hold out hope that Nokia will have second thoughts. "We would have loved if it they had chosen Android," Schmidt was quoted as saying. "The offer remains open."
This year, Schmidt did not need to work so hard to evangelize Android. Evidence of the open source, Linux-based operating system's success was all over the show floors in Barcelona, and also found in recent smartphone research reports. (Yesterday, Millennial Media reported that Android dominated mobile ad impression share on its network through January, collecting 54 percent of hits compared with 28 percent for Apple's iOS.)
Schmidt did however note that 300,000 Android-based phones are being activated each day, and more than 170 Android compatible devices are on the market, says the BBC.
Movie Studio video editor for Honeycomb tipped
Also at the keynote, Schmidt demonstrated a new video editor designed for Honeycomb (Android 3.0) tablets, by the name of Movie Studio, reports Unwiredview. Movie Studio features are said to include adding soundtracks, video effects, transition, and animations.
Schmidt also said the software lets users move slides around, combine photos and videos, and share one's videos through YouTube. Apparently, no details on availability were provided.
Schmidt: Technology is good
Schmidt spent a good portion of his keynote addressing the big picture of technology's impact on society. The Google CEO opined that technology's impact is largely good, says an on-location report by Nathan Eddy writing in our sister publication eWEEK.
"I would offer a happiness theorem, that computers are here to make us happier because computers take care of the stuff that gets in our way," said Schmidt. He then asked the audience to imagine a world where mobile devices monitor blood pressure, where cloud computing gives users access to applications across multiple devices instantaneously, and where an economy is driven by a velocity of commerce never before imagined.
"We believe speed matters, that your time matters," said Schmidt. "The Internet is replacing economics of scarcity with an economy of ubiquity."
Finally, in a statement that seemed to reflect the role of technology such as Facebook, Twitter, and Google in the recent people's revolution in Egypt, Schmidt said that the growth in access to mobile "does change the power dynamic between governments and citizens in very interesting ways."
Continued Schmidt, "This is a future for the masses, not the elites. Because of your work spreading mobile devices, two billion people will enter our conversation in the next three to four years."
---
This article was originally published on LinuxDevices.com and has been donated to the open source community by QuinStreet Inc. Please visit LinuxToday.com for up-to-date news and articles about Linux and open source.