Feb 11, 2011 — by LinuxDevices Staff — from the LinuxDevices Archive — 5 views
As rumored, Nokia and Microsoft have agreed to join hands, forming a "broad strategic partnership." As a result, Nokia Windows Phone 7 devices will apparently appear next year, the Finnish company's Symbian operating system is being killed off, and MeeGo is being moved to the back burner.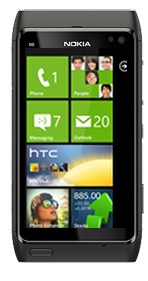 The new partnership, which still has mobile phone watchers and — no doubt, Nokia employees — in shock, has apparently been under way since last year. In September, Stephen Elop left his post as president of Microsoft's Business Division to become CEO of Nokia. (He'd earlier been responsible for cutting a deal through which mobile versions of Microsoft Office would be preloaded onto Nokia smartphones.)
Earlier this week, Elop sent Nokia employees what has become known as the "burning platform" memo, essentially arguing that Nokia would have to make a leap into the unknown in order to survive. In the widely quoted document, he wrote:
The first iPhone shipped in 2007, and we still don't have a product that is close to their experience. Android came on the scene just over 2 years ago, and this week they took our leadership position in smartphone volumes. Unbelievable.

We have some brilliant sources of innovation inside Nokia, but we are not bringing it to market fast enough. We thought MeeGo would be a platform for winning high-end smartphones. However, at this rate, by the end of 2011, we might have only one MeeGo product in the market.
This morning Microsoft and Nokia jointly issued a press release, outlining the following points:
Nokia will adopt Windows Phone as its principal smartphone strategy, innovating on top of the platform in areas such as imaging, where Nokia is a market leader.
Nokia will help drive the future of Windows Phone, contributing its expertise on hardware design and language support, as well as bringing Windows Phone to a larger range of price points, market segments and geographies
Nokia and Microsoft will closely collaborate on joint marketing initiatives and a shared development roadmap to align on the future evolution of mobile products
Bing will power Nokia's search services across Nokia devices and services, giving customers access to Bing's next generation search capabilities; Microsoft adCenter will provide search advertising services on Nokia's line of devices and services
Nokia Maps will be a core part of Microsoft's mapping services
Nokia's extensive operator billing agreements will make it easier for consumers to purchase Nokia Windows Phone services in countries where credit-card use is low
Microsoft development tools will now be used to create applications to run on Nokia Windows Phones
Nokia's content and application store will be integrated with Microsoft Marketplace for a more compelling consumer experience
Appearing at a London press conference with Microsoft CEO Steve Ballmer (below), Elop said "Nokia and Microsoft will combine our strengths to deliver an ecosystem with unrivaled global reach and scale. It's now a three-horse race."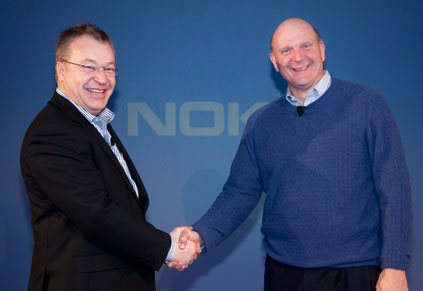 Nokia's Stephen Elop (left) and Microsoft's Steve Ballmer (right) announce their new partnership
Ballmer added, "Ecosystems thrive when fueled by speed, innovation and scale. The partnership announced today provides incredible scale, vast expertise in hardware and software innovation and a proven ability to execute."
Regarding future Windows Phone 7 handsets from Nokia, Ballmer and Elop said the companies are already working together. No specific timetable was mentioned, but it's believed Nokia Windows phones could arrive some time next year.
Symbian's on the skids
It was left to a subsequent Q&A, a later Nokia press release, and a strategic analysis briefing, however, to reveal the extent of the carnage being wreaked on the Finnish company. After announcing previous layoffs in October, it now appears that Nokia will experience substantial (but undisclosed) job losses, significant cuts in R&D, and (as of April 1), a new company structure.
And, Nokia's Symbian operating system, which has an installed base of 200 million users, now "becomes a franchise platform," in the words of the company's PR, "leveraging previous investments to harvest additional value." Nokia said it expects another 150 million Symbian devices to be sold, but will not release any new ones.
Meanwhile, Meego, the Linux-based OS developed in conjunction with Intel, is moving to the back burner. After the first (and, apparently, only) Meego phone ships this year, the focus will move to "longer-term market exploration of next-generation devices, platforms and user experiences," Nokia said.
According to a Liliputing report today, Intel has released a statement saying it is "not blinking on MeeGo" despite Nokia's abandonment of the project. However, the story reports that there has already been trouble on the non-smartphone, Intel Atom parts of the project where Intel dominates the project. According to the story, OpenSUSE Linux developer Andrew Wafaa has said that the MeeGo project has "pretty much stopped all work on the netbook operating system, and as a result he's going to stop working on the openSUSE MeeGo project, known as Smeegol."
Despite this assertion, Liliputing notes that Fujitsu has just announced a MeeGo Linux netbook called the LifeBook MH330 in Asia.
Nokia did not announce a tablet strategy today, and Elop ducked questions about one at the strategic analysis briefing, says a report by the Guardian's Charles Arthur. But he was quoted as saying, "We could see the advantages of a family [of devices] that uses the Microsoft ecosystem."
Nokia's Qt development framework is more or less being shelved, according to Arthur. He quotes Nokia executives as saying Qt "will be a platform for Symbian … we will evaluate Qt for the low end. We aren't proposing to put Qt on Windows Phone 7 or to abstract Nokia devices via Qt on Windows Phone because that could fork development."
According to Elop, before it decided to team up with Microsoft, Nokia did consider moving forward with either MeeGo or Symbian. Android, too, was a possibility.
"We absolutely spent time with our colleagues at Google," Elop is reported as saying during the Q&A. "Our fundamental belief is we would have difficulty differentiating. The commoditization risk was very high."

Today's Microsoft-Nokia press conference
Source: Nokia
(click to play)
---
This article was originally published on LinuxDevices.com and has been donated to the open source community by QuinStreet Inc. Please visit LinuxToday.com for up-to-date news and articles about Linux and open source.