Dec 10, 2009 — by Eric Brown — from the LinuxDevices Archive — 38 views
HardKernel is shipping a developer-focused handheld game device that runs Android and offers source code, schematics, and a debug board. The $350 Odroid is based on a Cortex-A8 Samsung S5PC100 clocked to 833Mhz, and offers 10GB of flash, a 3.5-inch touchscreen, 720p video via HDMI, plus WiFi, Bluetooth, and accelerometers.
Korea-based HardKernel tipped its Odroid device in September, and by late October, SlashGear was reporting that the first run of 500 devices was sold out via pre-order. HardKernel confirms this and boasts that the Odroid "is the hottest item at Aesop, the biggest Korean Linux developer community."
The Odroid is now shipping, says the company, presumably with many more devices ready to fill orders. The 5.9 x 3.0 x 0.6-inch (150 x 76 x 15mm) device primarily targets mobile gaming, but also serves as a general-purpose ARM Cortex-A8 reference/development platform, says the company.
The Odroid ("Open-Android") runs an optimized Android OS aimed at the general open source developer community, and ships with a full hardware schematics and full source code based on a Linux 2.6.27 kernel (see farther below). The company encourages developers to spin off both the hardware and software "into a variety of different Android-based gadgets."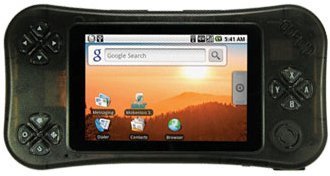 HardKernel's Odroid, developer edition
Games could get an extra oomph from the
Samsung S5PC100
system-on-chip (SoC), an 800MHz Cortex-A8 SoC that's reportedly also used by the Apple iPhone 3GS. The S5PC100's ARM Cortex-A8 core offers Neon multimedia acceleration, 720p pseudo-HD video output, and OpenGL ES 3D graphics supporting 10 mega-triangle transforms per second. The SoC — a previous generation of the smartphone-targeted, 45nm fabricated
S5PC110
announced by Samsung in September — pairs its core with a hardwired video processor to decode/encode a variety of multimedia contents (see block diagram below).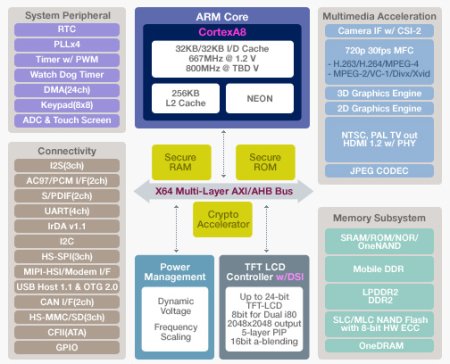 Samsung S5PC100 block diagram


(Click to enlarge)
The Odroid is supplied with 512MB DDR2 RAM and 10GB of removable flash memory, says HardKernel. The storage allotment is said to be divided into a full-size SDHC slot with an 8GB card (expandable to 32GB) for user storage, as well as a micro-SD (T-Flash) slot with 2GB for the kernel boot ROM and Android system file storage.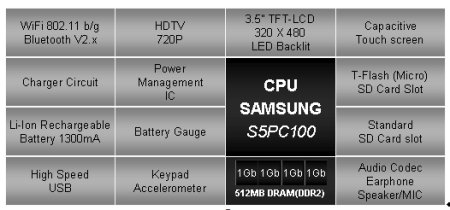 Odroid block diagram
(Click to enlarge)
The device is equipped with a 3.5-inch, 320 x 480 capacitive touchscreen, and can output 720p video to HDTVs via an HDMI port and supplied cable, says the company. The Odroid also offers speakers, microphone, and a headphone connector. WiFi and Bluetooth are provided, but no cellular connection is offered. The device provides a high-speed USB 2.0 port that doubles as an ADB connection and connector for storage devices, says HardKernel.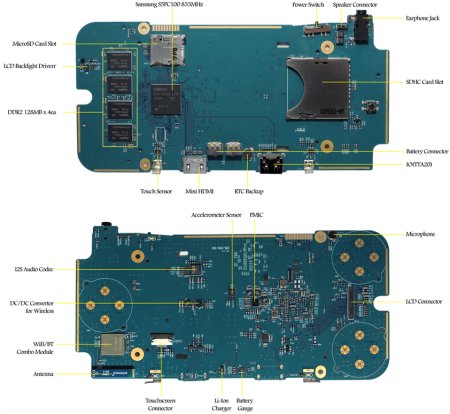 The Odroid PCB is composed of a 12-layer stack.


(Click to enlarge)
Specifications listed for the Odroid developer edition include:
Processor — Samsung S5PC100 (Cortex-A8 clocked at 833MHz)
Memory — 512MB DDR2
Flash — 10GB (2GB Micro-SD for u-boot/kernel/Android system, 8GB SDHC for user space)
Flash expansion — SDHC slot for up to 32GB
Display — 3.5-inch, 320 x 480, capacitive touchscreen
Video — supports 720p via HDMI cable (H.264+AAC MP4 format)
Networking:

LAN — 802.11 b/g
PAN — Bluetooth 2.x

Other I/O:

USB 2.0 high speed port with bus-powered charging
Line out/in
UART for development
Mini-HDMI video out connector with SPDIF audio
3.5mm headphone jack

Other features:

Built-in speaker and microphone
3-axis accelerometer
Gaming-oriented keypads
Serial monitor debugging board

Dimensions — 5.9 x 3.0 x 0.6 inches (150 x 76 x 16mm)
Weight — 5.6 oz (160g) with battery
Battery — 1300mAH rechargeable lithium-ion (2 pcs); extra charger input
Operating system — Android 1.5R3 with Linux 2.6.27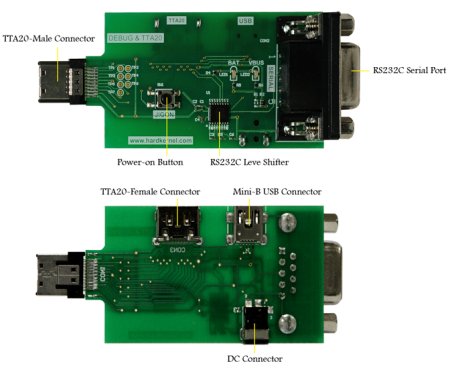 Odroid's companion serial monitor debugging board
(Click to enlarge)
The Odroid developer edition also ships with a serial monitor debugging board equipped with a serial port, mini-USB port, and male and female TTA20 connectors (pictured above). The board can be used to update and monitor system software from the boot-loader to Android applications, says HardKernel.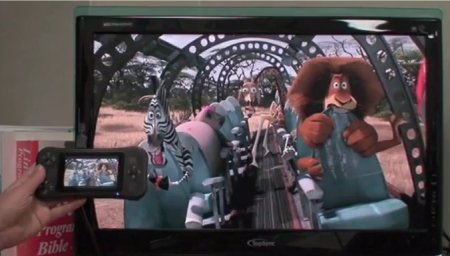 Odroid driving 720p output via HDMI


(Click to enlarge)
The Odroid ships with full source code, including U-boot 1.3.4 boot loader, Linux 2.6.27 kernel, and Android 1.5R3 system. Tools such as a cross-toolchain, build environment, and T-Flash burning software are said to be available for download on the Odroid developer web-site. The hardware-optimized, open source Odroid software platform includes some components that are in beta and pre-release format, cautions HardKernel.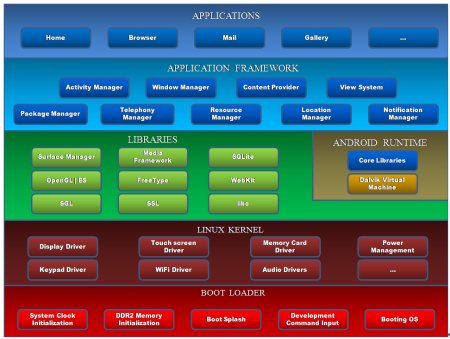 Odroid software architecture


(Click to enlarge)
Software components (and their current status) are said to include:
Android Cupcake 1.5R3 (recently moved up from 1.5FR)
Sensor handling for accelerometer with proper reference axis to JNI
WLAN power management added (Bluetooth power management not yet ready)
More stable capacitive touch screen input device driver
OpenCore Media framework now ported to utilize hardware accelerator for H.264 and other Codecs
Correctly using 3D hardware for OpenGL ES via HGL library, with bugs fixed for fog, compressed texture, lighting, shader update, etc.
USB driver for ADB and mass storage
HDMI hot plug for video as well as audio through HDMI's SPDIF
HD media playback for both LCD and HDTV at different resolutions
Hardware-based JPEG engine for faster image operations
RTC bugs fixed
ALSA audio driver with I2S audio codec
iROM booting for Micro-SD card, for U-boot and Android system file
Battery device driver for Android power management
All components are open source except for the 3D library HGL and surface flinger copy-bit library, which "are not open source due to Samsung's intellectual property policy," says HardKernel. Regular software updates are planned, with the next version based on Donut (Android 1.6), and Eclair (Android 2.0) also being considered, says the company.
Odroid running Android 3D Game demo on YouTube; additional YouTube video showing 720p output may be found here

.)
Availability
The Odroid is available now to developers for $350, including schematics, source code, and debug board, says HardKernel. Full source code access will be available by end of this year via the Odroid git server.
More information may be found here. The earlier story on the Odroid on SlashGear may be found here.
---
This article was originally published on LinuxDevices.com and has been donated to the open source community by QuinStreet Inc. Please visit LinuxToday.com for up-to-date news and articles about Linux and open source.