Dec 1, 2009 — by Eric Brown — from the LinuxDevices Archive — 1 views
Google has announced the winners of the Android Developer Challenge (ADC) 2, including an application to help smartphone users sleep better, an online multiplayer game, and a mobile security solution, says eWEEK. Meanwhile, two other eWEEK stories examine the "Google Phone" rumors and portend problems for Google if the phone is real.
Google launched the ADC 2 competition back in May at the Google I/O developer conference, "to encourage the development of cool apps that delight mobile users," according to the story by Darryl Taft in our sister publication, eWEEK. The ADC 2 follows up on a successful ADC 1 tournament in 2008, which helped attract developer attention to the Android platform months before the first G1 phone shipped. The ten final winners were announced in September 2008.
Now Google has announced 30 ADC 2 finalists in the following categories: casual/puzzle, games, arcade/action, social networking, lifestyle, productivity/tools, media, entertainment, travel, and misc. For each of the ten categories, the top three winners won awards of $100,000, $50,000, and $25,000, and then the top three overall winners won an additional $150,000, $50,000, and $25,000 respectively,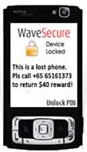 The three overall winners, listed in order of prize money, are:
SweetDreams — automatically turns off ringtones and saves battery life late at night
What the Doodle!? — real-time online multiplayer game, developed by "Che", in which one player tries to draw out a given phrase and others try to guess it.
WaveSecure — mobile security app from WaveSecure that tracks lost phones, remotely locks down lost phones, performs data backup and restore, and performs remote data wipe (pictured at right)
The selection process included community votes from owners of Android-powered devices, as well as votes from Google-chosen judges, says the story.
Google Phone to push Google Voice?
The rumors that Google is preparing to launch its own branded commercial Android phone called the Google Phone continues to give the industry the heebie jeebies. At first we thought that those spinning the rumors, which started popping up in October, had confused the phone with the unlocked, developer-focused Android Developer Phone 2 (ADP 2), which subsequently shipped in November.
Then TechCrunch's Michael Arrington wrote several weeks ago that his sources had "absolutely confirmed" that Google was building its own branded phone to be sold in early 2010 "directly and through retailers." The phone "will be produced by a major phone manufacturer but will only have Google branding," wrote Arrington.
(As for Arrington, he has his own problems, with the sudden death of TechCrunch's Linux-based CrunchPad tablet device, due to a legal dispute with co-developer Fusion Garage. See the link below to an eWEEK story on the downfall of the CrunchPad.)
Yesterday, Gizmodo added to the Google Phone rumors by stating that the Google Phone is a "certainty." The story cites a trusted source "who's seen it with their own eyes." The phone will run a new version of Google's Android, and will push the Google Voice technology, according to the story.
In evaluating the latest string of rumors, eWEEK's Clint Boulton wondered whether the whole thing might be a hoax. Perhaps, he conjectured, "there is a conspiracy afoot to dupe leading online publications…into writing stories to create some sort of fear, uncertainty and doubt about current Android phones."
If the rumors are real, it would certainly cause considerable ill will among handset vendors and carriers. eWEEK's Don Reisinger weighed in with a "10 Reasons Why a Google Phone Is a Bad Idea," arguing that not only would a Google Phone alienate vendors, but that Google has no track record with hardware. If the phone is a loser, it could hurt Google more than a winner might help it, he writes. Among other cited strategic problems with such a move, Reisinger says that the Android market may already be getting too diluted. Another phone would only confuse matters more.
Report: 800,000 Droids have sold
Indeed, Android should benefit from the emergence of a single phone that leads the way on the high end. Verizon Wireless' Droid by Motorola (pictured) may have already sold 700,000 to 800,000 units, according to

Boulton's story on the Google Phone. The numbers were said to have been cited in an RBC Capital Markets research note yesterday, which predicts that the Droid should easily sell a million units by the end of the year.
Availability
The Android Developer Challenge 2 winners announcement may be found here, and the eWEEK story on the ADC 2 should be here.
The Gizmodo story on the Google Phone should be here, and the eWEEK story on the Google Phone rumors and Motorola Droid sales may be found here. The eWEEK analysis story on the ramifications of a Google Phone should be here.
The eWEEK story on the "implosion" of the CrunchPad should be here.
---
This article was originally published on LinuxDevices.com and has been donated to the open source community by QuinStreet Inc. Please visit LinuxToday.com for up-to-date news and articles about Linux and open source.