Mar 30, 2010 — by Eric Brown — from the LinuxDevices Archive — 1 views
Hacker "Geohot" claims he has a plan to permit PlayStation 3 (PS3) users to continue running Linux on the gaming system, despite Sony's announcement that it will block alternate operating system installs. On Sunday, Sony announced that a 3.21 update due on April 1 will prohibit the installation of alternate OSes due to security concerns.
Sony's upcoming April Fool's Day update, which prohibits alternate OS installations on systems prior to the new "Slim" models launched in September, is no laughing matter to Linux hackers who have enjoyed a four-year run of loading distros such as Yellow Dog Linux on the gaming box. Yet the last laugh may be on Sony if well-known hacker Geohot (George Hotz) gets his way.

As first reported by UberGizmo, Geohot posted a blog stating that he's planning to figure out a way to update and retain the "Install Other OS" support, possibly by using a technique similar to Hellcat's Recovery Flasher. As Geohot is preparing his custom firmware (CFW) to replace Sony's firmware, he urges those who want to continue to run Linux on the PS3 (pictured at right) to skip the 3.21 update.
"Some people seem to think CFW will enable some sort of piracy," writes Geohot, who is known for exploits such as jailbreaking the iPhone. "It won't. It'll just be a custom version of 3.21 that doesn't lose OtherOS support. Hacking isn't about getting what you didn't pay for, it's about making sure you do get what you did. And this is about more than this feature right now. It's about whether these companies have the right to take away advertised features from a product you purchased."
PS3 Linux users face a rock and two hard places
According to Sony, the continued use of optional installations threatens security for PS3 users. It does not say how, exactly, but presumably the company is concerned that unauthorized access via the Other OS window could compromise security on the Sony Playstation Network.
PS3 users can, of course, ignore both the Sony update and — if and when it appears — Geohot's CFW. However, as Sony warns in its Sunday blog posting, such holdouts won't be able to sign into the PlayStation Network, use "online features of PS3 games and chat," or play Blu-ray discs or games that require 3.21 or higher. In addition, those who don't install update 3.21 will not be able to play copyright-protected videos that are stored on a media server "when DTCP-IP is enabled under Settings," says Sony.
Meanwhile, Sony recommends that PS3 owners who have activated the "Other OS" feature should back-up any data stored within the hard drive partition used by the Other OS, prior to installing the update. Otherwise, "they will not be able to access that data following the update," says the company.
Did Geohot play with fire once too often?
The small, but devoted percentage of PS3 users who make use of Other OS — the vast majority of which install Linux — have reacted with predictable anger at Sony. However, according to a LinuxInsider story, a number have also turned their wrath on Geohot, blaming his earlier PS3 exploit for Sony's upcoming April Fool's buzz-kill.
It was a Geohot PS3 hack posted in January that made Sony nervous in the first place, says LinuxInsider. According to the January post by Geohot, announcing the hack, the exploit hacked into the PS3, giving "full memory space access and therefore ring 0 access from OtherOS."
Four years of running Linux on the PS3
For four years now, the PS3 has endured as a Linux hacker platform rivaled only by the Linksys NSLU2 "Slug". As the platform has aged, many have moved on to other devices, but a strong Linux community still revolves around the Playstation.
Even before Sony's PS3 shipped in 2006, Terra Soft took advantage of the fact that the mainline Linux kernel had long supported the Cell processor used on the gaming device, and released a version of its Yellow Dog Linux for the PS3. TerraSoft also began reselling the PS3 with Linux pre-installed in 2007. Other Linux distros have since followed, and hackers have enjoyed extending the device to a wide variety of tasks beyond gaming, including an imaging system built into an unmanned, autonomous vehicle version of a Jeep Grand Cherokee.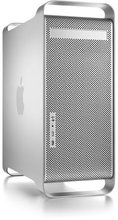 Terra Soft, meanwhile, continues to focus primarily on offering its Yellow Dog Linux (YDL) as an alternate to Mac's OS X. In June 2008, the company announced a development workstation billed as the heir to the Apple PowerMac G5 Quad, except more open. The YDL PowerStation (pictured) offers four PowerPC cores clocked at 2.5GHz, plus four bays for serially attached SCSI (SAS) drives. Two months later, the company was acquired by Fixstar.
In addition to offering the basic YDL, Fixstar's Terra Soft division has introduced an Enterprise version. Earlier this month, the company introduced an Enterprise YDL version optimized for Nvidia's Cuda GPU (graphics processing unit), claiming up to a nine percent performance boost on workstations that incorporate a Cuda GPU.
Availability
The Sony blog announcement on the 3.21 system update for the PS3 may be found here. The Geohot blog posting announcing plans to work around the update may be found here, and his announcement of the January PS3 exploit should be here.
The UberGizmo story on Geohot's CFW plans should be here. The LinuxInsider story on Sony blocking optional installations may be found here.
The Fixstars/Terra Soft page on the new Yellow Dog Enterprise Linux for Nvidia Cuda should be here.
---
This article was originally published on LinuxDevices.com and has been donated to the open source community by QuinStreet Inc. Please visit LinuxToday.com for up-to-date news and articles about Linux and open source.