Jun 11, 2008 — by Eric Brown — from the LinuxDevices Archive — 140 views

Terra Soft Solutions announced a development workstation billed as the heir to the Apple PowerMac G5 Quad, except more open. The Yellow Dog Linux (YDL) PowerStation offers four PowerPC cores clocked at 2.5GHz, up to 32GB RAM, and four bays for serially attached SCSI (SAS) drives.
(Click for larger view of the YDL PowerStation)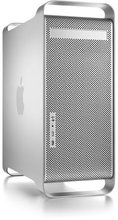 Apple Power Mac G5 Quad
(Click to enlarge)
PowerPC developers can use the YDL PowerStation to compile, test, and debug their code for PowerPC-based targets, says Terra Soft. The tower system can host a variety of add-in processor boards built upon IBM, Freescale, and AMCC Power architecture chips, and can also be used to prepare and optimize code for Cell processor systems, says the company, as well as act as a headnode for clusters of two Cell-based platforms: the Sony PS3 and the newly announced IBM QS22 BladeCenter.
Previously, developers targeting PowerPC hardware commonly used Apple's PowerMac G5s as native development hosts. Apple even briefly produced a version of the PowerMac that, like the YDL Workstation, sported a pair of dual-core 970MP processors. However, Apple switched to Intel in August, 2006, and the "G5 Quad" (pictured at right) was no more.
The YDL PowerStation is equipped with the quad-core, 64-bit, SMP-capable 970MP clocked to 2.5GHz, says Terra Soft. According to IBM, each of the 970MP's cores includes 1MB of dedicated L2 cache, said to result in performance that more than doubles that of the previous 970FX. The YDL PowerStation also offers dual gigabit Ethernet ports, four USB ports, and expansion via PCI-E and PCI-X slots. Another touted feature said to provide greater friendliness toward open source software is the system's compatibility with standard x86 graphics cards.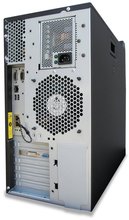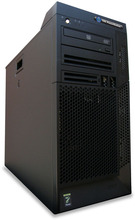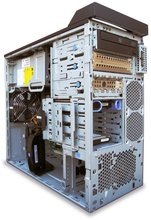 The YDL PowerStation, back, front, and inside
(Click any view to enlarge)
Named for the company's Yellow Dog Linux distro, which is preinstalled on the system, the YDL PowerStation is said to support all Linux code optimized for Apple's G4 and G5 systems, with "little more than a basic recompile for the current kernel and libraries." Development tools include the GNU Compiler Collection (GCC), GNU Debugger (gdb), Eclipse, Subversion, and other libraries and toolkits. It also includes the IBM SDK (software development kit) for the 970MP.
Stated Owen Stampflee, Director of Engineering for Terra Soft, "By design, the PowerStation is a very open box, from the firmware to the OS to the graphics card support. While we ship the PowerStation with YDL pre-installed, we welcome involvement of the greater Linux community, offering our support of all developers who are involved."
Availability
The YDL PowerStation will ship at the end of the month for $1,900, says Terra Soft. More information on the system may be found here.
Thank you to LinuxDevices reader Joseph French for calling this story to our attention.
---

This article was originally published on LinuxDevices.com and has been donated to the open source community by QuinStreet Inc. Please visit LinuxToday.com for up-to-date news and articles about Linux and open source.