May 31, 2011 — by LinuxDevices Staff — from the LinuxDevices Archive — 3 views
ARM officials told attendees at a Computex press conference they aim to have more than half the mobile PC market by 2015. However, they tempered expectations for the server space, where only a subset of customers is critically interested in saving power.
Intel and Advanced Micro Devices are continuing to move toward the mobile device space. Meanwhile, officials with ARM — whose chip designs are dominant in smartphones and tablets — are planning a tit-for-tat strategy, intended to grab market share in the PC and server arenas.

During a press briefing at the Computex 2011 show in Taipei May 30, ARM President Tudor Brown (right) told journalists his company expects that by 2015, half of all mobile PCs, including tablets and mini-PCs, will be powered by ARM-based chips, according to reports.
In addition, Brown said that while ARM-based servers may not ship in volume until 2015, they are coming.
In all, Brown made it clear that as Intel and AMD are looking to push into ARM's stronghold, his company planned to take the competition into theirs.
"Today, we have about 10 percent market share [in mobile PCs]. By the end of 2011, we believe we will have about 15 percent of that market share as tablets grow," Brown said, according to a report in PC World. "By 2015, we expect that to be over 50 percent of the mobile PC market."
Intel executives at the Computex show on May 31 outlined an aggressive roadmap for the chip giant's Core and Atom processors, including features that will improve performance and drive down power consumption, both critical issues for mobile devices. Intel officials already expect at least 35 system designs this year based on its Atom Z670 "Oak Trail" platform, and are saying more tablets and smartphones powered by Intel chips will hit the market starting in 2012.
In addition, reports say AMD officials are working on a Z-Series chip lineup — dubbed "Desna" — that will be targeted at tablets.
However, tablets are an area that ARM designs — through chips built by the likes of Samsung, Nvidia, Texas Instruments and Qualcomm — dominate. And it's that presence in the fast-growing tablet market that Brown and other ARM officials expect to leverage to grow their share of the overall mobile computing space.
In addition, ARM will be helped by the decision by Microsoft — announced by CEO Steve Ballmer during the Consumer Electronics Show in January — to enable its next version of Windows to support SoC (system-on-chip) platforms like ARM's. Like Intel, Microsoft also has had troubles penetrating the mobile device space that is dominated by such operating systems as Apple's iOS and Google's Android.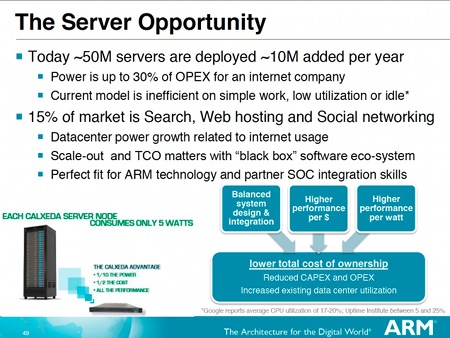 ARM says its chips will be appropriate for lightly loaded servers
(Click to enlarge)
ARM also is looking to make some noise in the server space, targeting systems used in cloud and other compute-intensive environments where the key demands are around performance and energy efficiency. ARM officials believe they have an advantage over Intel and AMD in such sectors, because those vendors' chips consume more power than ARM's. At a meeting on May 17, they told analysts and investors how ARM licensees will start cutting into Intel's server business.
During the Computex briefing, ARM's Brown said it could take a little longer. He said he expects ARM-based servers to start hitting the market in volume in 2015.
"We firmly believe this is going to happen. We know it is starting to happen right now. But it's going to be several years [for the numbers to reach significant levels]," Brown said, according to PC World.
However, Brown said an ecosystem — such as a sufficient number of business applications and hardware systems — must be in place for such servers to take off, and that creating such an ecosystem takes time.
ARM server developments
Last September, ARM announced its Cortex-A15 core, which it said will be shipped in SoCs (systems-on-chip) by multiple licensees in 2012. Capable of 2.5GHz performance, the A15 could find a home in high-end smartphones, but it also adds hardware support for operating system (OS) virtualization, soft-error recovery, larger memory addressability (up to 1TB), and system coherency, says ARM.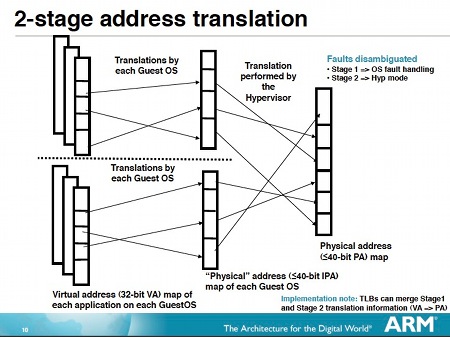 Large Physical Address Extensions (LPAE) will let ARM Cortex-A15 CPUs work with physical memory up to 1TB, ARM says
(Click to enlarge)

In November 2010, Marvell began sampling the Armada XP, a 1.6GHz chip that includes four ARM v7 processor cores and four gigabit Ethernet interfaces, along other server-centric attributes. Last December, meanwhile, ARM made its attack on the server market official.
Other recent ARM server-related developments have included:
Further information
A Taipei Times interview conducted at Computek with ARM Holdings vice president Ian Drew can be found on the publication's website.
Links providing access to a webcast of ARM Holdings' May 17 presentation and related slides may be found on ARM's investor relations website.
Jeffrey Burt is a writer for eWEEK. Jonathan Angel added reporting to this story.
---
This article was originally published on LinuxDevices.com and has been donated to the open source community by QuinStreet Inc. Please visit LinuxToday.com for up-to-date news and articles about Linux and open source.