May 18, 2011 — by LinuxDevices Staff — from the LinuxDevices Archive — 2 views
The gloves are off in ARM Holdings' battle to wrest a chunk of the server market from Intel. Dueling investor meetings May 17 brought blatant statements of intent from ARM — and robust dismissals from Intel.
We've already reported on the May 17 investor meeting that Intel used to talk up its downsized 22nm and 14nm Atoms. (Intel also admitted that smartphones based on its processors will be delayed until next year.) But it seems that across the pond, U.K.-based ARM Holdings was busy the same day, telling analysts and investors how its licensees will start cutting into Intel's server business.

Mike Muller (right), ARM's chief technology officer and one of its co-founders, told his audience approximately ten million servers are being deployed every year, adding that for "Internet companies," the power these consume can be up to 30 percent of operating expenses. The "current [x86] model is inefficient on simple work, low utilization, or idle," he charged.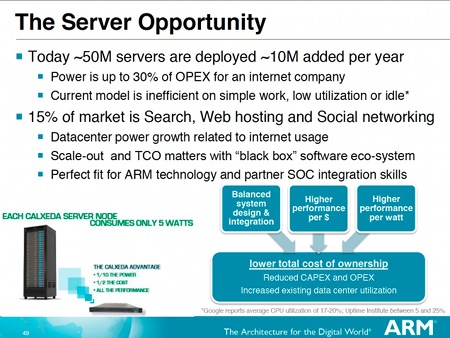 ARM says its chips will be appropriate for lightly loaded servers
(Click to enlarge)
In a slide (above), Muller claimed that the average CPU utilization reported by Google for its servers is between 17 and 20 percent. Search, web hosting, and social networking are about 15 percent of today's server market, he added, calling this arena a "perfect fit for ARM technology and partner SoC integration skills."
"Going forward, low power is necessary for everything from microcontrollers to servers," said Muller. In an obvious attack on Intel, he continued, it's a "mindset, style, culture, and working practice. Not something you change or acquire easily."

ARM Vice President of Software Alliances James McNiven (left), meanwhile, told investors that ARM first started looking at the server market in 2008, when it set up an exploratory R&D and marketing team. A year later, he added, it built a prototype web server with Marvell.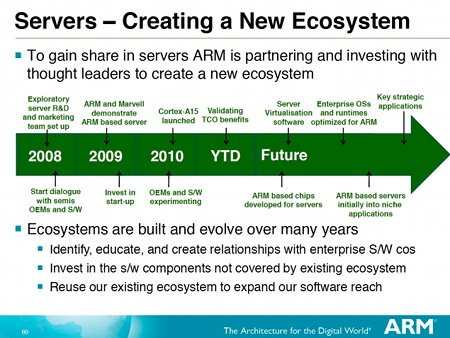 ARM's server efforts date back to 2008
(Click to enlarge)
"We have been running a small part of the ARM.com website on that [server] for about 18 months now to get a lot more background data and learn about the market," McNiven is quoted by the IDG News Service as saying.
Intel strikes back
At Intel's own May 17 investor meeting, CEO Paul Otellini said ARM's efforts to become a player in the server space "ain't gonna work," according to a pithy report by The Register. "The architecture has to grow up," he is said to have added.
"The expectations in servers are pretty significant: 64-bit, error correction, multiple parallelism, hyperthreading capabilities, highly parallel systems infrastructure," author Rik Myslewski quotes Otellini as saying. "All that has to get built around a new architecture, and historically that's been very difficult."
"This is so reminiscent of the RISC-CISC arguments of, gosh, twenty-five years ago," Otellini reportedly added. "But then the argument was the other way around, it was that Intel can never possibly take on RISC architecture in the server space. Well, we kind of proved that wrong."
Intel has said it will fight back against ARM with "micro-server" CPUs that run x86 code but are optimized for low power consumption. This will include chips such as the recently announced, dual-core 1.66GHz Atom N570, 256 of which are being used in the Sea Micro SM10000-64 server pictured below.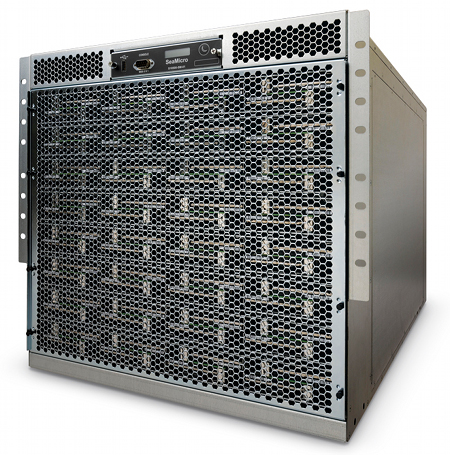 Sea Micro's SM10000-64
(Click to enlarge)
Intel is also promoting the advantages of running legacy code — which includes Windows operating systems, of course — on its CPUs. While Microsoft has said it will provide versions of "Windows 8" for ARM processors, there has been no indication that any of these will provide the features servers require. (This, of course, could come back to haunt Microsoft, since Linux already runs on pretty much every known ARM CPU.)
ARM server developments
Last September, ARM announced its Cortex-A15 core, which it said will be shipped in SoCs (systems-on-chip) by multiple licensees in 2012. Capable of 2.5GHz performance, the A15 could find a home in high-end smartphones, but it also adds hardware support for operating system (OS) virtualization, soft-error recovery, larger memory addressability (up to 1TB), and system coherency, says ARM.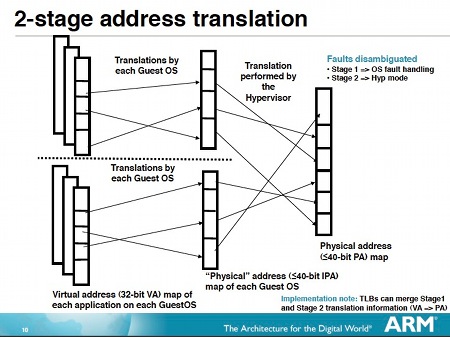 Large Physical Address Extensions (LPAE) will let ARM Cortex-A15 CPUs work with physical memory up to 1TB, ARM says
(Click to enlarge)

In November 2010, Marvell began sampling the Armada XP, a 1.6GHz chip that includes four ARM v7 processor cores and four gigabit Ethernet interfaces, along other server-centric attributes. Last December, meanwhile, ARM made its attack on the server market official.
Other recent ARM server-related developments have included:


ZT Systems' R1801e has solid state storage and eight ARM Cortex-A9 processors
(Click to enlarge)
Further information
Links providing access to a webcast of ARM Holdings' May 17 presentation and related slides may be found on ARM's investor relations website.
Jonathan Angel can be reached at [email protected] and followed at www.twitter.com/gadgetsense.
---
This article was originally published on LinuxDevices.com and has been donated to the open source community by QuinStreet Inc. Please visit LinuxToday.com for up-to-date news and articles about Linux and open source.