Nov 10, 2009 — by Eric Brown — from the LinuxDevices Archive — 1 views
Samsung announced an "open" mobile platform called "Bada," which appears to be a programmable UI layer that runs on its proprietary feature phones, although one report defines Bada as Samsung's own Linux OS. Meanwhile, a Korean analyst report claims that Samsung plans to discard Symbian and downshift Microsoft's Windows Mobile.
According to the vague descriptions on Samsung's new Bada site, the technology is "a next generation UI framework with feature sets and design elements that facilitate leading-edge user interfaces." Targeting touchscreen-based mobile phones, the open development platform integrates common experiences and functions across applications, and includes integrated support for web services and "service-oriented features," says the company. Extensible core functions are said to include a dialer, messaging, and address book, available for use by all Bada applications.
Named after the Korean word for "ocean," Bada "alludes to Samsung's commitment to a variety of open platforms in the mobile industry," says the company, adding that mobile operators will be able to use the platform to "provide unique and differentiated services to their customers." Still, Samsung falls short of calling the platform open source, and notes that Bada is "based on Samsung's experience in developing previous proprietary platforms on Samsung mobile phones."
A Bada software development kit (SDK) will be available in December, says Samsung, which is said to be the world's fifth largest mobile smartphone vendor. The Bada site will also provide developers with an integrated development environment (IDE), a device simulator, and a UI builder, says the company. It is unclear whether the technology is related to Samsung's Touchwiz UI layer, which is available on numerous Samsung smartphones on various platforms, including its Android-based Behold II phone (pictured).
Bada developers days well be held in Seoul, London, and San Francisco in December and January, and "cash prize" winners of an upcoming developers challenge that will launch in December will be announced in June, according to the company. The first phone running Bada is said to be set to ship in the first half of next year along with the launch of an application store.
Story: Bada can run atop Linux
According to a story in the Inquirer, Bada is a Linux-based smartphone OS designed to compete with Nokia's Maemo and the LiMo Foundation's LiMo spec. However, Samsung's Bada description instead appears to suggest more of a programmable UI layer than a full OS.
Indeed, citing a Samsung spokesperson, an IDG News Service story by Mikael Ricknas claims that Bada "isn't a new operating system, but a software layer that Samsung has added on top of its existing proprietary mobile phone operating system, allowing third-party developers to create applications for its phones." A Samsung spokesperson was quoted as saying that Bada could also run on top of Linux, however.
In Ricknas' description, Bada is Samsung's means to open up its lower-cost smartphones to third-party application developers. Wanting to maintain more control over its phones, Samsung sees Bada as a way to keep third-party platforms such as Symbian and Android from trickling down into its high-end feature phones, suggests the story. Ricknas quotes Gartner analyst Carolina Milanesi as saying that Bada will let Samsung "differentiate its products from the competition."
Analyst: Samsung ready to jettison Symbian, scale back Windows
According to a Telecoms Korea story, meanwhile, Seoul-based brokerage firm HMC Investment Securities is projecting that Samsung plans to discard the Symbian OS starting in 2011. The report also estimates that among the 40 different smartphone models that Samsung will ship next year, Windows phones will represent only about half, down from 90 percent in 2008, and will further drop to 20 percent of Samsung smartphone models in 2012.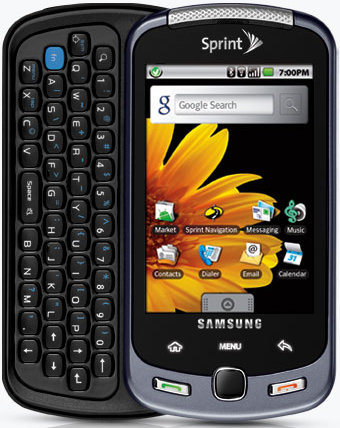 The Android powered "Samsung Moment" available on Sprint
Android-based smartphones, meanwhile, will grow to a 30 percent share, covering over 10 Samsung models. The percentages appear to refer to the number of different phone models, not expected unit shipments or revenues.
Bada is not mentioned in the story, which appeared before the announcement, but HMC analyst Grey Noh is quoted as saying that Samsung will use its own smartphone OS to "escape from dependency" on other platforms, but that it faces the hurdle of attracting developers to write for its platform.
According to the story, HMC expects Samsung smartphone shipments to reach nine million units this year, up 89 percent, with 21 million units expected for 2010, up 132 percent from this year. This should push Samsung from its number five rank to being the fourth largest smartphone maker, the story said. HMC was also said to have noted that Samsung is superior at "sourcing core components such as NANDs, application processors, and camera modules," but needs to improve its "R&D investment and marketing efforts."
Meanwhile, LG Electronics will see its smartphone shipments reach 4.2 million units in 2010, four-times higher than this year, says the story. HMC was also said to have noted that LG, which recently announced an "Eve" Android phone for Rogers Wireless in Canada, is likely to soon field an Android phone on Verizon Wireless' network.
Samsung's Android and LiMo phones
Samsung's Android and LiMo phones have been differentiated by the presence of AMOLED touchscreen displays, which Samsung says offers "crisper colors and wider viewing angles" than LCD displays. The best of the Android phones appears to be the Samsung Moment (pictured farther above), which is available for Sprint. The Moment offers an 800MHz Samsung processor, 3.2-inch display, 3.2-megapixel camera, WiFi, Bluetooth, and GPS.
The "Moment" is Samsung's third Android model after the i7500 phone (pictured at right), which started selling on Telefonica's O2 network in Germany earlier this year, followed by the T-Mobile destined Behold II.
Samsung also announced a 360 H1 phone based on the LiMo (Linux Mobile) specification, which will be offered by Vodafone this fall in Europe, and it recently followed up with a slightly scaled down M1 version for Vodafone.
It is possible that Samsung, a founding member of the LiMo Foundation, is aligning Bada with the LiMo spec. A more open-ended mobile Linux middleware stack than Android, LiMo is designed to enable handset vendors and carrier to extensively customize the specification, especially on the upper UI layers. One clue that Bada may be LiMo-compliant: the IDG stories quotes the Samsung rep as saying that Bada could run on top of Linux, but mentions nothing about Android or any other mobile OS.
Stated Hosoo Lee, EVP and Head of Media Solution Center at Samsung Electronics, "By opening Samsung's mobile platforms we will be able to provide rich mobile experiences on an increasing number of accessible smartphones."
Availability
The Bada SDK will be available in December. More information may be found here.
The Inquirer story on Bada may be found here, and the IDG News Service story may be found here.
The Telecoms Korea story may be found here.
---
This article was originally published on LinuxDevices.com and has been donated to the open source community by QuinStreet Inc. Please visit LinuxToday.com for up-to-date news and articles about Linux and open source.