Nov 4, 2009 — by Eric Brown — from the LinuxDevices Archive — 14 views
Vodafone and Samsung announced their second LiMo-compliant "360" smartphone, and is shipping the first, the 360 H1, to Vodafone's European customers. The "Vodafone 360 Samsung M1" is a scaled-down version of the H1, offering the same second-generation LiMo (Linux Mobile) stack and "360" social networking interface.
Vodafone and Samsung preannounced the M1 in late September when it introduced the Vodafone 360 H1, which was billed as being the first phone to run the second-generation LiMo Platform Release 2 (R2) stack.
Now more generously referred to as the Vodafone 360 Samsung H1, the phone will begin shipping this week to Vodafone customers in the U.K. and Germany. In the U.K., the H1 will be offered free with a 35 Pound (about $58 U.S.) per month two-year contract, including unlimited data usage.
While Vodafone has not indicated when the new M1 model will ship, it will likely be the second phone to run the LiMo R2 stack, which offers greatly enhanced multimedia and UI support compared to the R1 spec (see below).
Since the 360 H1 announcement, Vodafone has released a bit more information on the M1. The phone shares the same general keyboard-free design of the H1, but is slightly smaller, at 2.2 x 4.4 x 05 inches, and weighs in at 3.9 ounces (111g), says the company. The M1 offers a smaller 3.2-inch touchscreen, apparently without the H1's more luminescent AMOLED display technology. The M1 (pictured below) supplies only 1GB of internal memory, but that allotment is said to be expandable to 32GB via a MicroSD slot, says Vodafone.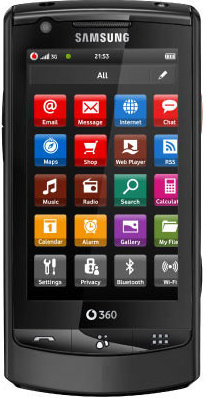 Vodafone 360 Samsung M1
The most notable difference from the H1 is the lack of WiFi, but the M1 provides similar HSDPA 3G service, as well as Bluetooth and GPS. A three-megapixel camera with 8x digital zoom is available instead of the H1's five-megapixel model.
Specifications listed by Vodafone for the Vodafone 360 Samsung M1 include:
Memory — 1GB
Flash expansion — MicroSD slot for up to 32G
Display — 3.2-inch WQVGA TFT, 16M colors
Network — HSDPA 3.6Mbps 2100; EDGE/GPRS 850/900/1800/1900
Wireless — Bluetooth 2.0, GPS
USB — USB 2.0 port
Camera — 3-megapixel; 8x digital zoo
Video formats — MPEG4, H.263, H.264, Divx, Xvid, WMV, VGA; 15fps recording
Audio — MP3, AAC, AAC+, AAC+(e), WMA, AMR
Vodafone 360 applications — People View, Time Line, View, Menu Mode, Search
Dimensions — 2.2 x 4.4 x 0.5 inches (55.4 x 112 x 13.4mm)
Weight — 3.9 ounces (111 g)
Battery — 1500mAh
Operating system — Linux 2.6.24; LiMo R2.0.1
Like the H1, the M1 offers Vodafone's 360 UI stack, which is tightly integrated with a Vodafone "cloud" web service of the same name. Vodafone 360 offers social networking and messaging integration, as well as backup and synchronization interactivity with PCs and Macs, says Vodafone.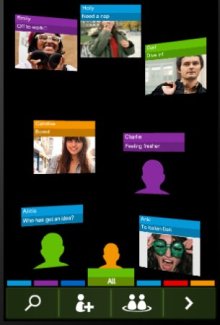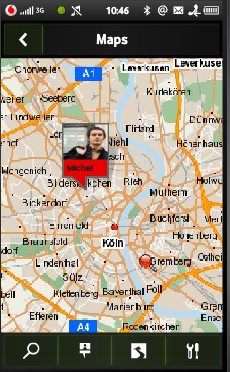 360 social networking display (left) and geotagging features (right)
The 360 stack also provides a universal contact list that integrates information from address books within various services, and a 3D zoom feature that enables users to "browse through their latest interaction in chronological order," says the carrier.
Stated JK Shin, EVP and Head of Mobile Communications Division, at Samsung Electronics, "As a leading innovator in the mobile phone marketplace, Samsung will continue to work within the LiMo ecosystem to create and deliver an array of sleek and user-friendly devices to consumers around the globe."
Stated Patrick Chomet, Vodafone Group Director of Terminals, and a founder director of LiMo Foundation, "One reason Vodafone has chosen to launch our Vodafone 360 service strategy on the LiMo Platform is because it enables us to work within the LiMo ecosystem to bring high-caliber devices and innovative services to our customers."
LiMo fights back against Android fever
Over several years now, the LiMo Foundation has been developing and standardizing the open source Linux-based handset LiMo OS with an eye toward reducing costs, improving software compatibility, and accelerating software development. So far it has gotten off to a slow start in the high end smartphone market where Android now dominates the Linux-driven contenders.
Still, over 40 LiMo R1 phones have shipped, mostly low-end smartphones (or high-end feature phones, depending on your perspective) offered on the Japanese NTT DoCoMo network. The phones have largely been built by NEC and Panasonic, although Motorola shipped a few LiMo-ready phones before it got the Android religion with the Cliq and the Droid.

Access and Emblaze recently showed off a jointly developed "Else" smartphone prototype and intriguing "Else Intuition" UI stack that runs on R2 (pictured at right). However, the partners offered few details on the phone, let alone the name of a supporting carrier.
Earlier this year, the LiMo Foundation, which counts 13 global network operators serving a billion mobile subscribers among its members, announced that six major carriers would be shipping LiMo compliant phones this year: Orange, SK Telecom, Telefonica, Verizon Wireless, Vodafone, and NTT DoCoMo. Most of these projects appear to have slipped, but according to LiMo, the carriers are all still moving forward with their plans.
The LiMo Foundation claims to offer a more flexible format that makes it easier for carriers to customize the UI than does Android. (For much more information and background on the LiMo Foundation, LiMo R2, and the 360 UI, see our previous coverage of the 360 H1, here.)
Availability
Vodafone did not offer pricing or availability information on the Vodafone 360 Samsung M1. More information on the M1 may be found at Vodafone, here. More information on the LiMo Foundation may be found here.
---
This article was originally published on LinuxDevices.com and has been donated to the open source community by QuinStreet Inc. Please visit LinuxToday.com for up-to-date news and articles about Linux and open source.