Oct 19, 2010 — by LinuxDevices Staff — from the LinuxDevices Archive — 4 views
HP announced a faster, 1GHz Palm Pre 2, as well as a major WebOS 2.0 update that features "true multitasking," improved "Synergy" sync, and a "Just Type" feature that enables text entry before an app fully opens. The Pre 2 debuts on Friday in France on SFR, and will appear on Verizon Wireless in "the coming months," says HP.
Hewlett-Packard has introduced WebOS 2.0, the long-promised update to the open-source Linux OS it acquired during its $1.2 billion acquisition of Palm in July. Additionally, HP, which has been keen to rejoin the lucrative smartphone market, introduced the Palm Pre 2 — a speedier, updated version of the original Pre that will be the first smartphone to run the new OS.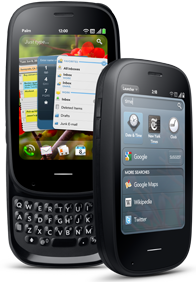 Palm Pre 2 features a 1GHz processor to support WebOS 2.0's improved multitasking.
The Pre 2 —
as was recently leaked
— will arrive in the U.S. on the Verizon Wireless network, as well as in Canada, in "the coming months." However, the smartphone is first slated to debut on France's SFR network Oct. 22.
The Pre 2 smartphone is much like the Pre, and still features a QWERTY slider design. However, it now sports a 1GHz processor, up from the previous 600MHz Texas Instruments OMAP3430, so it'll be faster than the first Pre, and the camera is now up to five megapixels (previously three megapixels).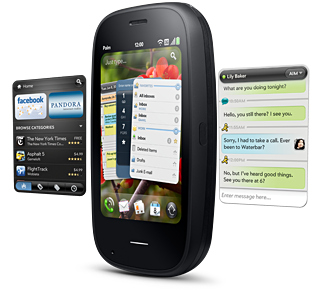 Palm Pre 2 with Web 2.0 screens
The overall form factor has also been streamlined a bit to 3.96 x 2.35 x 0.67 inches (100.7 x 59.6 x 16.9mm), and the screen is now glass. As with the newer Palm Pre Plus, the device offers 16GB of internal memory. (For more details, see link to HP's Palm Pre 2 web-page at the end of the story.)
WebOS 2.0 touted for improved multitasking, shortcuts
"With WebOS 2.0, we're advancing the innovations we introduced 16 months ago, expanding the features that make WebOS great for consumers, enterprises and developers," said Jon Rubinstein, the former head of Palm and now the senior vice president and general manager of the Palm Global Business Unit at HP, in an Oct. 19 statement.
"We've made tremendous strides since the platform launched," he continued, "and now we're taking our biggest leap forward with powerful new features that make it easier to get more things done with your WebOS device."
Among those strides are application experiences "not available on any other platform," according to HP. In addition, HP is offering developers an "unparalleled" degree of openness.
Among the features unique to WebOS 2.0 are:
"True Multitasking" — Users can pause a game, reply to an email, check their calendar and return to the game without closing anything. A feature called Stacks also "logically groups together" open applications, making them reportedly easier to use and move between.
Just Type — Users can start searching or typing an email or text before an app is fully launched. The feature is also open to developers, so they can integrate this short-cut capability into their work.
HP Synergy — The first time a user signs into his or her Facebook, Google, Microsoft Exchange, Yahoo, or LinkedIn accounts, the account information is instantly populated into the phone.
Exhibition — This feature enables the device to run apps specifically designed for use with the Palm Touchstore charger, so "charging time isn't down time."
Additionally, WebOS 2.0 offers the following enhancements:
supports a beta version of Flash Player 10.1 in the browser, so the content users can browse isn't limited
can be used with Skype Mobile
has a phone interface that's been smartened up
compatible with enterprise VPNs
Quickoffice Connect Mobile Suite, for viewing Microsoft Office documents
supports Bluetooth keyboards and other peripherals
a lot more features for developers — which HP surely hopes will help to grow the (also newly redesigned) Palm App Catalog
In short, it's WebOS but "ratcheted up a few notches," as HP PR spokesperson Paul A. penned on the Palm Blog (see link below).
In early 2011, HP will also launch a tablet device running WebOS and intended to compete with the Apple iPad. Since its purchase of Palm, HP — a PC maker turned to smartphones — has taken another step in Apple's footprints, with the capability to offer both its own hardware and software.
"I think it's important to have control over the entire user experience and really deliver great consumer products," Rubinstein said in July at the Fortune Brainstorm Tech conference. "If you really want to deliver a great experience, in this case, the HP experience, you want your own OS."
Palm originally debuted the Pre on the Sprint network — a move analysts called a mistake — and then negotiated updated versions of its Pre and Pixi, the Pre Plus and Pixi Plus, onto the AT&T Wireless and Verizon Wireless networks.
Availability
The Palm Pre 2, featuring WebOS 2.0, will be available Friday in France from SFR, here, and is scheduled to be available "in the coming months" in the U.S. from Verizon Wireless, as well as in Canada, says HP. Neither Verizon nor HP has yet offered pricing details for the Palm Pre 2.
The WebOS 2.0 update will be delivered to existing customers in the coming months, with exact timing to be announced at a later date. HP's Web 2.0 announcement may be found here, and further details may be found here. The Palm Blog announcement may be found here.
Michelle Maisto is a regular contributor to our sister publication eWEEK.
---
This article was originally published on LinuxDevices.com and has been donated to the open source community by QuinStreet Inc. Please visit LinuxToday.com for up-to-date news and articles about Linux and open source.