Jan 9, 2009 — by Eric Brown — from the LinuxDevices Archive — 37 views
Palm announced its WebOS Linux platform yesterday, along with a smartphone to run it. To be sold by Sprint in the first half of 2009, the 3G-enabled Palm Pre features a slide-out keyboard, WiFi, GPS, 3-megapixel camera, 3.1-inch touchscreen, and Palm's homegrown "WebOS" Linux phone stack.
(Click for larger view of the Palm Pre)
Considering Palm's missteps in recent years, some were expecting the company to stumble again with its long-awaited, Linux-derived "Nova" operating system (OS). Yet on first glance, the WebOS distribution and the Pre phone it runs on appear to hold up just fine next to high-end smartphone platforms like Apple's iPhone, RIM's BlackBerry Storm, and Palm's fellow Linux traveler, the Android-based HTC G1 phone. (More on the Pre is available farther below, and more on Palm's tumultuous history over the last decade is available in last week's pre-release coverage, here.)
The Linux-derived WebOS leverages industry standard technologies, including CSS, XHTML, and JavaScript, says Palm, presumably using a technology such as Movial's just-open-sourced Browser Dbus Bridge to give privileged Javascript access to operating system-level APIs. The UI itself is apparently rendered by Webkit, according to reports. Real details about WebOS will not be available before Palm begins distributing the Pre, though software developers may be able to get early access under NDA (non-disclosure agreement).
Palm touts the WebOS stack as offering "a rich open development environment that's familiar to tens of millions of web developers." Developers will be able to distribute applications over-the-air via an on-device Palm application store, says the company.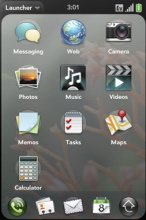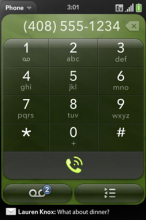 WebOS on Palm Pre: launcher, phone dialer with unobtrusive alert, and "card" view of web
(Click any to enlarge)
Although few technical details were provided, the multi-tasking WebOS appears to offer far more advanced capabilities than the proprietary, single-tasking PalmOS. It does not appear to be backward compatible with PalmOS applications running on devices such as the Treo, though Palm says it expects third parties — likely referring to PalmSource acquirer Access — to provide solutions for that. Also no word yet on whether the device will support Java applications, as nearly all other mobile phones do these days.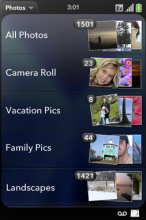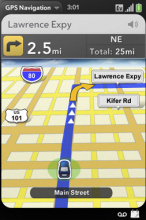 WebOS on Pre: photo viewing, GPS navigation, and zoomed web page
(Click any to enlarge)
WebOS is said to provide numerous unified messaging and synchronization features, as well as a gesture-based UI that includes a card metaphor for sifting through screens and applications. The unified messaging technology is called Palm Synergy. It aims to integrate information from multiple sources such as calendars, contacts, and messaging applications into combined, logical views, says the company. For example, it not only synchronizes contacts between the Pre, PC contacts, and web-based contact accounts, but it automatically recognizes the same contact listed in Outlook, Google, Facebook, and other accounts, and displays them as a single listing, says Palm.
Palm Synergy's linking model extends to "layered calendars," in which WebOS layers multiple calendars together in a variety of unified or toggled views. Synergy is also said to provide unified messaging features such as showing a message thread with an individual in a chat-style view. It even integrates different messaging technologies, such as email, IM, and text messages, so they are displayed in the same thread.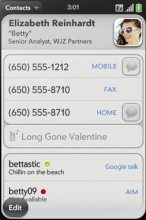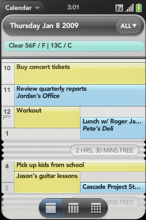 WebOS on Pre: Palm Synergy in action with unified messaging, contacts, and calendar views
(Click any to enlarge)
Additional WebOS features are said to include:
Web-connected applications — Taking advantage of 3G always-on networks, WebOS offers persistent connections between applications and the Web, providing updates in the background, says Palm.
Multitasking — Palm touts the multitasking capabilities of WebOS, claiming that users can quickly flip between multiple open applications.
Multi-touch interface — Gesture and touch tricks include the usual drag and drop, as well as moving between activities "like flipping through a deck of cards."
Universal search — WebOS is touted for its search aids, which can dynamically narrow a search as terms are entered, returning results from both the phone and the web.
Unobtrusive notifications — Palm promises to send update notifications "with a diplomacy that's a radical departure from other mobile platforms." For example, new text message or email arrivals prompt a scrolling notification bar at the bottom of the screen that does not interfere with the main screen activity.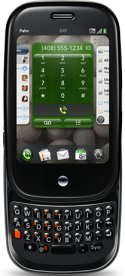 Palm Pre with
keyboard extended
(Click to enlarge)
Inside the Palm Pre
The Palm Pre is the first of several mobile devices to run WebOS, suggests Palm. The first one is the one that counts, of course, and when it comes to smartphones, style is all important. In this regard, the Pre seems to compete with the latest smartphones, offering a rounded design with a keyboard that slides out on a curved slider.
At 2.4 x 4.0 x 0.7 inches, the Pre is slightly smaller than the first Android phone, the HTC G1, and the 4.76-ounce phone offers a more cramped thumb-oriented QWERTY keyboard compared to the landscape-style slide-out of the G1. Yet, the design appears sleeker than the G1, especially with keyboards extended. In addition, the Pre offers design innovations like a "gesture area" underneath the screen where one can swipe and flip away at the UI without obscuring the screen.
Palm did not disclose the processor that drives the Pre, but says that the phone ships with 8GB of internal memory, of which 7.4GB is available to users. A microUSB connector with USB 2.0 Hi-Speed support is available for USB storage, says the company, but there does not appear to be any flash expansion.
Unlike the quad-band GSM G1, the Pre uses a higher-bandwidth 3G network. The version to be sold exclusively by Sprint in the U.S. will offer EVDO Rev. A 3G support, and a UMTS HSDPA model will come out later that will be aimed at Europe and other international markets. The Pre offers WiFi, of course, as well as Bluetooth, GPS, and a 3-megapixel camera, all of which match the G1 spec-for-spec.
The 3.1-inch HVGA touchscreen, which offers 320×480 resolution and 24-bit color, is only slightly smaller than the G1's 3.2-inch display. Like the G1 and most other high-end smartphones, it is equipped with accelerometers, so it can be flipped, with the display adapting accordingly. Yet the sensor-crazy Pre goes two steps beyond, adding both a proximity sensor, that is said to disable the display whenever a user places the phone up to an ear, as well as a light sensor that dims the display when he ambient light is dark. Both features are said to reduce power usage.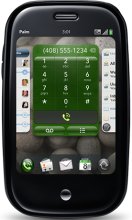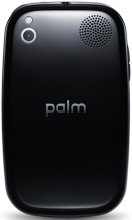 Pre with keyboard obscured (front and back)
(Click on either to enlarge)
Palm did not provide details on the battery, nor did it offer duration estimates. However, the battery is removable and can be recharged on an optional "Palm Touchstone" inductive charging docking device, that lets users lay the phone down flat for charging, instead of fumbling with power connections.
The Pre appears to offer a full line-up of Linux/WebOS smartphone software, including email, web browsing, messaging, and audio and video playback. It also features Sprint-specific services preinstalled, including:
Sprint TV — live and on-demand programming
Sprint Navigation — GPS-enabled turn-by-turn driving directions via audio or graphic display with one-click traffic rerouting and more than 10 million local listings
Sprint Radio — The 150-channel Sprint Radio Internet radio service, plus access to more than a dozen streaming-radio applications
The Palm Pre includes the following stated features:
Memory — 8GB of internal storage (about 7.4GB user available)
Display — 3.1-inch HVGA touchscreen (320×480 resolution and 24-bit color)
Input — slide-out QWERTY keyboard; gesture touchscreen interface
Cellular — EVDO Rev. A or UMTS HSDPA
WiFi — 802.11 b/g with WPA, WPA2, 801.1x authentication
Bluetooth — Bluetooth 2.1 + EDR with A2DP stereo support; enables phone as laptop modem via tethering
USB — MicroUSB connector with USB 2.0 Hi-Speed and storage support
GPS — integrated GPS
Camera — 3-megapixel with LED flash and extended depth of field
Audio — 3.5mm headset jack
Sensors:

Proximity sensor — disables display when phone brought to ear
Light sensor — dims display in low ambient light
Accelerometer — orients web pages and photos to perspective

Other features — Ringer switch silences device
Video formats — MPEG-4, H.263, H.264
Audio formats — MP3, AAC, AAC+, AMR, QCELP, WAV
Image formats — GIF, Animated GIF, JPEG, PNG, BMP
Email — Outlook EAS (for access to Microsoft Exchange), plus personal email support (POP3, IMAP)
Messaging — IM, SMS, and MMS
Web browser — "desktop-class web browser"
Battery — removable, rechargeable battery; optional "Palm Touchstone" inductive charging docking device
Dimensions — 2.4 x 4.0 x 0.7 inches (59.6 x 100.5 x 17.0mm)
Weight — 4.76 oz (135 gr)
Operating system — WebOS Linux
Stated Ed Colligan, Palm president and CEO, "WebOS and Pre bring game-changing simplicity to an increasingly mobile world by dissolving the barriers that surround your information."
Availability
Palm Pre is scheduled to be available in the U.S. exclusively from Sprint in the first half of 2009, says Palm. A UMTS version will be made available later in other regions of the world. Sprint's pricing has not yet been determined.
---

This article was originally published on LinuxDevices.com and has been donated to the open source community by QuinStreet Inc. Please visit LinuxToday.com for up-to-date news and articles about Linux and open source.