Jul 23, 2007 — by LinuxDevices Staff — from the LinuxDevices Archive — views

[Updated 11:15 AM] — HP on July 23 announced plans to acquire thin client specialist Neoware, in a deal valued at $214 million. HP expects the acquisition to boost its thin client Linux software, and help it compete in the emergent market for virtualized client computing.
Neoware is the third-largest thin client vendor, after Wyse and HP. Of the three, it alone is "committed to the Linux operating system," it said in February of this year, when it last revised its NeoLinux OS.
Assuming the deal passes regulatory approval, it could create a worthy competitor to Wyse, which a year ago claimed to have a 44 percent share of the thin client market in the U.S., 35 percent in Asia Pacific, and 27 percent in Western Europe. The deal would put HP close to but probably not ahead of Wyse in marketshare, said VP of business desktops Kevin Frost. Frost added, "We don't anticipate any regulatory hurdles."
Frost said the deal will enable HP to better compete in that half of the thin client market that uses a Linux OS, according to IDC figures. "Roughly half of the thin client market is based on Windows-derivative OSes. The other half is Linux or Linux-derivative type solutions," Frost said.
As examples of thin client markets where Linux may have the upper hand, Frost cited developing nations such as India, and Western European governments, which increasingly mandate open source software such as Linux, he said. Another use case for Linux is where customization is required — adding a specific VPN (virtual private network) access technology, for example.
In addition to upside for the current business climate, though, the Neoware deal holds the promise of helping HP compete in emerging markets such as thin client notebooks and, perhaps more importantly, virtualized client computing.
Virtualized client computing
During the past year, Neoware has claimed a couple of "firsts" in thin client computing. Its m100 thin client notebook, introduced last October, was touted as the first device aimed at extending the security benefits of network computing to mobile workers. And, in March, it announced a new VDI Edition family of thin clients aimed at virtualized client computing systems. These clients appear to have been instrumental in convincing HP to acquire the company.
In a statement, Kevin Frost, VP of business desktops, said, "Our objective is to become the preferred brand of thin clients and software for virtualized client computing."
Neoware CEO Klaus Besier, meanwhile, stated, "Acquiring our company will further strengthen HP's PC business. Together, we will continue to promote the shift to virtualized client computing."
In an investor call today, Frost admitted that virtualized computing remains a small part of HP's business today. However, he said that HP expects virtualization to follow the pattern of other important thin client technologies that have started out small. "We expect it to accelerate," he said.
Virtualized client computing is typically based on technologies such as VMware's VDI technology, Microsoft Virtual Server, or Xen, the open source server virtualization technology promoted by HP competitor Novell. Like other virtualization technologies, virtualized client computing technologies divide the host server's physical resources — memory, storage, processor cycles, etc — into multiple virtual machines (VMs) remotely accessible via the network (see figure below).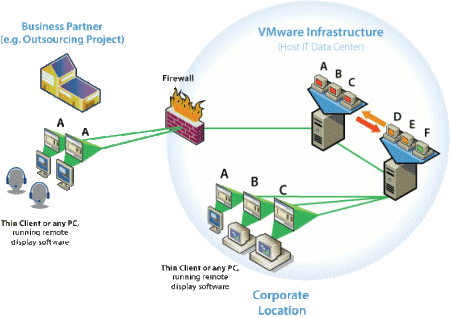 VMware VDI typical use
(Source: VMware. Click to enlarge)
Unlike traditional thin client computing, virtualized client computing gives users their own virtual PC, complete with dedicated hardware resources like memory and processor cycles. This is claimed to produce a more PC-like experience for users, while still offering administrators some of the advantages of network computing — easier installation, upgrades, and patches, and better support for unattended backups.
In answer to questioning, Frost said he "would not rule out" the possibility of HP acquiring additional companies offering virtualization technology on the server side.
Another thin client vendor that specializes in Linux — Igel — also announced virtualized client computing capabilities this month, together with support for Leostream VDI management software.
To learn more about various approaches to enterprise virtualized client computing, check out eWEEK's recent podcast on the The State of Virtualization.
---

This article was originally published on LinuxDevices.com and has been donated to the open source community by QuinStreet Inc. Please visit LinuxToday.com for up-to-date news and articles about Linux and open source.