Sep 29, 2004 — by LinuxDevices Staff — from the LinuxDevices Archive — 302 views
This continually updated guide provides pointers to LinuxDevices.com's extensive coverage of Linux-based thin client devices and systems. Thin clients are minimalist systems, often without moving parts, designed to serve programs that run on remote Linux, Unix, or Windows servers. Thin clients typically use remote access networking protocols such as X (Linux/Unix), RDP (Microsoft), or ICA (Citrix). They are also sometimes called network computers or server-centric computing devices.
For additional perspective on this important market for embedded Linux technologies, be sure to also read our Linux thin client "Hot Topic" article which provides a brief overview of thin client technologies, summarizes recent news related to Linux thin clients, and provides a reading list for further study.
---
Linux thin clients
---

Devon IT TC5X/XW — Mar. 12, 2009 — Devon IT'S latest thin client uses Intel's Atom N270 processor and supports dual HD displays. The "TC5X/XW" offers up to 2GB each of RAM and DOM, plus gigabit Ethernet and optional WiFi, and is available with Devon IT's DeTOS Linux distribution.

NorhTec MicroClient TC — Mar. 11, 2009 — This NorhTec thin client is the first device to use Via's first ARM9 SoC, the VT8500, a forerunner of the more multimedia-enhanced Via/WonderMedia "Prizm" models. The MicroClient TC's 300MHz SoC is backed up with 256MB DDR2-400 and 4GB of flash, and the system is equipped with an SD slot, Ethernet and serial ports, three USB 3.0 ports, optional WiFi, and support for 1024 x 768, 24-bit displays.

Bencse J5200 and H-5800 — Feb. 19, 2009 — These thin clients from ShenZhen China-based manufacturer SZ Bencse Electronic Technology (Bencse) target educational, government, business, taxation, and medical organizations. The Linux-ready models include the entry level J5200, and four higher-end H-5800 models, and all run on Intel Celeron processors clocked at 566MHz.

Igel UD2, UD3, UD5, UD7, and UD9 — Jan. 29, 2009 — These five Igel thin clients run Linux, using Via or AMD processors. The new UD2, UD3, UD5, UD7, and UD9 (left) offer a variety of form factors, as well as "Digital Service Pack" software that is claimed to simply thin-client configuration.

Dell Optiplex FX160 — Oct. 31, 2008 — Dell's first internally designed, embedded thin client design measures 9 x 8.9 x 2.1 inches and offers single-core Atom 230 or dual-core Atom 330 processors. The Optiplex FX160 provides up to 4GB of RAM, an optional 2.5-inch hard disk drive, a gigabit Ethernet port, and optional 802.11b/g WiFi.

Chip PC — Sep. 22, 2008 — This Linux version of Chip PC Technologies's compact thin client is based on an RMI Alchemy Au1250 processor, and runs on a claimed 3 to 3.5-Watts of power. The Xtreme PC LX offers onboard multimedia acceleration, domain authentication, and Active-Directory-based management.

CompuMaster Praim Ino — May 15, 2008 — This compact thin client from Italy-based CompuMaster runs Linux on an AMD Geode LX800 clocked to 500MHz. The "Praim Ino" can be mounted on the back of a monitor, draws just six Watts, and comes with a variety of client software.

Noax C8 ITC — Feb. 19, 2008 — This Linux thin client panel PC from German embedded equipment vendor Noax Technologies targets harsh industrial environments. The fully sealed, IP65-compliant C8 ITC is based on a 400MHz Intel Celeron processor, and offers an 8.4-inch TFT display with integrated touch panel.

HP t5735 — Jan. 28, 2008 — The first thin clients from Hewlett-Packard (HP) since its acquired thin-client vendor Neoware include a Debian Linux-based model. The "t5735" features a 1GHz Sempron 2100+ CPU and GPU (graphics processor unit) from AMD, as well as 512MB of DDR2 RAM, 1GB of flash, gigabit Ethernet and serial ports, and eight USB ports.

NorhTec MicroClient JrSX — Oct. 18, 2007 — Bangkok-based NorhTec's sub-$85 mini-PC thin client is based on a 300MHz x86-compatible SoC from DMP Electronics. The "ultra-low-power" MicroClient JrSX includes both CompactFlash and 2.5-inch hard drive storage options, along with 10/100Mbps Ethernet.

Advantage Business Computer Systems TCSX-1 — [Dec. 11, 2001] — The TCSX-1 is a tiny thin client design based on a PC/104 motherboard with a 75MHz STPC processor that can run embedded Linux. details
---

AMD Geode GX RDK — [Jun. 1, 2004] — AMD is now shipping a reference design kit (RDK) for thin clients based on its low-powered Geode GX processor. The RDK includes hardware and drivers for Linux and other embedded operating systems, and targets corporate thin clients, terminal-in-blade PCs, point-of-sale, education, information appliances, and kiosks. details
---

AtavoNTA NTA 6010A — [Jul. 29, 2005] — A $150 Linux-based thin-client PC based on a 433MHz Via Eden processor, the Ntavo NTA 6010A comes equipped with 64MB of DIMM DRAM and 64MB of CompactFlash memory, and a display controller that supports up to 1280×1024 pixels in 24-bit color. Expansion ports include 3 USB, 2 serial, parallel, PS/2 keyboard/mouse, audio in/out, and 10/100 Mbps Ethernet. With DIMM-socketed DRAM, 3 USB ports, an available internal PCI slot, and a built-in CompactFlash socket, it sounds like a gloriously hackable platform. details
---

Athena T2117F thin client — [Jul. 2006] — Claimed to be the first fanless, thin client terminal integrated directly into a TFT LCD monitor, the 17-inch T2117FM runs Linux, and is well-suited to critical care environments in hospitals, according to the company. details
---

BOScom LTC 1000 — [Aug. 11, 2004] — BOScom has launched a high-end, Linux-based thin client capable of running OpenOffice and Java applications locally. The Bosanova LTC 1000 has a fanless VIA embedded processor clocked at 1GHz, legacy and modern ports, and PCMCIA, PCI, and SmartCard expansion slots. details
---

Clearcube I/Port I8020 — [Apr. 206] — A Linux-powered "virtual client" that offers secure remote access to a dedicated blade server running Windows XP, the I/Port I8020 client has more inherent security than a laptop, and provides the "full power" of a Pentium 4 from anywhere in the world, the company claims. details
---

Computer Lab Int'l MT1500t — [Mar., 2006] — A mid-range model based on Mandrake Linux, the MT1500t supports attachment to VESA-compliant monitors, and works with mainframes, midrange systems, and servers running Linux, Windows, or Citrix. It also sports a local Firefox browser. details

Computer Lab International ET4500T — [Nov. 4, 2005] — A Via-based thin client that runs Mandrake Linux and supports a wide range of server OSes, Computer Lab International's (CLI's) ET4500T is available with terminal emulators for various legacy systems, and supports X, RDP, and Citrix protocols. details
---

Concept Distribution miniPC — [Jun. 22, 2005] — A tiny Geode-based PC measuring 5.5 x 5.1 x 1.4 inches (13 x 14 x 3.5cm), and available with thin-client or a general-purpose Linux OS. details
---

Devon IT NTAVO NTA 620 — [Jun. 2006] — A line of very low-cost thin clients based on 800MHz Via C3 processors and a Linux-based "DeTOS" OS, the NTAVO NTA 6020-series clients are priced from $150 to $250 and support RDP, ICA, and X-clients, with Java, terminal emulation, and a local browser optional. details
---

Fujitsu-Siemens Futro S — [Jul. 12, 2004] — Fujitsu Siemens has launched a line of solid-state thin clients that use just 25 watts, or 80 percent less power than PCs. The Futro S clients run embedded Linux on Transmeta processors, and are no larger than medium-sized books. details
---

GLX GSTB 3602 and GSTB-4001 — [Dec. 11, 2003] — Chip houses Advanced Micro Devices (AMD) and BLX IC Design Corp. Ltd. (BLX) have jointly launched a Computing Client Development Center in Beijing, chartered to produce reference designs targeting thin-client, mobile client, and access/networking applications. The Center has already produced two thin-client reference designs based on AMD's Alchemy and BLX's Godson processors, running embedded Linux. details
---

HP t5525 and t5125 — [Jun. 7, 2005] — Two thin clients based on Via embedded processors and embedded Linux, the t5525 and t5125 run on Eden ESP chips clocked at 800MHz and 400MHz, respectively, and have a Linux OS with a 2.4-series kernel that supports Citrix ICA, Microsoft RDP, and X-terminal protocols. details

HP-Compaq t5515 — [Mar. 24, 2004] — HP has announced it will partner with Novell to certify and support Novell's SuSE Linux on select HP Compaq client systems. HP cites thin clients as the most promising growth area for Linux on the desktop, and identifies Asia, India, and South America as the most promising growth markets. details
---

Igel Panaveo — [Oct. 2006] — A thin client device that can simultaneously drive four independent digital or analog display screens, Igel's fanless PanaVeo thin client is based on an Intel Celeron M processor, and is available with Linux. details


Igel Clever Clients — [Sep. 9, 2004] — Igel sells a full range of thin clients based on Embedded Flash Linux, including a Premium series (above-left) introduced in December, 2004, and a Compact model (above-right) introduced in December, 2003. Igel Technology is not to be confused with Igel USA, previously known as Igel LLC, a US company founded in 1994 which later changed its name to SmartFlex (see listing below).
---

Kontron [email protected] micro clients — [Oct. 15, 2005] — A line of fanless, thin-client operator terminals powered by an x86-compatible embedded processor, the new [email protected] "Micro Clients" are based on the company's ETX format CPU modules, allowing them to be scaled to meet evolving performance requirements, according to the company. details
---

Linutop Linux desktop client — [Oct. 2006] — A compact Linux-based computing appliance aimed at web surfing kiosks in libraries, schools, offices, hotels, hospitals, Internet cafes, and family rooms, this device from Parisian startup Linutop features a fanless x86-compatible Geode processor, and flash-based storage for completely silent operation. details
---

Maxspeed Maxterm 101 and 301 — [Oct. 5, 2004] — Two inexpensive embedded Linux thin clients that support ICA (Citrix) and RDP (Microsoft) protocols, and offer legacy and USB ports, the Maxterm 101 and 301 have suggested prices of $299 and $329, respectively. The 301 includes a local browser and terminal emulator suite. details
---

Mobilis SofCore — [May 17, 2005] — The SofCore is the least expensive model in Simputer maker Mobilis's line of Linux-based computing devices for the Indian market. Details
---

Neoware m100 thin client notebook — [Oct. 2006] — A Linux-based thin client notebook, the m100 has no local data storage, and hence does not place sensitive data at risk of being lost or stolen, according to the company. details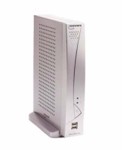 Neoware e90 and e140 — [Jan. 18, 2006] — The e90 and e140 both feature compact, space-saving designs and are available with an embedded Linux operating system. The 140 (pictured) is said to be Neoware's "highest-performing" model. details

Neoware e370 — [Nov. 14, 2005] — A thin-client with an integrated design that builds the thin client electronics directly into a 17-inch flat panel display, the e370 has the same specs as the C-50 below. details

Neoware C-50 — [Nov. 14, 2005] — A thin-client based on a 400MHz Via processor, with up 512 MB each of DDR RAM and Flash memory. The C50 and e370 above both include Neoware's TeemTalk terminal emulation package, said to support more than 30 different green screen terminals, including IBM 3270, 5250, DEC VT, HP, and Wyse. details

Neoware Capio One and Eon — [Apr. 05, 2004] — Embedded Linux and VIA processors have helped Neoware produce two thin clients it hopes will boost network computing. Neoware claims its $199 Capio and $299 Eon offer security advantages, all the performance, and better centralized management than PCs, at a quarter of the price. details
Neoware e900 rugged thin-client — [Aug. 31, 2005] — A rugged thin client aimed at industrial applications such as retail distribution centers, transportation hubs, and manufacturing shop floors, the e900 comes stock with Neoware's custom embedded Linux OS, but can be modified to run other OSes, the company says. details
---
NComputing Xtenda X300 — [Apr. 2006] — A multi-user Linux PC expansion kit targeting the global education market, the Xtenda X300 expansion kit allows a single Linux PC to support up to six additional users, at a cost of around $83 per added user (plus monitor, keyboard, and mouse). details
---

Netvoyager Lithium LX-1040, LX-1030, and LX-1020 — [Jun. 6, 2005] — Netvoyager is offering three of its thin clients with an optional embedded Linux-based operating system. The "Lithium" OS supports mixed server environments and remote management, and is available on thin clients with integrated 17-inch LCD monitor, wall-mounting rails, PCMCIA and smart card readers, and more. Details
---

New Internet Computer (NIC) thin client — [Jun. 2, 2003] — The New Internet Computer (NIC) company, which was founded by Oracle CEO Larry Ellison, sold the "NIC," a small $200 Linux-based "thin client" system that loaded Linux from a built-in CDROM drive. An article at CNet attributes the failure of the NIC company to the lack of market for using a "Web-surfing appliance as an alternative to a low-cost PC." details
---

Nexterm SE — [Jun 19, 2002] — The Nexterm SE is thin-client codeveloped by Nexterm and ELT, two Japanese firms. It runs MontaVista Linux on a 206MHz StrongARM processor. details
---

SmartFlex (formerly IGEL) thin clients — [Sep. 28, 2004] — SmartFlex operated as IGEL LLC (InteGrated ELectronics) from 1994 to 2000, and then as IGEL USA (InteGrated Easy Linux) until 2001, when the company changed its name to avoid association with IGEL GmbH of Germany, then undergoing stock market difficulty, according to SmartFlex founder Hans Knobloch. Knobloch claims the company produced the first Linux clients supporting the ICA (Citrix) protocol. It now produces four hardware- and software-customizable thin client products, as well as SmartModules, CompactFlash modules with customizable versions of the company's Linux-based SmartClient OS preinstalled, for use with existing or third-party hardware. Available with NX compression. details
---

Sun Ray thin client — [Jul. 10, 2005] — A Sun Linux thin client that equals Windows desktops in browser, email, word processing, and spreadsheets, and outshines them in applications with mobile workers, such as retail, according to reviewer Sean Gallagher of Channel Insider. details
---

The Symbiont — [May 20, 2004] — A New York startup selling Linux-based thin-client management software has called foul on HP and Dell for recent efforts to fund computer recycling programs. Symbio Technologies says the computing giants stand to sell more new PCs if old PCs — which can be re-used as diskless clients — are destroyed, instead of being donated to schools or resold. Symbio also resells new thin client devices (such as those pictured) that run embedded Linux. details
---

ThinLinux Hot-E — [Jul. 20, 2005] — A line of Linux-based thin-clients that access Ubuntu Linux desktops and commercial Linux applications hosted on ThinLinx's grid network, which initially offers the Firebird database, Compiere and OpenCRX ERP/CRM software, E-GroupWare, and LinuxCanada POS/accounting software. It uses caching X proxies to improve performance. details
---

VXL Instruments Itona TI54xx — [Jul. 2006] — VXL Instruments has released its first thin client series integrated into a 17-inch LCD monitor. The Itona TI54xx series clients feature built-in 802.11g WiFi, and support for dual monitors, a requirement for many financial applications and customer care centers, according to the company. details
---

WML Sumo thin client — [Jun. 2006] — A Linux-based client targeting remote, low-bandwidth corporate network infrastructure, including healthcare and industrial applications, the ironically named "Sumo" thin client uses open source X caching and .NET libraries to achieve good scalability and a Windows look and feel, the vendor says. details
---

Wyse Wireless V-Class — [Oct. 2006] — Claimed to be the industry's first family of high-speed, WiFi-enabled thin clients, the Wireless V-Class thin clients are available with an embedded Linux OS, and feature ultra-simple installation — just plug it in, the company says. details

Wyse Winterm 5150SE — Aug. 2, 2004] — The Winterm 5150SE is the first model to use Wyse's V6 embedded Linux thin-client OS, which is based on a 2.6-series Linux kernel. It is based on an AMD Geode GX533 processor, and offers both USB and legacy I/O ports. Details here and here

Wyse Winterm 5125SE and 5455XL — [Jul. 14, 2003] — Wyse announced two Linux thin-clients to "address the rapidly expanding Linux thin-client market . . . and allow [Wyse] to maintain its dominance of the worldwide thin-client market." Wyse later revised its 2.4-series based thin-client Linux operating system. details

Wyse 5440XL — [Jan. 23, 2002] — The Winterm 5440XL provides an X-terminal, Java, or local execution of Linux applications. It features an expandable chassis, a robust version of Linux, and exceptional remote management solution, Wyse says. Wyse's first Linux-based thin client. details
---
Return to top of guide
---

This article was originally published on LinuxDevices.com and has been donated to the open source community by QuinStreet Inc. Please visit LinuxToday.com for up-to-date news and articles about Linux and open source.