Jan 7, 2010 — by LinuxDevices Staff — from the LinuxDevices Archive — 5 views
HP announced three netbooks using Intel's N450 "Pineview" processor that support SUSE Linux: the Mini 210, Mini 2102, both with 10.1-inch screens, and the Mini 5102, which offers 10-hour claimed battery life and an optional touchscreen. Meanwhile, at CES the company unveiled a prototype Qualcomm Snapdragon-based Android "smartbook," says Engadget.
HP's first netbook, the April 2008 Mini-Note 2133, featured a Via C7-M ULV processor, an aluminum shell, and a coated "DuraKeys" keyboard, and was touted as suitable for business and educational markets. HP later targeted consumers with the Atom N270-based Mini 1000, released in October 2008.
Since then, the manufacturer has released a bevy of additional netbooks, many of them critically well-received, under both its HP and Compaq brands. While some shipped only with Windows, a sizable group has been available either with HP's Ubuntu Linux-based "Mi" distribution, such as the Mini 110 with Mi or SUSE Linux. Among the latter was the forerunner to the new Mini 5102, the business-oriented Mini 5101, which was announced last June.
HP's offerings have all featured similar technology, but each has been tweaked somewhat to suit consumer, enterprise, or educational markets. Such is yet again the case with the new Mini 210, Mini 2102, and Mini 5102, all of which step up to the Atom N450 processor Intel announced last month. According to several sources, including Liliputing, all three models are available with SUSE Linux.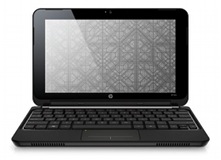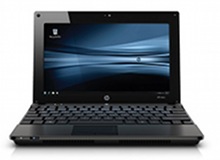 HP's Mini 210 (left) and Mini 5102 (right)
(Click either image to enlarge)
The Mini 5102 (above right) is said to be a "full-performance netbook designed for mobile professionals and students." Meanwhile, the Mini 210 (left) and Mini 2102 — apparently distinguished mostly by the former's availability in silver, blue, and red finishes as well as the latter's black — are touted as "ideal companion PCs for the consumer, business traveller or student."
HP hasn't yet posted data sheets for its new triplets, nor responded to our emailed requests for same, but the devices are said to include typical netbook ingredients such as webcams (two megapixel on the 5102), hard disk drives (stated as being up to 320GB on the Mini 210 and Mini 2102), memory card readers, wireless networking, and optional 3G modems. All feature 10.1-inch displays, apparently in the typical 1024 x 600 pixel resolution.
The Mini 5102, meanwhile, is said to be optionally available with a 1366 x 768 pixel screen. This can be combined with a Broadcom BCM70015 video accelerator, which allows the device to perform smooth 1080p HD video playback, according to HP.

HP says the Mini 5102, which has a "95 percent of full size" keyboard, is further available with an optional multi-touch screen, which allows users to navigate through applications and menus with finger taps and swipes. A "Student Edition" may be configured with an integral handle (right) and includes Adobe Digital School Collection software, providing document management and portfolio creation tools "for enhancing learning experiences in language arts, history, music and the sciences."
According to HP, the Mini 5102 delivers up to 10 hours of battery life when configured with an optional six-cell battery. A standard four-cell battery, on the other hand, keeps weight down to 2.6 pounds, the company adds.
As for the Mini 210 and 2102, they're apparently smaller ("92 percent" keyboards, and less than an inch thick, according to HP), but weight is about the same, starting at 2.7 pounds. The devices offer optional GPS receivers and 3G connectivity, and deliver up to nine hours of battery life, the company says.
Once again, the Mini 210 and 2102 are said to be available with Broadcom's HD video accelerator, though HP didn't specify whether their screens are also available in 1366 x 768 pixel versions. The Mini 210 also includes QuickWeb, a quick-booting Linux environment based on DeviceVM's Splashtop, according to HP.

HP shows Android smartbook prototype
According to Engadget, at CES, HP is showing off a prototype "smartbook" running Android on Qualcomm's ARM-based Snapdragon processor. Shown at right in an Engadget shot, the netbook features a 10-inch resistive touch display, and "is just a concept and the white plastic chassis is far from pretty or final, and frankly it just looks like a last generation HP Mini," says the story. After a brief encounter, the writer noted that the Snapdragon- and Linux-based Lenovo Skylight smartbook, which was announced this week, seemed more impressive.
Availability
According to HP, the Mini 210 and Mini 2102 will be available in the U.S. today, with starting prices of approximately $300 and $330, respectively. The Mini 5102 will be available later this month for approximately $400, the company adds.
In its press release, HP mentions only Windows 7 support, but several sources including Liliputing (see link below) say the netbooks will also be offered with SUSE Linux, Windows XP, and even FreeDOS. As noted, HP has not yet posted data sheets for its new netbooks, though the company's press release announcing the systems may be found here.
Meanwhile, reviews of the Mini 5102, both confirming battery life of at least ten hours, may be found on the PC website, here, and Laptop website, here.
The Liliputing stories on the Mini 210 and 2102 may be found here, and on the Mini 5102, here. The Engadgetstory on the HP smartbook prototype should be here.
---
This article was originally published on LinuxDevices.com and has been donated to the open source community by QuinStreet Inc. Please visit LinuxToday.com for up-to-date news and articles about Linux and open source.