Jan 13, 2012 — by LinuxDevices Staff — from the LinuxDevices Archive — 2 views
IBM Research demonstrated what it claims is the world's smallest memory bit, using only 12 atoms. IBM's "atomic memory" prototype, by tapping the alternating magnetic spin of antiferromagnetic atoms, is said to achieve storage that is 100 times denser than today's hard disk drives and solid state memory chips.
IBM researchers have demonstrated a new kind of memory bit that uses only 12 atoms. Until now, it was unknown how many atoms it would take to build a reliable magnetic memory bit, IBM said. Through their research, they found the answer to be 12. The accomplishment is the culmination of nearly 30 years of nanotechnology research, IBM said.
By demonstrating the ability to store information in as few as 12 magnetic atoms, IBM says it can deliver a storage environment that is significantly smaller than today's disk drives, which use about one million atoms to store a single bit of information. This can lead to the creation of smaller, faster, and more energy-efficient devices, IBM said.
By beginning at the smallest unit of data storage — the atom — the scientists demonstrated magnetic storage that is at least 100 times denser than today's hard disk drives and solid state memory chips. In addition, future applications of nanostructures built one atom at a time could allow the storage of 100 times more information than is currently possible in the same space, say the researchers.
Antiferromagnetism applies reverse spin
Standard ferromagnets, such as commercial refrigerator magnets, use a magnetic interaction between their constituent atoms to align all their spins — the origin of the atoms' magnetism — in a single direction. Ferromagnets have worked well for magnetic data storage, but in order to miniaturize this down to atomic dimensions, the researchers were forced to overcome a major obstacle: the interaction of neighboring bits with each other.
The magnetization of one magnetic bit can strongly affect that of its neighbor as a result of its magnetic field, says IBM. Harnessing magnetic bits at the atomic scale to store information requires precise control of the interactions between the bits.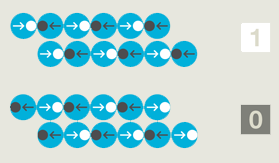 IBM graphic showing how the inherent alternating magnetic spin directions of antiferromagnetism enables data to be reliably stored using just 12 atoms.
Source: IBM Research
The researchers at IBM Research overcame this obstacle by using an unconventional form of magnetism called antiferromagnetism. Using a scanning tunneling microscope (STM), they atomically engineered a grouping of 12 antiferromagnetically coupled atoms that stored a bit of data for hours at low temperatures. To achieve this, they took advantage of antiferromagnetic atoms' inherent alternating magnetic spin directions.
In this way, the researchers demonstrated the ability to pack adjacent magnetic bits much closer together than was previously possible. The approach was said to have greatly increased the magnetic storage density without disrupting the state of neighboring bits.
In December 2010 IBM Research announced somewhat related memory storage technology, once again making use of nanotechnology and magnetic effects, called "racetrack" memory. The solid state memory technology stores data by manipulating the magnetic state of regions — magnetic domain walls — within nanowires.
Stated Andreas Heinrich, the lead investigator into atomic storage at IBM Research, Almaden, "The chip industry will continue its pursuit of incremental scaling in semiconductor technology but, as components continue to shrink, the march continues to the inevitable end point: the atom. We're taking the opposite approach and starting with the smallest unit — single atoms — to build computing devices one atom at a time."

Andreas Heinrich explains IBM's storage breakthrough
(click to play)
Further information
More information on IBM's storage breakthrough may be found at this IBM Research page.
Darryl Taft is a writer for eWEEK.
---
This article was originally published on LinuxDevices.com and has been donated to the open source community by QuinStreet Inc. Please visit LinuxToday.com for up-to-date news and articles about Linux and open source.