May 16, 2011 — by Eric Brown — from the LinuxDevices Archive — 4 views
Nvidia CEO Jen-Hsun Huang confirmed his company is building quad-core Tegra 3 processors for new Nexus tablets or smartphones running the upcoming Android "Ice Cream Sandwich" operating system. Meanwhile, a Tegra 2-based Motorola Droid X2 is coming to Verizon May 26, followed later by a Droid 3 that switches to Texas Instruments' dual-core Cortex-A9 OMAP4430, according to industry reports.
Nvidia CEO Jen-Hsun Huang confirmed that his company will debut its previously announced quad-core Tegra 3 on devices running the upcoming version of Android codenamed "Ice Cream Sandwich." Prompted by a financial analyst on Nvidia's first quarter earnings call May 12, Huang confirmed that Nvidia is working closely with Google on the upcoming Android release, according to transcripts published by Seeking Alpha.
Stated Huang: "We're really excited about the work that they're doing on Ice Cream. And I can't comment too much more other than that, but we're working very closely with their teams on the 'Ice Cream Sandwich.' And as all of these products — they will come to the market when they're great, and I'm certainly expecting them to be great this year."
Tipped with scant detail by Google last week at Google I/O, "Ice Cream Sandwich" is designed to curb the fragmentation issues that have plagued Android since Google forked the platform with its tablet-optimized Android 3.0 ("Honeycomb"). It appears the build will combine features from Android 3.0 with Gingerbread (Android 2.3), once again unifying thedevelopment threads.
"We're taking all the good stuff that we added to 'Honeycomb' for tablets, and we'll make it available everywhere," Google Android engineer Mike Cleron said at Google I/O May 10, according to a write-up on the Huang comments from Clint Boulton in our sister publication eWEEK.
With "Ice Cream Sandwich" due later this year, and Google's Andy Rubin indicating the public can expect a Nexus device running the new release later this year, it would appear that a Tegra 3-based Nexus product running the new Android release could ship before year's end, writes Boulton. The partially Google-branded Nexus devices, available so far from HTC and Samsung, typically debut a new Android release as well as significant new hardware. Sprint just launched the Samsung Nexus S 4G smartphone last week.
It is unclear whether there will be a smartphone, a tablet, or both that will adopt the Tegra 3 under the Nexus banner. There have been rumors that Toshiba's upcoming 10.1-inch Android tablet, which will be called the Regza AT300 in its Japanese version due in June, will actually be the rumored Nexus tablet. Others suggest there will be a Nexus 3D smartphone.
Like Qualcomm's upcoming quad-core Snapdragon processors announced in February, the Tegra 3 will be available with four Cortex-A9 cores. (Actually, Qualcomm calls its cores compatible with Cortex-A9, but says they are even more powerful.)
Nvidia demonstrated the Tegra 3 at Mobile World Congress in February. Code-named "Kal-El," the system-on-chip (SoC) will offer four Cortex-A9 cores clocked at up to 1.5GHz, as well as a new twelve-core GeForce CPU (graphics processing unit). The SoC will support 1440p (2560 x 1440 pixel) resolution, according to Nvidia.
Droid X2 due May 26?
Verizon Wireless will launch the Motorola Droid X2 successor to the popular Droid X handset on May 26, according to Droid Life. The phone moves up to Android 2.3 ("Gingerbread"), and switches to the dual-core Cortex-A9 Nvidia Tegra 2 in place of the Droid X's single-core Texas Instruments (TI) Cortex-A8-based OMAP3630 processor, says the story. Both processors are clocked at 1GHz, but the extra core as well as the Cortex-A9 architecture is said to offer improved performance over the OMAP 3x.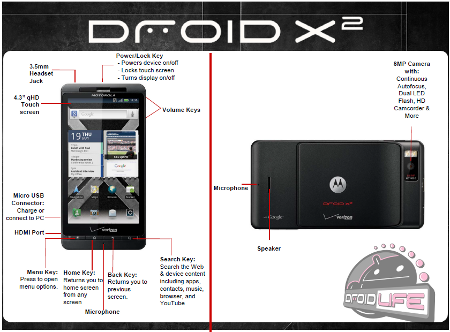 Motorola Droid X2 details on Verizon Wireless document
Source: Droid Life
As tip stories go, this one is pretty convincing, complete with reproduced Verizon Wireless photos (above) and spec sheets. According to
Droid Life
, the Droid X2 was due last week, but got pushed back after Verizon delayed the now-shipping Samsung Droid Charge phone (see farther below).
The promotional materials indicate an X2 device that — processor aside — is very similar to Motorola's Droid X. Like the original, the X2 appears to offer a 4.3-inch screen, eight-megapixel rear camera, HD video recording at 720p HD, and an HDMI port. Improvements include higher 960 by 540 resolution, as well as full HD 1080p video output.
The new Droid X2 will offer 8GB of internal storage, an 8GB preinstalled SD card, and a 1540mAh battery, according to the story. The phone is expected to sell for $149 on contract. (More background on this report is available in another eWEEK story.)
Next up: Droid 3 with OMAP4
While the Droid X2 updates the Droid X, a new Motorola Droid 3 is said to update the similar, but keyboard-enabled Droid 2 phone, according to an Electronista report. The report, which is based in part on a BlogofMobile story out of Japan, says the upcoming keyboard slider phone will move from an OMAP3630 to the dual-core, 1GHz Cortex-A9 OMAP4430 processor. (TI also offers a similar, but faster 1.5GHz OMAP4440.)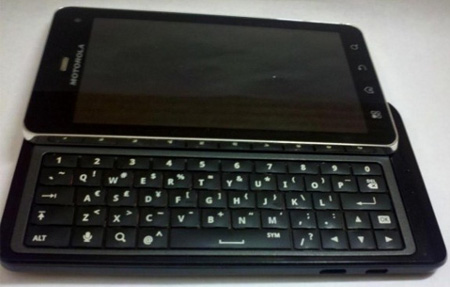 Motorola Droid 3
Source: Electronista
BlogofMobile
claims it tested the Verizon-destined phone using NenaMark1 benchmarks, and the results, — as well as the discovery of Imagination Technologies' PowerVR SGX540 graphics acceleration and other clues — showed the device to be running the OMAP4430. Other discoveries said to be gleaned from the benchmarks include higher, 960 x 540 screen resolution and the likely presence of Android 2.3.3.
The 45.7 frames per second NenaMark1 performance is fast, but not faster than the Tegra 2-based LG Optimus 2X and LG Optimus 3D, or the Samsung Galaxy S and Nexus S devices, says Electronista.
The publication, but not apparently BlogofMobile, also posted the Droid 3 image, shown above. Neither story suggested a possible ship date for the phone, but it appears to be soon.
Droid Charge ships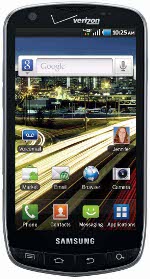 The Droid brand is usually associated with Motorola, but actually belongs to Verizon Wireless, which uses it for Android handsets from several different manufactures. The carrier finally launched Samsung's Droid Charge Android phone (pictured), as reported in another eWEEK story.
After a several week delay, the 4.3-inch 4G LTE phone went on sale at at midnight May 14th for a steep $300 plus two-year contract. Despite the price, the phone just might be worth it, according to a recent review on eWEEK.
---
This article was originally published on LinuxDevices.com and has been donated to the open source community by QuinStreet Inc. Please visit LinuxToday.com for up-to-date news and articles about Linux and open source.