Jun 29, 2006 — by LinuxDevices Staff — from the LinuxDevices Archive — views
June, 2006 goes down in history as the month Intel and AMD folded out of the high-stakes, ultra-high-volume mobile phone chip market. AMD sold its MIPS-based Alchemy chip line to Raza Microelectronics on June 15, and Intel sold its ARM-based XScale applications and baseband processors to Marvell two weeks later.
Okay, technically, AMD's Alchemy processors have not been used in phones, so much as in "third-world" PC designs like the Amida Simputer, and in various nichey "embedded" and industrial applications. But Alchemy could have gone into phones, if AMD was less pre-occupied with the high-end chip market.
Why did these chip giants suddenly lose interest in a market that recorded its two billionth customer late last year?
In my analysis, AMD simply lacked the engineering resources to compete outside its core strength, which more and more looks to be high-performance, high-margin chips for workstations and servers.
How focused is AMD on high-power chips? It has practically ceded the laptop market to Intel, mailing out its first dual-core 64-bit Turion X2 cores six months after Intel's Core Duo began shipping in Apple iMacs.
Meanwhile, in the embedded market, AMD has shipped only one new x86-compatible Geode chip since acquiring the line from National Semiconductor a couple of years back. And, the company's fascinating 35-Watt TDP "low-power small form factor" dual-core 64-bit Athlon X2, also known as ADD3800cubox (retail) and ADD3800IAT5CU (OEM), appears to remain unobtainable despite supposedly "shipping" earlier this month.
Intel had an entirely different problem with phone chips, as I see it. Margins.
According to the latest market research from ABI, the mobile phone market turned toward the low-end this year, driven by developing nations. The near-term focus for handset manufacturers and operators appears to be on $40 handsets that do not even have separate applications processors, such as those formerly available from AMD and Intel.
Among higher-end phones that do have separate applications processors, new form-factors such as "thin phones" are driving enough replacement business to fuel moderate growth, ABI believes. At least for now, though, the vast majority of phones endowed with applications processors fall into the mid-market "featurephone" category, rather than the high-margin "smartphone" category, according to Strategy Analytics.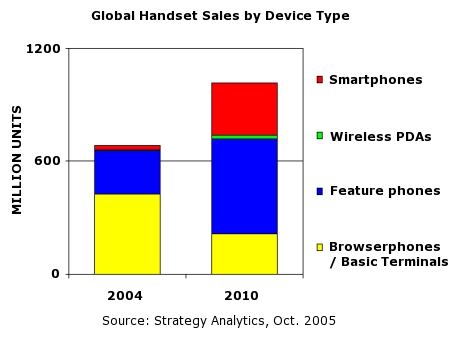 If margins are generally low right now for handset makers, margins are also likely low for handset chip makers. Intel's PXAxxx margins were further constrained by low production yeilds, it admitted during its conference call announcing the
Marvell deal
.
And, the last thing Intel needs, right now, is low-margin business. In its most recent, Q1, 2006 earnings report, Intel reported earnings of $1.3B on revenues of $8.9B. Its gross margin was 55.1 percent, down from the 59 percent forecast. Worse, the report's "Q2 outlook" section advised that gross margins would fall below 50 percent, due to "a higher proportion of lower-margin product in the overall mix, along with higher microprocessor unit costs and lower microprocessor ASPs."
In other words, AMD's success in the high-end chip market has forced Intel to lower prices on its highest-margin products. This, in turn, has driven down its overall margins, and led analysts to look at Intel's gross margins as an indication of its success staving off rival AMD.
Given the potential for growth in the smartphone market — one analyst firm expects smartphone sales to double this year — Intel might have chosen to ride out the days of lean phone chipset margins, were it not for six months of rapidly declining stock prices, and a desire to prop up margins at all costs.
AMD, meanwhile, had revenue of $1.3B in Q1, 2006, its most recently reported quarter, up $100M or so from the previous year, but down about $500M from its Q4, 2005 result. AMD's big problem seems to be debt — the company reported quarterly interest payments of just over $23M, down about $1M year-over-year.
Anyway, with AMD and Intel out, the normal phone chipset donnybrook may now resume, led by Texas Instruments (TI), Freescale, and Qualcomm, with Marvell as the long-shot wildcard.
---

About the author
— Ziff Davis Internet Senior Editor Henry Kingman has been the primary editor of LinuxDevices.com for four years this August. He has also written about Linux for CNET, and served as the "TipMaster" for ZDNet during its very early days. Prior to that, he edited bicycle magazines in California and in Texas.
---

This article was originally published on LinuxDevices.com and has been donated to the open source community by QuinStreet Inc. Please visit LinuxToday.com for up-to-date news and articles about Linux and open source.