Jun 27, 2006 — by LinuxDevices Staff — from the LinuxDevices Archive — 8 views
Intel will sell its XScale PXAxxx applications processor and 3G baseband processor businesses to Marvell for $600 million, plus existing liabilities. The deal could make Marvell the top supplier of 3G and later smartphone processors, and enable Intel to focus on its core x86 and wireless LAN chipset businesses, the companies say.
Intel competitor AMD earlier this month divested itself of its non-x86-based Alchemy processor line, selling it to Raza Microelectronics for an undisclosed sum.
The Marvell deal does not affect Intel's XScale-based IXPxxx and IXPxxxx network processor lines, nor its XScale-based IOPxxx storage processor line. In addition to PXA-series applications processors, the deal does include Intel's baseband processors for UMTS, HSDPA, and other 3, 3.5, and 4G mobile phone technologies.
Marvell's mobile phone aspirations
Marvell is best known for its NIC (network interface card) chips, including wireless chipsets, and for other embedded, network infrastructure, and storage processors. The company has not previously competed in the market for mobile phone chipsets. However, it says it knows how to produce chipsets for high-volume consumer applications, which it has done for 11 years.
Mavell earlier this year acquired a UT Starcom business unit in China that is working on mobile phone processors. And, like Intel, Marvell is an architecture licensee of ARM's V5 architecture, on which XScale is based, as well as ARM's next-generation V6 architecture.
Marvell CEO Dr. Sehat Sutardja said, "We have all the IPs [intellectual property]. We just have to pull it out of different product lines and do the integration," presumably referring to mobile phone chipsets that integrate XScale applications processors with 3G+ baseband processors, WiFi, and other peripherals.
Deal specifics
The deal is expected to close in four to five months, pending regulatory review. Following that, a three-year transition phase will ensue, during which the companies plan to work closely to ensure a smooth transition for existing customers, they say.
Intel will continue to fabricate PXA-series chips for two years, after which production will shift to Marvell's foundry partners, where more advanced process technologies and a possible move to 65nm geometries are expected to yield cost savings, reduced product prices, and increased profitability, Marvell CFO George Hervey said during an investor call.
The PXA business currently has a run rate of $100 million per quarter, albeit with low margins caused by production constraints, Marvell says. It says Intel is currently achieving more bountiful yields, a trend expected to continue. It expects the deal to add to its bottom line by 2008, Hervey said.
Intel's XScale communications and applications processor business employs 1,400, including engineering, product testing/validation, operations, and marketing teams. The "vast majority" are expected to become Marvell employees, the company says.
Marvell will write down a one-time charge for in-process R&D, it says. Intel will announce the financial impact of the deal later, it said. The $600 million sale price includes an option for Intel to take up to $100 million in Marvell common stock. However, the famously cash-rich semiconductor giant says it currently intends to receive the entire purchase price in cash.
XScale's PXA line
Intel's XScale chips have proven popular in mobile Linux-based devices of all kinds, but especially in relatively high-end mobile devices such as smartphones, handheld gaming devices, portable media players, and web tablets. To put the popularity with PXA processors in perspective, nearly two percent of all stories on this website mention "PXA," making it in all likelihood the most popular chip brand name, at least in Linux-based device applications.
Additionally, the ARM architecture on which XScale is based passed x86 to become the most popular embedded architecture, according to LinuxDevices.com's annual reader survey. ARM's popularity is expected to increase over the next two years, as well, as shown in the graphs below.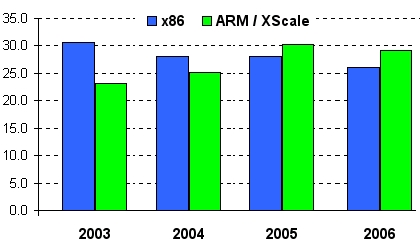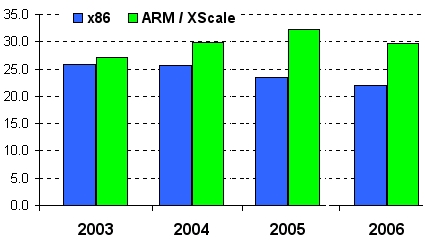 ARM passes x86 in current use (top) and expected use (bottom)
The XScale-based "PXA" line of mobile applications processors already powers Linux-based phones from Motorola, Panasonic, and NEC. And, companies that have shipped Linux-friendly PXA-based modules, boards, and development kits during the last year alone include E-con, ADS, Above-net, Digi International, iWave Systems, Intrinsyc, eValue, CompuLabs, Micro/Sys, Anders Electronics, InHand, B-Square, and Gumstix, among others.
The newest PXA9xx or "Hermon" chips are also used in RIM's Blackberry 8700, while the Bulverde powers Palm's popular Treo smartphone, Marvell notes.
Sutardja stated, "Marvell and Intel have built a very strong relationship over the past six years. This transaction presents Marvell with a tremendous opportunity to become a long-term leading supplier in the cell phone and consumer electronics market segments."
Sen Maloney, GM of Intel's mobility group, stated, "The communications and application processor segments continue to present an attractive market opportunity, and we believe this business and its assets are an optimal fit for Marvell. We have a long history of working closely with Marvell and believe it has the ability to grow the business while maintaining customer commitments."
---

This article was originally published on LinuxDevices.com and has been donated to the open source community by QuinStreet Inc. Please visit LinuxToday.com for up-to-date news and articles about Linux and open source.