Apr 26, 2010 — by LinuxDevices Staff — from the LinuxDevices Archive — 7 views
Intel announced a fourth generation of its Classmate PC for the education market. The device features a 10.1-inch screen that pivots into tablet mode, a rotating camera, a six-cell battery that lasts 8.5 hours, plus optional GPS, 3G, and WiMAX, the company says.
Intel's fourth-generation Classmate, formally launched today at a New York City press event, comes as no surprise, since the device was demonstrated in March at the CeBit show in Hanover, Germany. The device has been upgraded to a 1.66GHz Atom N450, with NM10 I/O controller, resulting in lower power consumption, and it also features a 10.1-inch touchscreen display which folds over its keyboard, effectively converting the system into tablet mode.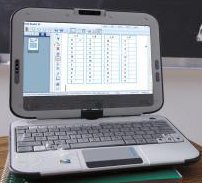 Intel's fourth-generation Classmate
While the Classmate was one of the first widely offered convertible netbooks, a variety of other systems — notably Asus' Eee PC T101MT and Lenovo's IdeaPad S10-3t, the latter with a capacitive touchscreen — can now pull off the same party trick. Unlike the Classmate, however, neither of those systems ship with Linux or are targeted primarily at students.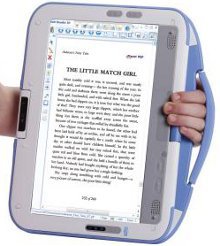 Intel's Classmate in tablet mode
The Classmate, touted as "built to move the way kids do," has an integral carrying handle, a water-resistant keyboard with optional anti-microbial coating, and scratch-resistant surfaces, says Intel. The fourth-generation Classmate's design has been refined thanks to extensive feedback from educators, says the company. For example, the keys are now larger, but they're also closer together, so unruly students will be less able to pop them off. The device can also survive being dropped from desk height, the company says.
Compared to typical commercial netbooks, the Classmate has other education-specific features, Intel notes. For example, the device comes with dual headphone jacks, so a student and instructor can listen to the system together without bothering others. In addition, the Classmate's 1.3-megapixel camera swivels and shoots 640 x 480 pixel video at 30 frames per second, the company says.
Intel says the Classmate convertible is available with either a six-cell battery that delivers eight hours of operation, or a four-cell battery that lasts for 4.8 hours. In addition, the device's 10.1-inch screen comes with a resolution of 1024 x 600 pixels, but is also offered in an upgraded 1366 x 768 version, the chipmaker says.
According to Intel, the fourth-generation Classmate has two PCI Mini Card slots, one half-sized and one full-sized. These slots allow the system to be configured with available WiMAX, 3G, and GPS modules, says the company. Of course, the Classmate already includes typical netbook connectivity such as 10/100 Ethernet and 802.11b/g/n wireless networking.
Storage and operating systems may vary
As before, the Classmate isn't sold directly by Intel, but rather by OEMs such as CTL (which is already offering the new version as the 2GO Convertible Classmate PC NL2). Therefore, features such as case coloring, the amount of memory and disk storage fitted, and the installed operating system (Linux or Windows 7) may vary.
Intel says the Classmate comes with 1GB or 2GB of RAM and supports 2.5-inch SATA storage devices, such as hard disk drives and SSDs (solid state disks) ranging from 8GB to 32GB. The device also includes two USB 2.0 ports, a VGA port, and a SD expansion slot, the company adds.
Intel claims more than 300 vendors — including hardware vendors, operating system vendors, software vendors and enterprise solutions providers — are developing applications, peripherals, and services optimized for the Classmate. Today, McGraw-Hill Education announced "Lead21," billed as a "comprehensive literacy and language arts program offering students and teachers full print, digital and professional development resources."
Lead21 includes Classmate-based software that includes an online coach, ePractice activities, and more, helping students "manage and extend their own learning." It's said McGraw-Hill will introduce more programs for the Classmate "in the coming months."
Greg Pearson, VP of Intel's Sales and Marketing Group, stated, "Rich content and innovative applications bring the unique Classmate PC design to life, providing a complete solution that makes learning fun and teaching effective. Our collaboration with McGraw-Hill leads the industry in developing an e-learning solution for elementary students. We look forward to continuing to work with McGraw-Hill to develop rich content and applications in other areas of learning."
According to Intel, the Classmate PC ships with Instant Collaborator software, designed to let students share screens and files easily. Also included is an e-reader application that supports PDF and ePub formats, the company says.
Features and specifications listed by Intel for its fourth-generation Classmate convertible include:
Processor — 1.66GHz Intel Atom N450
Chipset — NM10 I/O controller
Memory — 1GB of DDR2 RAM (expandable to 2GB)
Display — 10.1-inch resistive touchscreen with orientation sensor and 1024 x 600 pixel resolution (1366 x 768 is also available)
Keyboard and touchpad — water-resistant, with optional anti-microbial coating
Camera — pivoting 1.3 megapixel camera
Storage — 2.5-inch SATA devices (can be HDDs or flash, with sizes varying according to OEM)
Expansion:

SD slot
2 x PCI Mini Card slot (1 half-sized, 1 full-sized)

Networking:

LAN — 10/100 Ethernet
WLAN — 802.11b/g/n
WAN — 3G or WiMAX (optional)

Other I/O:

GPS receiver (optional)
VGA
2 x USB 2.0

Battery — six-cell 2600mAh battery with 8.5 hours of operation; four-cell 2200mAh battery with 4.8 hours of operation
Dimensions, including handle — 10.55 x 8.42 x 1.55 inches (268 x 214 x 39.5mm)
Weight — 3.35 to 3.83 pounds (1.52 to 1.74kg)
Background
Launched in 2007 as part of Intel's "World Ahead" program aimed at schoolchildren in emerging markets, the original Classmate was widely seen as a reply to One Laptop Per Child's (OLPC) Linux-based XO clamshell, which arguably launched the netbook phenomenon and had a similar global education focus.
The first Classmate ran on a mobile Celeron processor and offered a seven-inch screen. The netbook was upgraded in 2008 with a nine-inch screen and the addition of a hard disk drive (HDD), among other enhancements.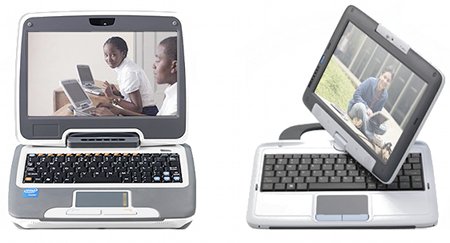 Third second-generation (Atom N270) Classmate, including convertible version at right

In early 2009, Intel updated the Classmate again with an Intel Atom N270 clocked at 1.6GHz, a larger 30GB HDD, and an optional convertible touchscreen version. As always, the computer was capable of running either Windows XP or Linux.

A video review of the fourth-generation Classmate
Source: Liliputing
(click to play)

Another video review of the fourth-generation Classmate
Source: ZDNet Education
(click to play)
Availability
As noted, the fourth-generation Classmate appears to be available already from vendors such as CTL. More information on the 2GO Convertible Classmate PC NL2 may be found on CTL's website, here, and a Liliputing review of the system may be found here.
A ZDNet Education review of the fourth-generation Classmate may be found here.
Intel's own product pages for the Classmate convertible, plus a clamshell version of the device that continues to be available, can be found here.
---
This article was originally published on LinuxDevices.com and has been donated to the open source community by QuinStreet Inc. Please visit LinuxToday.com for up-to-date news and articles about Linux and open source.