Mar 3, 2010 — by Eric Brown — from the LinuxDevices Archive — 2 views
Intel has redesigned its Classmate convertible netbook and tablet PC with an Intel Atom N450 "Pineview" processor, says eWEEK. Other new Classmate features are said to include a higher-capacity 2.5-inch hard disk drive (HDD), a higher-resolution, water-resistant screen, and new e-book reading software.
Intel demonstrated its revamped Classmate convertible tablet PC at this week's CeBit show in Hanover, Germany. The netbook continues to be aimed at school children both in the United States and overseas, says a Scott Ferguson story in our sister publication, eWEEK.
The netbook is said to have progressed from the Intel Atom N270 used in the previous, similarly named version to the 1.66GHz Intel Atom N450, the netbook-focused member of the three upgraded "Pineview" Atoms announced in December. (At that time, it was rumored that the Classmate was being prepped for a Pineview update.)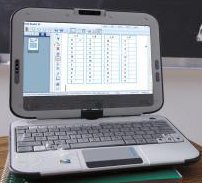 Intel's N450-based Classmate
(Source: Intel by way of ZDNet)
The classmate now offers 1GB of RAM as standard issue, compared to 512MB for the previous version, and it includes a 2.5-inch hard disk drive that offers up to 250GB, compared to the previous 1.8-inch 60GB HDD, says the story. There's also a 32GB solid state drive option that's twice as capacious as the previous SSD option.
The Classmate moves up to a 10.1-inch, 1366 by 768 touchscreen, as opposed to the earlier 8.9 inch 1024 x 600 display, says the story. Both the screen and the touchpad are now said to be water resistant.
New options for the Classmate are said to include 3G and GPS, as well as a six-cell battery that offers up to 8.5 hours of life. Presumably, the netbook continues to offer WiFi, Ethernet, dual USB 2.0 ports, and a camera (previously 1.2-megapixels).
The Classmate is still sold as a reference design rather than a commercial product, and it will continue to be offered in both clamshell and the slightly more expensive convertible version, which currently costs between $350 and $400, says the story. As before, the latter enables the screen to swivel 180 degrees, or fold upside down against the keyboard to convert it into a tablet touchscreen computer.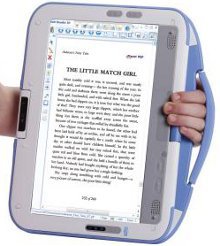 Intel's Classmate in tablet mode
(Source: Intel by way of ZDNet)
The computer supports several flavors of Linux, as well as Windows XP, Windows Vista, and for the first time, Windows 7, writes Ferguson. Intel works with a number of ISVs (independent software vendors) to create applications that are designed for children in different countries, he adds. The semiconductor giant is said to have estimated that there are some two million Classmates in circulation throughout the world.
Intel has incorporated paging functions into the tablet design to support e-reader applications, says the story. Meanwhile, Intel is in talks with publishers, such as McGraw-Hill Companies and Pearson, on deals that would develop textbooks to take advantage of the design, says eWEEK.
Ferguson quotes Jeffrey Galinovsky, a regional manager for Intel's Classmate PC division, as saying in regard to the publisher arrangements, "It's like the chicken and the egg. The publishers know they need to go there but they don't have the devices in kindergarten through eighth grade to do that. So, it's like I need the device for the content but I need the content to get the device going." Galinovsky was said to have added that the Classmate's improved screen resolution was the key feature that "the publishers said they need to make this work."
A Pineview boost to battery life
According to a ZDNet story by Christopher Dawson, meanwhile, the Classmate, like other netbooks based on Pineview-based processors, will see only a nominal performance increase over the N270 version. However, due to the greater integration of the processor, "users should expect significant boosts in battery life," writes Dawson.
Previous Classmates have shipped with e-reader software, but the new model now includes touch-optimized applications and e-book management software, as well as support for ePUB and PDF formats, says ZDNet. Dawson adds that the touch UI now supports dragging and holding. In addition, Intel is said to have added handwriting recognition and note-taking/annotation software, as well as a redesigned stylus.
As with Ferguson, Dawson interviewed Intel's Galinovsky, who was said to have told him that the current 9-inch version of the Classmate will be discontinued by the middle of the year, but the base price of the new version will increase by only $10 to $20. Dawson added that Metasys Linux, Ubuntu, and Moblin 2.0 have all been validated on the device.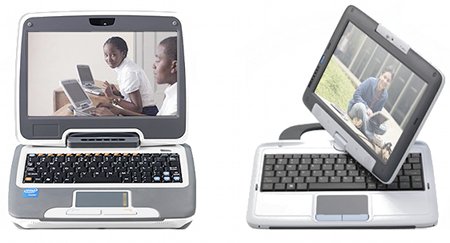 Earlier, third second-generation (Atom N270) Classmate, including convertible version at right
Classmate 101
Launched in 2007 as part of Intel's "World Ahead" program aimed at schoolchildren in emerging markets, the original Classmate was widely seen as a reply to One Laptop Per Child's (OLPC) Linux-based XO clamshell, which arguably launched the netbook phenomenon, and had a similar global education focus. The first Classmate ran on a mobile Celeron processor and offered a 7-inch screen. The netbook was upgraded in 2008 with a 9-inch screen and the addition of an HDD, among other enhancements.
In early 2009, Intel updated the Classmate again with an Intel Atom N270 clocked at 1.6GHz, a larger 30GB HDD, and an optional convertible touchscreen version. As always, the computer was capable of running either Linux or Windows XP.
Intel's YouTube video on the 2010 Classmate


(Click to play)
Availability
The latest version of the Intel Classmate is expected to ship in the second quarter, perhaps as early as April, says eWEEK. More information on the new Classmate may eventually turn up at Intel, here.
The eWEEK story on the new Classmate may be found here, and the ZDNet story should be here.
---
This article was originally published on LinuxDevices.com and has been donated to the open source community by QuinStreet Inc. Please visit LinuxToday.com for up-to-date news and articles about Linux and open source.