Jul 21, 2011 — by LinuxDevices Staff — from the LinuxDevices Archive — views
Reporting results for the second quarter of its financial year, Intel said Atom processor revenues have dropped by 15 percent, and lowered its forecast for 2011 PC sales to around nine percent. But revenue and net income were respectively up 22 percent and 10 percent year-over-year, marking a "fifth consecutive quarter of record revenue," officials added.
Intel is gearing up to spend more than $16 billion on various investments during 2011, a $500 million jump over what executives previously projected. The money will go to everything from the company's efforts to expand deeper into the mobile device space, to getting its manufacturing plants ready for upcoming generations of processors.
Intel executives touched on some of these efforts during a conference call with journalists and analysts July 20 as they announced a fifth consecutive quarter of record financial numbers. The world's largest chip maker saw revenue of $13.1 billion, up 22 percent over the same period last year. At the same time, net income came in at $3.2 billion, a 10 percent increase over the second quarter of 2010.
The company was buoyed by strong sales of chips with its new "Sandy Bridge" architecture, which executives said saw the fastest ramp of any product in the company's history. This year, two-thirds of the chips Intel sells will be based on Sandy Bridge, they said. (Yesterday, we reported that even Intel's entry-level Celeron processors are moving to the Sandy Bridge architecture, which provides on-chip graphics capabilities.)
Intel saw strength in its Data Center Group, which garnered 15 percent revenue growth, and its Embedded & Communications Group, which had revenue growth of 25 percent. The PC Client Group also saw revenues grow, up 11 percent from the same three months last year.
However, executives also lowered Intel's forecast for PC sales in 2011 to eight to 10 percent, down from the earlier prediction of growth in low double digits. CEO Paul Otellini said there is softness in the mature markets, such as the United States and Europe, and that while businesses continue to buy PCs, the consumer space is still weak.
"The mature market consumer segment is still soft, but the emerging-market consumer segment is healthy and growing," Otellini said during the call.
For example, Brazil is poised to become the third largest PC buyer in the world. Some emerging markets saw revenue growth as high as 70 percent.
Intel also saw revenue declines in its low-power Atom platform, with revenue of $352 million, a drop of 15 percent. The Atom business illustrated Intel's struggle to gain headway in the booming smartphone and tablet markets, which are dominated by chips designed by ARM Holdings and made by the likes of Qualcomm, Texas Instruments and Nvidia.
Otellini said Intel is on schedule for volume production of its 22-nanometer processors later this year. He added that the combination of these chips — which will feature the company's new Tri-Gate 3D transistor architecture, promising increased performance and 50 percent power reductions — with Microsoft's upcoming Windows 8 operating system will help Intel compete strongly against ARM.
"When Microsoft has a new operating system, that's good for us," he said.
However, Microsoft officials in January said that Windows 8 also will support SoC (system-on-a-chip) architectures, such as ARM. That has analysts at IHS iSuppli predicting that by 2015, almost 23 percent of PCs sold will run on ARM-designed chips.
However, Intel is using its substantial financial advantage to fuel developments in various areas. That includes the company's "ultrabook" concept, which the company unveiled in May.
Intel executives envision ultra-thin and -light notebooks that offer the performance of mainstream systems and the features of tablets, such as instant-on, always-on and eventually touch capabilities. Ultrabooks, which Intel hopes will counter rapid sales of tablets, will account for 40 percent of all notebooks sold by the end of 2012, according to the chip maker.
Otellini compared the ultrabook effort to that behind the Centrino mobile chip initiative several years ago, "trying to move the market to a new form factor."
Beau Skonieczny, an analyst with Technology Business Research, said in a research note that Intel's ultrabook initiative has promise, but it needs to see sales grow quickly.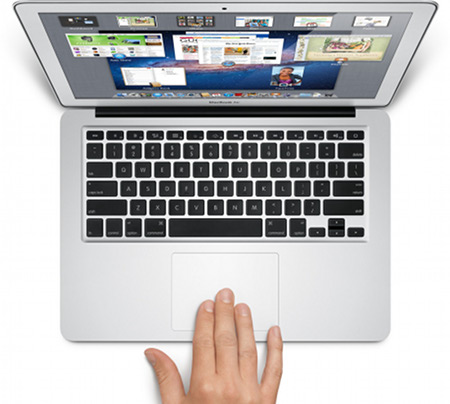 Apple's revamped MacBook Air, introduced July 20, ironically exemplifies Intel's ultrabook platform — including a Sandy Bridge processor and Thunderbolt technology
"TBR believes the introduction of Ultrabooks will accelerate Intel's growth momentum, helping to offset the slower sales in netbooks," Skonieczny said. "By incorporating newer technologies, such as Thunderbolt, 3-D transistors and next-generation Ivy Bridge processors, Intel is better positioned to take on higher-end tablet platforms and thin-and-light notebooks, such as Apple's iPad and MacBook Air products."
Otellini also said that he still believes tablets aren't a threat to traditional notebooks.
"It's a device that some people will use as a [primary] device, but most will use it as a companion device, and that's good for us," he said.
Another area of greater investment will be in the fabs, according to Intel CFO Stacy Smith, noting that the company is preparing to move from the 22nm manufacturing process to 14nm and then 7nm.
Otellini also said that at the upcoming Intel Developer Forum in September in San Francisco, Intel officials will give more details of many of the company's efforts, including ultrabooks and work being done to integrate software capabilities from McAfee into Intel processors.
Further information
More information on Intel's financial results may be found on the company's website.
Jeffrey Burt is a writer for eWEEK.
---
This article was originally published on LinuxDevices.com and has been donated to the open source community by QuinStreet Inc. Please visit LinuxToday.com for up-to-date news and articles about Linux and open source.