May 2, 2011 — by Jonathan Angel — from the LinuxDevices Archive — 3 views
Intel may be poised to announce its 22nm "Ivy Bridge" Core processors on May 4, with improved, DirectX 11-capable graphics. Meanwhile, model numbers and power consumption details for the chipmaker's upcoming, 32nm "Cedar Trail" Atoms have been leaked by the AnandTech website.
News outlets including CNBC, ZDNet, and VentureBeat have reported receiving invitations to a May 4 press conference to be held by Intel. The chipmaker reportedly has promised "its most significant technology announcement of the year."
While there's no word on exactly what the press conference concerns — and some new development could come out of left field — Intel is most likely to discuss its progress in making computer chips smaller (and, hence, cheaper and more economical on power). While most of the company's offerings still have circuitry that's 45 nanometers apart, 32nm devices are also in production, while 22nm and 14nm versions have been promised.
Intel likes to speak of its tick tock model for improving CPUs. According to the chipmaker, a "tock" is when a new processor microarchitecture is delivered — as happened earlier this year in the case of the 2011 "Sandy Bridge" Core processors. A "tick" is when transistor density is increased, "enhancing performance and energy efficiency within a smaller, more refined version of our existing microarchitecture," the chipmaker adds.
In other words, Intel's May 4 presser will probably bring talk of a tick, not talk of a tock. (But you never know.)
Forthcoming 22nm Core processors
One topic of discussion could be Intel's 2012 Core processors, which are expected to be Intel's first 22nm-fabbed CPUs. Convincing-looking slides leaked last month by the Turkish website DonanimHaber suggest these "Ivy Bridge" CPUs will appear during the first half of next near.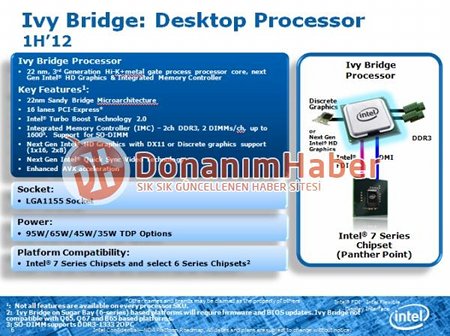 Intel's Ivy Bridge Core
Source: DonanimHaber
(Click to enlarge)
While featuring the same microarchitecture as before, the "Ivy Bridge" CPUs will apparently gain improved graphics — with DirectX 11 compatibility and support for three independent displays. They'll also feature a 2.0 version of Intel's TurboBoost technology, the slides appear to suggest.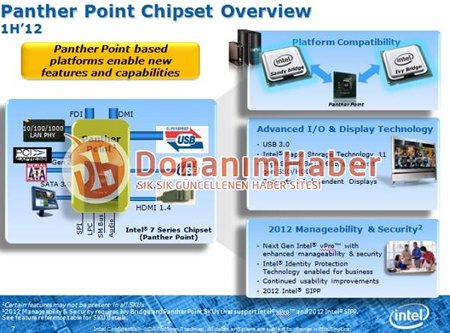 Intel's Panther Point chipset
Source: DonanimHaber
(Click to enlarge)
The slides further indicate that Ivy Bridge CPUs will use the same LGA 1155 sockets as their Sandy Bridge forebears. Meanwhile, it's said, a new 7 Series chipset code-named "Panther Point" (above) will be compatible with both the 2011- and 2012-model Cores, and will provide systems based on them with Intel's first support for USB 3.0, among other improvements.
This year's 32nm Atoms
Intel may also be prepared to say more about the 32nm die-shrinks of its Atom line, beloved of embedded devices, netbooks, and tablets. On Apr. 11, Intel formally announced a downsized 45nm Atom Z670 — the "Oak Trail" version now starting to ship in devices — but also revealed a 32nm successor known as "Cedar Trail."
Featuring unspecified further improvements in power consumption, "Cedar Trail" will include Blu-ray 2.0 support, a dedicated media engine "for full 1080p playback," plus additional video options including Intel Wireless Display, DisplayPort, and HDMI, said Intel. Devices based on the processor will begin to appear during the second half of 2011, the chipmaker added.
Now, a posting by AnandTech, which did not reveal its sources, has offered convincing names and specs for the first two Cedar Trail CPUs. According to author Kristian Vättö, they'll both be dual-core: The Atom D2500 will be clocked at 1.86GHz, while the Atom D2700 will run at 2.13GHz (the fastest Atom ever).
Vättö claims the D2500 and D2700 will have an unmodified core architecture, but their integrated graphics processing units will support DirectX 10.1. The devices will further support HD decoding (MPEG2, VC1, AVC, and H.264) and Blu-Ray 2.0 support, while "greatly improved" display options will include HDMI 1.3a, DisplayPort 1.1, eDP (embedded DisplayPort), LVDS, and VGA.
| | | | | | | |
| --- | --- | --- | --- | --- | --- | --- |
| Model | D410 | D510 | D425 | D525 | D2500 | D2700 |
| Cores/threads | 1/2 | 2/4 | 1/2 | 2/4 | 2/2 | 2/4 |
| Clock speed (GHz) | 1.66 | 1.66 | 1.83 | 1.83 | 1.86 | 2.13 |
| L2 Cache (KB) | 512 | 1024 | 512 | 1024 | 1024 | 1024 |
| RAM Type | DDR2 | DDR2 | DDR2/3 | DDR2/3 | DDR3 | DDR3 |
| TDP (W) | 10 | 13 | 10 | 13 | 10 | 10 |
| GPU type | DX9 | DX9 | DX9 | DX9 | DX10.1 | DX10.1 |

A comparison of the Cedar Trail entries with some existing Atoms
Source: AnandTech.com
The above AnandTech.com-sourced table suggests the D2500 and D2700 will disappoint those who expected drastic power savings compared to the current Atom D410 and D510. If true, that's a shame: A slide (below) recently presented at the Intel Developer Forum in Beijing by Doug Davis, vice president and general manager of the Netbook and Tablet Group at Intel, claimed Cedar Trail would provide "no-worry battery life."

Intel's Cedar Trail
(Click to enlarge)
However, as another slide (further below) in the Davis presentation shows, Intel is planning yet another "tick" for the Atom line, moving to a 22nm process. Even smaller and more power-stingy, the resulting CPUs will reportedly be released during 2012.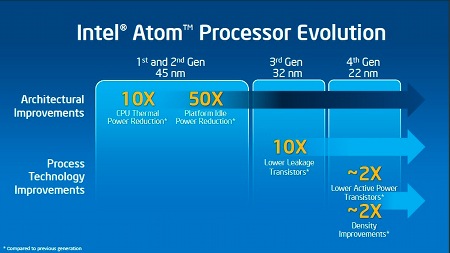 Intel's Atoms will shrink via 22nm fabrication
(Click to enlarge)
Further information
The slides illustrating the Doug Davis IDF keynote referred to in this story may be downloaded from Intel's website in PDF format. The keynote itself may be viewed here in Silverlight video format.
Jonathan Angel can be followed at www.twitter.com/gadgetsense.
---
This article was originally published on LinuxDevices.com and has been donated to the open source community by QuinStreet Inc. Please visit LinuxToday.com for up-to-date news and articles about Linux and open source.