Apr 13, 2011 — by LinuxDevices Staff — from the LinuxDevices Archive — views
Two days after officially announcing its "Oak Trail" Atom for tablets, Intel has tipped a smaller, more power-efficient successor code-named "Cloverview." Separately, details of the chipmaker's 2012 "Ivy Bridge" Core CPUs have been leaked by a Turkish website.
Both "Cloverview" and "Ivy Bridge" represent "ticks" in what Intel calls its tick-tock model for improving CPUs. According to the chipmaker, a "tock" is when a new processor microarchitecture is delivered — as happened earlier this year in the case of the 2011 "Sandy Bridge" Core processors. A "tick" is when transistor density is increased, "enhancing performance and energy efficiency within a smaller, more refined version of our existing microarchitecture," the chipmaker adds.
On Apr. 11, Intel formally announced its "Oak Trail" Z670, an Atom processor that is now being incorporated into a variety of tablets. Along with its SM35 Express I/O controller, this 45nm CPU is 50 percent smaller and 45 percent thinner than previous Atoms, and it offers devices "up to all-day battery life," according to the company.
But in a release the same day, Intel also discussed a Atom platform code-named "Cedar Trail," which will "tick" by moving to a 32nm production process. Featuring further improvements in power consumption, "Cedar Trail" will include Blu-ray 2.0 support, a dedicated media engine "for full 1080p playback," plus additional video options including Intel Wireless Display, DisplayPort, and HDMI, says Intel.

Intel's Cedar Trail
(Click to enlarge)
Intel's Apr. 11 release said it is currently sampling "Cedar Trail" (above) to all major OEMs and ODMs. Devices based on the 32nm Atom will appear in the second half of 2011, the company added.
Now, thanks to a keynote delivered earlier today at the Intel Developer Forum in Beijing by Doug Davis, vice president and general manager of the Netbook and Tablet Group at Intel, we have yet another code name — though no added product details. A 32nm Atom currently called "Cloverview" will be aimed at tablets, providing them with even better battery life than "Oak Trail" does, he said.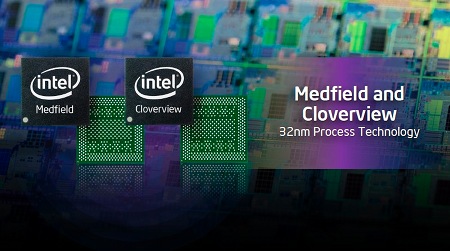 Revealed at least in name: Intel's new Cloverview Atom
(Click to enlarge)
Davis provided no further details, but his slide (above) suggested that "Cloverview" will be closely related both to "Cedar Trail" and to another 32nm Atom variant: the "Medfield" version for smartphones. Intel has previously claimed Medfield-based smartphones will be released later this year.
There's no word on what makes Cedar Trail, Cloverview, and Medfield different from one another. Presumably, however, all three have near-identical CPU cores and will be distinguished by application-specific I/O controllers.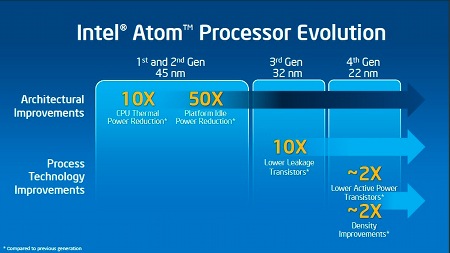 Intel's Atoms will shrink via 22nm fabrication
(Click to enlarge)
As another slide (above) in the Davis presentation shows, Intel is planning yet another "tick" for its successful Atom line, moving to a 22nm process. Even smaller and more power-stingy, the resulting CPUs will reportedly be released during 2012.
2012 Core processors
Intel's first 22nm "tick" for 2012 won't be with the Atoms; it will be with the chipmaker's higher-performance Core CPUs. At least, that's what convincing-looking slides leaked by the Turkish website DonanimHaber suggest.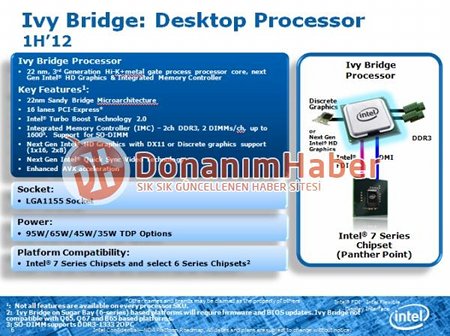 Intel's Ivy Bridge Core
Source: DonanimHaber
(Click to enlarge)
According to the slides, the first half of the year will bring a 22nm replacement for Intel's 2011 "Sandy Bridge" Core CPUs, the latter fabbed using 32nm process technology. While featuring the same microarchitecture as before, the "Ivy Bridge" CPUs will apparently gain improved graphics — with DirectX 11 compatibility and support for three independent displays — and a 2.0 version of Intel's TurboBoost technology.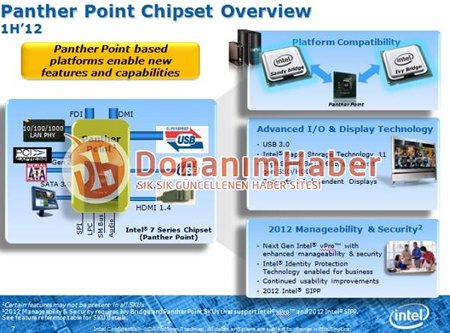 Intel's Panther Point chipset
Source: DonanimHaber
(Click to enlarge)
The slides further indicate that Ivy Bridge CPUs will use the same LGA 1155 sockets as their Sandy Bridge forebears. Meanwhile, it's said, a new 7 Series chipset code-named "Panther Point" (above) will be compatible with both the 2011- and 2012-model Cores, and will provide systems based on them with Intel's first support for USB 3.0, among other improvements.
Further information
The slides illustrating the Doug Davis IDF keynote referred to in this story may be downloaded from Intel's website in PDF format. The keynote itself may be viewed here in Silverlight video format.
Jonathan Angel can be followed at www.twitter.com/gadgetsense.
---
This article was originally published on LinuxDevices.com and has been donated to the open source community by QuinStreet Inc. Please visit LinuxToday.com for up-to-date news and articles about Linux and open source.