Dec 17, 2010 — by LinuxDevices Staff — from the LinuxDevices Archive — views
Intel has named Ton Steenman, a 28-year company veteran, as the head of its Embedded and Communications Group. It also officially confirmed the creation — first revealed by The New York Times earlier this month — of its Netbook and Tablet Group.
As we note later in this story, Intel's Netbook and Tablet Group (NTG), designed to head off competition in the growing market for PC offshoots, was created earlier this month, but not formally announced. The chip giant left it to The New York Times to reveal the Group's creation.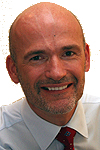 In a release yesterday, Intel reaffirmed the creation of NTG and the appointment of Douglas L. Davis — previously in charge of its Embedded and Communications Group (ECG) — as its head. The company added that ECG will now be headed by Ton Steenman (right), who will be "responsible for growing Intel's business in a broad range of embedded market segments."
According to Intel, Steenman, who first joined the company back in 1982, was most recently general manager of its Low-power Embedded Products division. In that capacity, he was responsible for the architecture, development, and marketing of the company's Atom in the embedded market, the chipmaker says.
As Steenman's corporate bio notes, Intel's position in the embedded market has steadily strengthened over the past decade. Steenman was "instrumental in establishing Intel's position in embedded market segments such as communications, automotive, retail, and industrial control," it adds.
Background
According to Times technology writer Ashlee Vance's Dec. 8 story about NTG, Intel usually formally announces the creation of new groups, but "kept this one quiet for some reason." The story added that NTG would be headed by Douglas L. Davis (right), who had been the head of ECG since 2005.
Intel spokesperson Bill Kircos was quoted as saying, "Netbook shipments will be heading north of 100 million and we'll all soon will find out what kind of market potential there is for tablets and these increasingly popular hybrid designs. It makes sense for us to sharpen our focus on these friends of the PC."
Both Davis at NTG and Steenman at ECG will face the key issue of keeping Intel and its x86 offerings competitive against ARM Holdings and its horde of innovative licensees. Apple's successful iPad — and the many Android-based tablets that have begun to follow — shows that, so far, customers are more interested in long battery life and simplified user interfaces than they are in compatibility with Microsoft Windows and other x86-specific software. Meanwhile, ARM processors have long been common in embedded devices and are starting to invade the server market.
Intel doubtless hopes that its power-sipping Oak Trail Atom, set for release next year, will narrow the gap. Company CEO Otellini drew a contrast between the Atom and its hordes of ARM-based competitors in an October conference call, noting that over the next few quarters, there will be a host of new Atom-powered tablets running the Windows, Android, and MeeGo operating systems — three of the top four tablet OSes.
Meanwhile, journalists often ignore the fact that Intel's original Atom, the Z5xx, was originally designed with embedded devices in mind — not netbooks or tablets. The chipmaker later spun a lower-cost (but also slightly more power-hungry) version, the N270, for "netbooks" and "nettops," and the rest is history.
As Vance noted in his Times story, netbooks mostly boosted the PC market overall, and also boosted Intel's long-standing push in the education market. He cited the example of the San Diego public school system, which has purchased 35,000 netbooks for third and fourth graders and is expected to buy 100,000 more as it expands a program aimed at giving all students access to computers.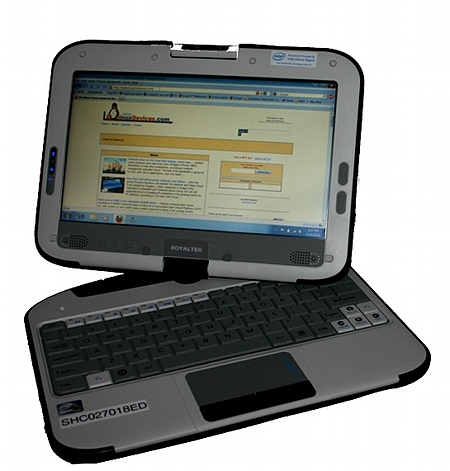 Intel's Classmate design is produced by a variety of OEMs
Intel first introduced its Classmate mini-laptop (later rechristened as a netbook) for kids in March 2007, employing a 900MHz Celeron CPU. The device later switched to the N270 and also gained an option of a screen that pivots and folds down into a tablet configuration. (In its latest version, pictured above, the device is available with a 1366 x 768 pixel screen and a 1.66GHz Atom N450 CPU.)
Meanwhile, Intel announced in September 2009 a netbook-focused "AppUp" applications store as part of its Atom Developer program. The chipmaker later released an AppUp SDK — promising developers they could use C or C++ to create apps that would execute on Atom netbooks running either Windows or Moblin, thanks to a cross-platform runtime — and opened the store to consumers in September of this year.
Further information
Overall background on Intel's embedded products may be found at its Intel Embedded Design Center. More information on Intel's Classmate and AppUp store may be found here and here, respectively.
---
This article was originally published on LinuxDevices.com and has been donated to the open source community by QuinStreet Inc. Please visit LinuxToday.com for up-to-date news and articles about Linux and open source.