Dec 9, 2010 — by LinuxDevices Staff — from the LinuxDevices Archive — views
Intel says its Atom Z6xx processor, in both "Moorestown" and "Oak Trail" versions, will form the basis of 35 different tablet computers in 2011. But Atom-powered smartphones, using the smaller "Medfield" Atom, won't come out until the second half of the year, Intel CEO Paul Otellini is quoted as adding.
Otellini's remarks, reported by multiple sources, came at yesterday's Barclays Capital 2010 Global Technology Conference, whose audio was streamed live via the Internet. During the event, Intel is said to have displayed the slide below, which was reproduced in an item by CNet's Brooke Crothers.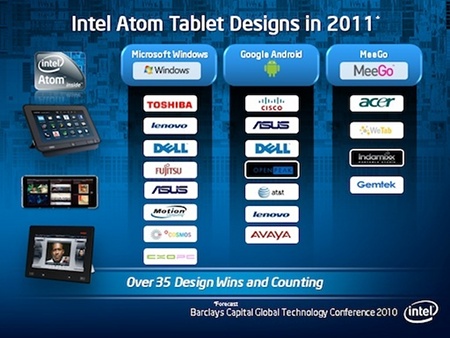 Intel-powered tablets for 2011
Source: Intel via CNet
(Click to enlarge)
According to the slide, Intel is claiming new Windows-powered tablets will come from Asus, Dell, ExoPC, Fujitsu, Lenovo, Motion Computing, Ocosmos, and Toshiba. It's said Android tablets will be produced by Asus, AT&T, Avaya, Cisco, Dell, Lenovo, and OpenPeak. MeeGo designs, meanwhile, are promised from Acer, Gemtek, WeTab, and Indamixx.
While touted as "wins," some of these 16 designs are those that have already been covered by LinuxDevices.com or our sister site WindowsForDevices.com, we strongly suspect. WeTab has said it is already shipping a MeeGo-ready WeTab tablet, and Indamixx recently announced a prototype of its MeeGo-based Indamixx tablet. Otellini reportedly added that Intel chips will be found in more than 35 different tablets during 2011.
According to Crothers' report, Otellini also took the opportunity to point out that Intel has two Atom variants specifically being aimed at tablet manufacturers: "Moorestown" and "Oak Trail." (For complete background, see later in this story.)
Oak Trail is "important for people who want the advantage of PC peripheral compatibility. All the printers in the world work, all the USB drivers in the world work. Any PC peripheral will work perfectly well with Oak Trail," Otellini reportedly said.
"But, he is said to have continued, "We have an even more optimized [Atom] version called Moorestown. For people who want the most lightweight, longest battery life, thinnest machine. It doesn't carry the PC compatibility. It's got the x86 instruction set, so Internet compatibility is there, but we're not worrying about legacy support."
Moorestown was originally touted as also being appropriate for smartphones, but Intel is now spinning "Medfield," a smaller version of the Atom, for that purpose. This chip is sampling now and will be shipped in phones during 2011 and 2012, according to the company.
Tacitly acknowledging that getting Intel silicon into smartphones has taken longer than the company first envisioned, Otellini is quoted as adding: "It's a marathon, not a sprint." Intel says it is still tackling issues such as certification, modem integration, and smartphone software stacks.
Oak Trail, Moorestown, and Medfield
Intel announced "Oak Trail" at the beginning of June, touting it as an Atom platform "optimized for tablets and sleeker netbook form factors due to its reduction in power consumption and thermals." The platform includes a "Lincroft" SoC, a "Langwell" I/O controller, plus some additions (below) code-named "Whitney Point."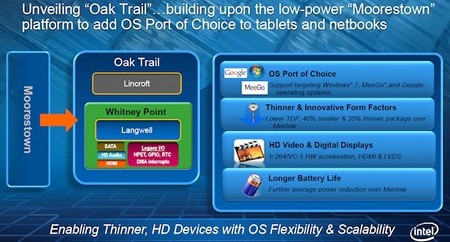 Intel's Oak Trail platform is a superset of Moorestown
(Click to enlarge)
Lincroft — formally known as the Atom
Z6xx
(below left) — and Langwell are also parts of Intel's long-awaited Moorestown platform, which made its debut in May. Moorestown was announced with support for three flavors of Linux (Android, Moblin 2.1, and MeeGo) but nary a mention of Windows — perplexing, at the time.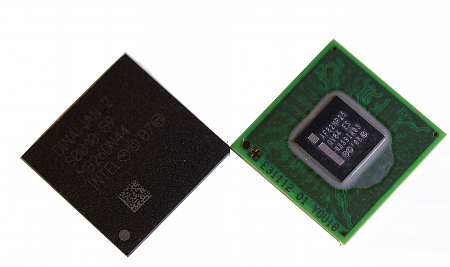 Intel's Z6xx SoC (left) and Platform Controller Hub MP20 (right)
(Click to enlarge)

As it turned out, the Langwell (Platform Controller Hub MP20) chip (above right) gives Moorestown high-speed USB and USB On-The-Go capabilities, cryptographic acceleration (AES, DERS, 3DES, RSA, ECC, SHA-1/2, DRM), and a 24-bit audio DSP, according to Intel. But the Whitney Point superset is what will allow Oak Trail to run Windows 7, since it adds SATA, HD Audio, HDMI, and a variety of legacy I/O (below).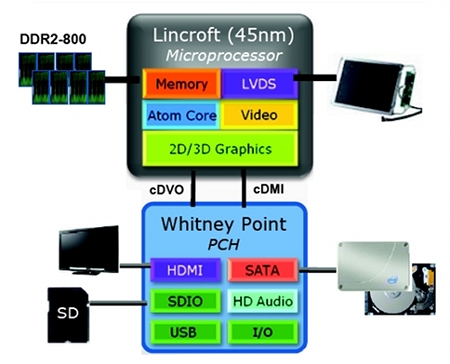 Intel's Oak Trail
(Click to enlarge)
The added functionality described above will increase the Oak Trail chipset's size and power consumption compared to Moorestown (as implied by the Otellini remarks quoted earlier in this story). Without providing specific information on packaging details or TDPs — at least as far as we're aware — Intel has promised that Oak Trail will be 40 percent smaller, 35 percent thinner, and have lower power consumption than its first-generation Z5xx Atom.
When it announced the Moorestown platform, Intel said the Z6xx would offer not only 1/50th the idle power consumption of the Z5xx, but also 1/20th the power consumption for audio playback. Power usage during web browsing and video playback has been cut by one half to two thirds, the company adds.
As a result, it was said, "high-end smartphones, tablets, and other mobile handheld products" would be able to offer more than ten days of standby, up to two days of audio playback, and from four to five hours of intensive usage.
More recent information from Intel, however, reveals that smartphones are to be the province of yet another Atom variant — still known only by its "Medfield" code name. According to both company announcements and further information that was accidentally leaked in August, Medfield will be an all-in-one SoC (system on chip) that moves from the 45nm production employed by Moorestown to a 32nm process.
Taking up half the board space of Moorestown, Medfield will also offer a further (unspecified) reduction in power, Intel has suggested. It will reportedly also have twice the graphics performance of Moorestown, which was already claimed to double that of the original Atom (the Z5xx)
Further information
Further information on Intel's Atom Z6xx processor may be found on the company's website, here, and, in PDF format, here.
---
This article was originally published on LinuxDevices.com and has been donated to the open source community by QuinStreet Inc. Please visit LinuxToday.com for up-to-date news and articles about Linux and open source.