Sep 22, 2011 — by LinuxDevices Staff — from the LinuxDevices Archive — 4 views
Iomega's StorCenter PX px4-300d NAS (network attached storage) device is a solid contender for the SMB market, says this eWEEK Labs review. The four-bay, Linux-based device runs on a dual-core 1.8GHz Intel Atom D525, offers up to 12TB storage, and supports hot-swappable solid-state disks as well as Iomega's Personal Cloud.
Network-attached storage (NAS) devices have to do more than ever before. It used to be that presenting a Network File System (NFS) target was enough, but today, it's hard to find a NAS unit that doesn't support a vast array of network and storage protocols. It's also expected that a NAS device intended for the "prosumer" or small and midsize business (SMB) markets will include a variety of applications and servers as well.
Iomega's StorCenter PX line of devices has everything one needs in this class of NAS and more. Announced in May, StorCenter PX comes in one of three basic forms: two desktop models and one high availability rackmount unit. On the desktop side are the px4-300d (which I reviewed), a four-disk desktop unit that also has a 12TB capacity, and the px6-300d, which supports up to six disks and 18TB.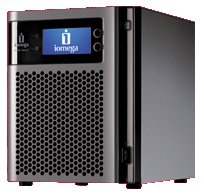 StorCenter px4-300d
Iomega's PX series storage devices are offered with solid-state and conventional drives. Zero-drive configurations are also available. In the case of the px4-300d, pricing ranges from the diskless option's suggested retail price of $800, up to the 12TB HDD configuration at $2,300.
Iomega also offers the px4-300r, a four-disk 1U array that supports up to 12TB of raw storage. This rackmount model includes redundant power supplies and other features from the company's top-end storage array, the StorCenter ix12-300r.
The basic features of the StorCenter PX series devices have become the customary inventory for these devices. The system offers an Intel processor — in this case, a dual core 1.8GHz Intel Atom D525 — running a Linux-derived operating system.
I/O includes dual gigabit Ethernet ports, a USB 3.0 port, and two USB 2.0 ports. The system runs on an AC 100-240 VAC power supply, measures 10.13 x 8.75 x 6.94 inches, and weighs 14.47 pounds when fully loaded with drives.
Various levels of RAID support and a JBOD (just a bunch o' disks) configuration are also available. The PX devices' exact degree of RAID support depends on the number of physical drives. RAID 0, 1, 5, 5+1 and 10 are possible and in all these RAID levels, the devices implement hot swap and automatic rebuild in the event of a drive failure.
Of course, a proper NAS device has to support a wide range of communications, management, and storage protocols. The StorCenter PX series works with Apple (AFP and Bonjour) and Windows (CIFS/SMB, DFS and Rally) discovery and storage protocols, as well as FTP and TFTP, HTTP and HTTPS, and NFS. Management through SNMP is also possible. The PX series devices also provide iSCSI block-level storage, as well as support for the persistent reservations feature of SCSI-3.
The StorCenter PX series is certified on a wide range of platforms, including Citrix XenServer 5.6, VMware vSphere 4.1 (with 5.0 certification presumably pending), and Windows Server 2003, 2008, and 2008 R2. The devices also support advanced Windows Server features such as Active Directory Trusted Domains, Microsoft Cluster Server, and Hyper-V Live Migration.
Lost (temporarily) in the Time Machine
One of the increasingly popular uses for this class of storage devices is as a dedicated backup server for systems running Apple's Mac OS X — with one catch. Although the PX devices present themselves as a Time Machine target, devices already in the field will need a firmware touchup to support machines running Mac OS X "Lion."
Iomega was expected to release updated firmware for the PX series in September, but by my mid-September deadline, that code had not been made available. (For my follow-up testing, featuring Mac OS X Lion and VMware vSphere 5.0, keep an eye on the eWEEK Labs blog.)
I tested the px4-300d with a mix of Mac OS X and Windows clients. I encountered some issues during Time Machine setup, first involving an unworkable name for the backup file, and also involving the already-noted Lion support issue, which is due to changes Apple made in the authentication scheme of AFP. Otherwise, though, I had no noteworthy problems using the device as a storage target in a number of applications.
I did, however, run into one interesting setup issue when configuring the px4-300d to use the NTP server running on the network in eWEEK Labs' San Francisco test facility. An ambiguously worded dialog box led me to enter the IP address of the time server, as a sort of lowest-common denominator.
Unfortunately, the device's NTP client wouldn't work with such a primitive form of direction, but pointing it at the time server's fully qualified name from DNS solved the problem. (I think I've convinced Iomega to fix this in a forthcoming software update.)
Most of the management of PX series devices takes place through a web-based front end. Also available for use is the Iomega Storage Manager, a utility that presents a graphic view of networked Iomega devices. The Storage Manager is available for Linux, Mac OS X, and Windows clients.
Iomega Cloud Storage
One application on the px4-300d that caught my eye was the Iomega Personal Cloud. This service allows devices to be presented as secure Internet-accessible storage, without the costs associated with using someone else's cloud.
Iomega Personal Cloud is easy to set up and manage — perhaps too easy to sit well with anyone in IT security whose responsibility includes preventing data leaks. However, in the event an unauthorized cloud is instantiated, the device's central management and logging features should tattle, according to Iomega.
Iomega's px4-300d is a good choice for many users and workgroups who are looking for a flexible yet reasonably priced NAS device. Its features support a broad range of use cases, from serving as a home media center to filling out a storage pool in a stack of virtual machines. Although my experience saw the px4-300d as anything but idiot-proof, it's nevertheless as good as anything I've seen to date in its class.
Availability
The StorCenter px4-300d starts at $800 for the diskless model, $1,200 for the 4TB model, $2,300 with 8TB, and $3,000 for the fully loaded 12TB version.
More information may be found at Iomega's StorCenter PX page.
P.J. Connolly is a writer for eWEEK Labs.
---
This article was originally published on LinuxDevices.com and has been donated to the open source community by QuinStreet Inc. Please visit LinuxToday.com for up-to-date news and articles about Linux and open source.