May 4, 2011 — by Eric Brown — from the LinuxDevices Archive — 2 views
Iomega announced a StorCenter PX Series of SMB-focused NAS (network attached storage) devices, supporting hot-swappable solid-state disks as well as Iomega's Personal Cloud. The Linux-based devices include the px4-300d and px6-300d — desktop models with a a dual-core 1.8GHz Intel Atom D525 and respective capacities of 12TB and 18TB — and the rackmount, 12TB px4-300r, using a dual-core 2.2GHz Celeron E1500.
The StorCenter PX Series is Iomega's "most advanced series of desktop and rackmount NAS devices created specifically for high performance use at small- to medium-sized businesses and distributed enterprises," according to the EMC subsidiary. The three new entries in the product line are said to fill a gap between high-end enterprise storage devices and consumer NAS devices (such as last year's diskless Iomega iConnect Wireless Data Station).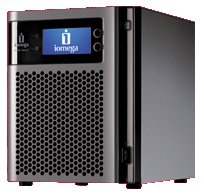 StorCenter px4-300d
Like other StorCenter products, the PX Series run EMC's Linux-based LifeLine operating system and software stack (see farther below). Unlike previous StorCenter models like the
ix2
, but like the recent, NAS-enabled
Iomega TV with Boxee
media server, the PX systems offer online storage with Iomega's Personal Cloud service.
With Iomega's Personal Cloud, users can remotely backup onsite data to an alternate location. Information on the NAS — protected by user-specified permissions and three levels of security — can be shared with remote clients that include PCs, iPhones, and iPads, according to the company.
In addition to cloud storage, other new features include hot swappable disks and solid-state disk (SSD) support, The NAS devices also offer iSCSI compatibility, with each supporting up to 256 iSCSI LUNs.
StorCenter px4-300d and px6-300d
The desktop px4-300d (pictured earlier) and px6-300d (below) use the Intel Atom D525 processor with dual cores clocked to 1.8GHz. Otherwise the only key difference between the two models is the number of bays.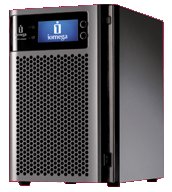 StorCenter px6-300d
Via 3TB drives, the four-bay StorCenter px4-300d can be bought with up to 12TB of storage while the six-bay px6-300d provides up to 18TB. Unlike their rackmount sibling, the devices can be purchased in partially loaded configurations, in addition to being available diskless or fully loaded, says the company.
The devices support RAID 0, 1, 10, 5, 5+1 (hot spare) and 6, and offer automatic RAID rebuild and hot swap functionality, says Iomega. In its PX announcement, Iomega touts all three devices for their ability to support solid-state disks (SSDs) in addition to hard disk drives (HDDs), though only the data sheet for the rackmount px4-300r lists SSD support. The two desktop models support 2.5- or 3.5-inch SATA2 HDDs, and Iomega offers them with 3.5-inch 7200rpm drives.
Both the 300d desktop models offer 2GB of RAM, dual gigabit Ethernet ports, a USB 3.0 port, and two USB 2.0 ports, says Iomega. Each runs on an AC 100-240 VAC power supply, says the company, which did not list power consumption figures.
The px4-300d measures 10.13 x 8.75 x 6.94 inches and weighs 14.47 pounds when fully loaded with drives. The px6-300d measures 10.63 x 10.13 x 6.94 inches and weighs 19.42 pounds when fully loaded. The four-bay model sounds off at 31 dBA maximum, while the six-bay model is said to top out at 33 dBA.
StorCenter px4-300r
The rackmount px4-300r differs from the other two models in that it runs on a dual-core, 2.2GHz Intel Celeron E1500 processor. Once again, the processor is matched with 2GB of RAM.


StorCenter px4-300r
Like the px4-300d, the px4-300r offers four bays, providing up to 12TB of storage via 3.5-inch SATA2 HDDs. In addition it offers explicit support for SSDs. The device supports all the RAID levels of the others, except for RAID 6, says Iomega.
Once again, dual gigabit Ethernet ports are provided, as well as three USB ports, but there's no USB 3.0 port. Unlike the desktop models, the px4-300r is further equipped with four PCI Express slots.
A 100-240 VAC power supply is listed, and unlike the desktop models, the px4-300r offers a redundant power supply option. Iomega lists a maximum power consumption rating of 170 Watts, which is presumably more than what its two Atom-based desktop PX siblings would draw. The px4-300r is also noisier, listed at 40 dBA maximum.
This 1U rackmount device measures 20 x 17 x 1.7 inches and weighs 33 pounds fully stocked, says the company. The device can be bought diskless or full, but there are no in-between configurations.
LifeLine features
All three StorCenter PX models run the Linux-based LifeLine stack, which supports file sharing with Windows, Mac, and Linux workstations. LifeLine features are said to include:
Active Directory Support and remote access
certified for VMware vSphere 4.0, Citrix XenServer, and Windows Server 2003/2008/2008 R2
all major network file protocols supported
Windows Active Directory Trusted Domains, MSCS, and Hyper-V Live migration support
data replication and device-to-device copy
Axis Video Hosting System (AVHS), supporting up to 12 AXIS IP security cameras
Stated Jonathan Huberman, president of Iomega, "The PX series has the same easy-to-use LifeLine operating system and hardware designed and tested by the same team that produces EMC's enterprise network storage products."
Availability
The first three members of the Iomega PX Series of network storage devices are now available worldwide, says Iomega.
The StorCenter px4-300d starts at $800 for the diskless model, $1,200 for the 4TB model, $2,300 with 8TB, and $3,000 for the fully loaded 12TB version.
The StorCenter px6-300d starts at $1,200 (diskless), $1,700 (6TB) $3,300 (12TB), and $4,000 (18TB).
The rackmount StorCenter px4-300r starts at $2,300 (diskless), $3,000 (fully loaded with 2TB drives at 8TB), and $3,800 fully loaded with 3TB drives at 12TB total capacity.
More information on Iomega's three new NAS devices may be found at its StorCenter PX page.
---
This article was originally published on LinuxDevices.com and has been donated to the open source community by QuinStreet Inc. Please visit LinuxToday.com for up-to-date news and articles about Linux and open source.