Oct 23, 2008 — by Eric Brown — from the LinuxDevices Archive — 77 views

NeuLion is shipping a Linux-based IPTV set-top box (STB) as a complement to its IPTV encoding and streaming platform. Based on a Freescale Coldfire CPU and an Analog Devices Blackfin DSP (digital signal processor), the NeuLion IPTV STB provides H.264 decoding at 30fps, says NeuLion.
(Click for larger view of NeuLion IPTV STB)
NeuLion is an IPTV service provider for live and on-demand sports, as well as international and variety programming. It says its services include content ingestion, encoding in multiple formats, digital rights and content management, content delivery, customer billing, and subscription management services. And, it recently merged with a similar company called JumpTV. NeuLion's content partners are said to include KyLinTV, which offers "Chinese entertainment and programming." The KyLin TV home page shows an image of NeuLion's STB, and links to another page stating that the box is worth about $200, but is being offered at $9 a month.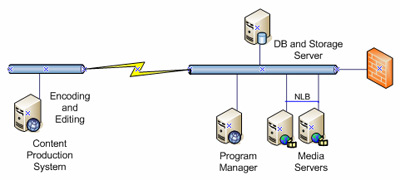 NeuLion's back-end server in typical configuration
NeuLion provides its content customers with a NeuLion iPTV Program Server and Streaming Server for encoding, transcoding, and streaming at 700Kbps over the Internet. Typically, they also supply the STBs for distribution to providers' customers. However, the system can also deliver video to PCs, cellphones, and other H.264-compatible mobile devices, says the company. The streaming server is said to support hundreds of channels and video streams, each with different content choices. It is unclear what operating system is used on the back-end servers, but the STB runs an undisclosed version of "open source Linux," which NeuLion says "provides a cost effective, high performance, and low bit-rate solution."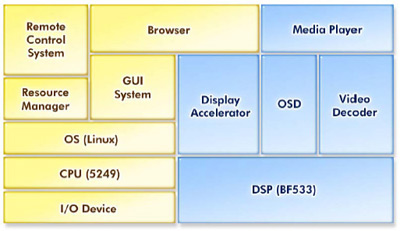 NeuLion IPTV STB architecture
NeuLion did not provide detailed specs for the STB, but the architecture diagram above shows that the box runs a Blackfin DSP and Coldfire CPU. Freescale's ColdFire MCF5249 is a low-powered 140MHz microcontroller that has long supported Linux. The ADSP-BF533 Blackfin uses the Micro Signal Architecture (MSA), which supports a RISC-like register and instruction model.
The NeuLion iPTV STB offers the following features, says NeuLion:
Plug and play with cable modem/ADSL/Ethernet connection
Support for 802.11g WiFi
600 to 800Kbps streaming rate from network and to TV
Integrated CPU+DSP H.264 decoder design
Supports multiple-channel broadcasting, VOD (video on demand), and PVR video recording
30 frames per second (fps) for NTSC; 25fps for PAL
MP3/stereo audio output
S-Video/YVR/RGB video output
Automatic upgrades over the network
VOD features such as pause, fast forward, and rewind
Embedded browser for central control and customized branding
On the encoding and streaming end, the NeuLion iPTV Platform offers the following touted features:
Real-time H.264/MPEG-4 AVC encoding and transcoding
Scalable, simultaneous streaming over RTP and RTSP protocol
No buffering, "fast cache," and instant-on channel
Patented compression algorithms for compressing between frames
Availability
NeuLion did not offer pricing on the various components of its IPTV Platform. However, as noted above, KyLinTV rents out the Linux-based IPTV STB for $9 per month, and claims the box represents a "$198" value.
---

This article was originally published on LinuxDevices.com and has been donated to the open source community by QuinStreet Inc. Please visit LinuxToday.com for up-to-date news and articles about Linux and open source.