Jul 2, 2010 — by Eric Brown — from the LinuxDevices Archive — views
Gartner has trimmed its worldwide IT spending forecast for 2010 to 3.9 percent growth, down from 5.3 percent, due to the European debt crisis, and the Conference Board reports that U.S. online job postings are flat, with declines in technology jobs in June. On a more positive note, the global telephony market is rebounding significantly, says Frost & Sullivan.
The economic woes in Europe will have a negative impact on worldwide IT spending for the rest of the year, according to Gartner, as reported by Jeffrey Burt, in our sister publication eWEEK. Gartner expects global IT spending in 2010 to reach $3.35 trillion, an increase of 3.9 percent over the $3.225 trillion spent in 2009, but a drop from the 5.3 percent growth Gartner had predicted in the first quarter, says the story.
The recalculated estimate is due primarily to the devaluation of the Euro vs. the U.S. dollar, a trend that Gartner says will continue into the second half of the year.
"The European sovereign debt crisis is having an impact on the outlook for IT spending," stated Richard Gordon, research VP at Gartner.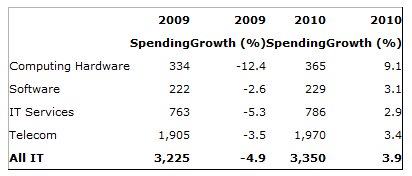 Worldwide IT spending forecast (billions of U.S. dollars)
(Source: Gartner — June 2010)
"Longer-term, public-sector spending will be curtailed in Europe as governments struggle to bring budget deficits under control during the next five years and to reduce debt during the next 10 years," continued Gordon, adding that government austerity measures would have a "ripple effect" on the private sector.
Hardware spending is expected to grow to $365 billion in 2010, a 9.1 percent increase over last year, says Gartner. This is said to be led by a "healthy" PC market, especially in mobile computing. Growth will be slower in software and services, however, says the report.
Online job growth flat, with a drop in tech postings
Another eWEEK report this week, this time by Don Sears, says that the latest Conference Board report on U.S. online job listings shows flat growth. The month of June saw a slight increase after a May decline, reports Sears, but the overall trend is flat after a strong beginning earlier this year.
East coast states like New York, New Jersey, and Pennsylvania, saw the largest growth. Overall, however, growth was muted by the slow California job market, which saw the largest decline in job openings in June, losing 46,800 vacancies, says the Conference Board.
Technology job postings for the month were down 12,700 nationally in June, at 554,900, as were management, and administrative positions, says the report. Health care was said to be the largest gainer, growing by 51,900 to 592,300 postings, followed by business financial operations.
Telecom market rebounds
If the Gartner and Conference Board reports suggest a sluggish economic recovery, one sector of the global market — telecommunciations — is rebounding nicely, says a Frost & Sullivan report.
As reported in a third eWEEK story, by Nathan Eddy, the enterprise telephony platform and endpoint market faced a "challenging year" in 2009, when it earned $7.7 billion globally, according to Frost & Sullivan. Almost all major enterprise telephony vendors declined at double-digit rates last year, says the research firm.
Yet, the year saw several landmark events that should steer the market to rebound in 2010, says the report.
"The fall of Nortel signaled the end of an era and set alarm bells ringing for telephony providers," stated Frost & Sullivan industry analyst Alaa Saayed. "It was clear that change was imminent, and that new entrants and more dynamic business models would question the viability of established paradigms."
The Frost & Sullivan report estimates that recessionary effects will linger for another 12 to 18 months, but that IT and communications spending will pick up steam in 2010 due to mergers and aggressive customer programs.
Improvements were said to be coming in North America in 2011 and in Europe in 2012. The rest of the world, meanwhile, is predicted to have smoother transitions, with growth expected in the coming years.
Ongoing tech trends predicted for the 2010 telecom market include the continuing decline of time division multiplexing (TDM) sales, as well as the corresponding fast growth for IP shipments, according to Frost & Sullivan. Equipment upgrades will be driven by growth in softswitch systems, virtualization, and unified communications (UC), says the report.
Saayed predicts success for those telecom companies willing to "gradually shift resources from hardware to software (for both systems and endpoints), target the underserved small to medium-size business (SMB) market with appealing solutions, tap into new global markets, and strive for interoperability as well as openness."
Availability
The Gartner report on worldwide IT spending may be found here, and the eWEEK story on the report should be here.
The Conference Board report on June online job postings may be found here, and the eWEEK story on the report may be found here.
The Frost & Sullivan report on the rebounding telecom market may be found here, and the eWEEK story on the report should be here.
---
This article was originally published on LinuxDevices.com and has been donated to the open source community by QuinStreet Inc. Please visit LinuxToday.com for up-to-date news and articles about Linux and open source.