Feb 23, 2010 — by Eric Brown — from the LinuxDevices Archive — 8 views
The handset market rebounded during the fourth quarter of last year, with 8.3 percent year to year growth and a smartphone market that grew 41.1 percent, a new report says. Among smartphone operating systems, Android grew at a 3.5 percent rate in 2009, second only to Apple's 6.2 percent growth, says Gartner.
According to Gartner's latest mobile phone report, worldwide mobile phone sales totaled 1.211 billion units in 2009, a 0.9 per cent decline from 2008. However, fourth quarter sales surpassed 340 million units, representing an 8.3 per cent increase year to year, says the research firm.
"The mobile devices market finished on a very positive note, driven by growth in smartphones and low-end devices," stated Carolina Milanesi, research director at Gartner.
The boost was led by smartphone sales of 53.8 million units, up 41.1 percent from the same period in 2008, says Gartner. For the year, smartphone sales reached 172.4 million units, a 23.8 per cent increase from 2008. This figure was considerably lower, however, than the 29 percent yearly smartphone growth that Gartner projected in October.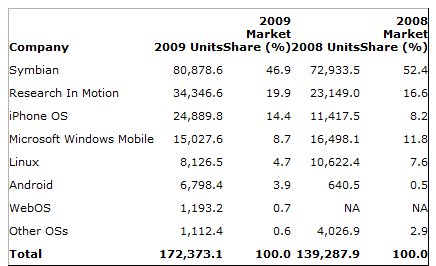 Worldwide smartphone sales to end users by operating system in 2009 (thousands of units)


(Source: Gartner)
Symbian remained the smartphone OS leader, although its 52.4 percent lead in 2008 dropped to 46.9 percent in 2009, according to Gartner, which did not offer quarterly breakdowns. Gartner suggests that more market-share drift will occur until phones based on the new
open source Symbian 3
start appearing in the third quarter.
Research in Motion (RIM) and its BlackBerry platform continued as the second place smartphone OS, growing slightly to 19.9 percent share, says Gartner. Apple's iPhone OS was said to have enjoyed the fastest growth. Its 6.2 percent growth rate catapulted the iPhone past Microsoft's Windows Mobile to take third place at 14.4 percent, says the research firm. Windows Mobile, which is being re-engineered as a more promising Windows Phone 7, due to arrive at year's end, dropped from 11.8 percent share in 2008 to 8.7 percent.

Linux fades - and soars
Fifth place in smartphone OS share was taken by Linux, followed by two Linux-based OSes: Android and Palm's WebOS, which runs on the Palm Pixi and Palm Pre (pictured). On its own, Linux saw a Windows Mobile-like declines, dropping from 7.6 to 4.7 percent, says Gartner. Although the research firm did not detail why, this is likely due in large part to Motorola's abandonment of its Linux-based MotoMAGX stack in favor of Android. Other vendors that might have fielded a Linux smartphone model or two in 2008 appear to have also switched their efforts to Android over the last year.
When combined with Android and WebOS, however, the total Linux share grew to 9.3 percent, which would top Windows Mobile for fourth place. Android's 3.5 percent growth was said to trail only Apple for the year, while Palm's WebOS grew from zero in June to take a respectable 0.7 percent.
Still, Android could have its comeuppance if Google over-reaches, suggests Gartner. "Android's success experienced in the fourth quarter of 2009 should continue into 2010 as more manufacturers launch Android products," stated Cozza. "But some CSPs [communications service providers] and manufacturers have expressed growing concern about Google's intentions in the mobile market. If such concerns cause manufacturers to change their product strategies or CSPs to change which devices they stock, this might hinder Android's growth in 2010."

Cozza did not specify what manufacturers' concerns about Google might be. Presumably they have to do with the search giant's introduction of its own branded Google Nexus One phone (pictured), and plans for a follow-up Google phone.
Samsung, LG rise in handset vendor share
Gartner also looked at 2009 market share by vendor, but only for mobile phones in general (below). Here, Nokia dropped only slightly from 38.6 percent at year-end 2008 to a still dominant 36.4 percent share of the global handset market. As with decreasing Symbian OS share for smartphones, Gartner suggests that Nokia's handset share may continue to slide this year until the company offers more interesting devices on the high end, such as Symbian 3 devices. It also sees hope for new phones that run Intel's and Nokia's recently announced Maemo/Moblin open source Linux blend, called MeeGo.
"Nokia will face a tough first half of 2010 as improvement to Symbian and new products based on the Meego platform will not reach the market well before the second half of 2010," stated Milanesi.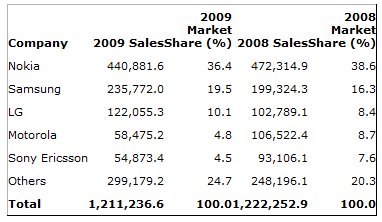 Worldwide mobile terminal sales to end users in 2009 (thousands of units)


(Source: Gartner)
Samsung, and to a lesser extent LG, led the market in growth, and ended up in second and third place in total handset share, says Gartner. Samsung was said to have ended the year at 19.5 percent, with LG at 10.1 percent.
Of the top five, third-place Motorola saw the largest drop, from 8.7 to 4.8 percent, and Sony Ericsson fell almost as hard, dropping to 4.5 percent for fifth place. Interestingly, the "Other" category of vendors did quite well on average during this tough year, rising to 24.7 percent of the market.
According to a recent IDC report on the smartphone market in general, Motorola's 4Q smartphone sales increased 56.3 percent compared to 4Q 2008, with 80 percent of that attributed to Android. This 56.3 percent growth rate was said to have trailed only Apple for the quarter.
Concluded Milanesi, "We can expect 2010 to retain a strong focus around operating systems, services and applications while hardware takes a back seat. Sales will return to low-double-digit growth, but competition will continue to put a strain on vendors' margins."
Availability
The Gartner mobile phone report announcement for 2009 may be found here.
---
This article was originally published on LinuxDevices.com and has been donated to the open source community by QuinStreet Inc. Please visit LinuxToday.com for up-to-date news and articles about Linux and open source.