Jul 16, 2009 — by Eric Brown — from the LinuxDevices Archive — views
An iSuppli study says PC shipments will decline by four percent, but DisplaySearch projects that netbooks will grow at a 100 percent clip, says eWEEK.. Meanwhile, Intel reported positive second-quarter earnings, including (fines excluded) $1 billion profit on $8 billion in revenue, led by the Intel Atom, says eWEEK.
Global PC shipments, including entry-level servers, are expected to decline to 287.3 million units in 2009, from 299.2 million units in 2008, says iSuppli, according to an eWEEK story by Michelle Maisto. The projected four percent contraction will be the first drop in yearly shipments since 2001, says iSuppli.
The research firm blames falling IT spending and plunging desktop computer sales for the drop, says the story. Desktop shipments are likely to decline by 18.1 percent, down to 124.4 million units from 151.9 million units in 2008, says iSuppli.
Maisto quotes Matthew Wilkins, a principal analyst with iSuppli, as saying "Even in weak years, PC unit shipments typically rise by single-digit percentages. The last decline — in 2001 — was a 5.1 decrease in unit shipments due to the extraordinary impact of the dot-com bust, which caused inflated IT spending levels from the previous years to collapse."



HP Mini 110 with
"Mi" Linux distro
(Click for details)
One bright spot is said to be notebook shipments, which are expected to rise by 11.7 percent to 155.97 million units, with netbook numbers leading the way in the category.
"Mobility is winning out in the PC market," Wilkins is quoted as adding.
Another sign for hope is that iSuppli projects that PC sales will improve in the third and fourth quarters of this year. Quarter to quarter shipment growth rates are expected to move from 0.1 percent in the second quarter to 11 percent in the third, and 8.9 percent in the fourth. Meanwhile, shipments are expected to rise to an overall 4.7 percent growth rate in 2010, 6.3 percent in 2011, and 7.0 percent in 2012, says the story.
DisplaySearch: Netbooks stay hot
DisplaySearch concurs with iSuppli that netbooks will continue to lead the PC market this year, according to another Maisto story in eWEEK. Global netbook shipments are expected to reach nearly 33 million units in 2009, DisplaySearch is said to have projected, just shy of a 100 percent growth rate.
Growth for full-sized notebooks, however, is for the first time in history expected to stay flat, reaching 129.5 million units. Both the global recession and the rise of netbooks have cut into notebook sales, the research group is said to have noted. However, Windows 7 is expected to give notebooks a boost next year, says DisplaySearch.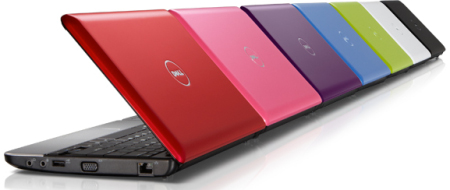 Dell's Linux-ready, Atom-based Inspiron Mini 10v netbook
As for netbooks, DisplaySearch breaks down numbers by both growth rate and penetration. In terms of year to year growth, Greater China leads the way with 260.3 percent, followed by 136.9 percent in North America, and 88.1 percent in Latin America. The lowest growth rates are said to be found in Japan, with a predicted 29.1 percent growth rate. Penetration rates, meanwhile, are led by Latin America (26 percent) and EMEA (Europe, the Middle East and Africa), at 22 percent.
DisplaySearch believes that low prices and the spread of subsidized sales by wireless carriers are the chief motivators for netbook sales, writes Maisto.
Do Intel numbers reveal a turnaround?
Intel's positive second quarter earnings, reported this week, appear to suggest that a modest tech turnaround may be underway already, writes Jeffrey Burt in another eWEEK story. Although Intel posted a $398 million loss overall, if May's $1.45 billion antitrust fine from the European Union is excluded, Intel reported a $1 billion profit on $8 billion in revenue, writes Burt.
According to Intel, server and consumer PC sales are beginning to show an upturn, although sales of business PCs are expected to remain stagnant, writes Burt. Looking forward, Intel executives say they expect revenue in the third quarter to be slightly higher, at about $8.5 billion, says the story.
"[Intel is] an early indicator of where the industry is going, and it seems to be going well," Gartner analyst Leslie Fiering was quoted by Burt as saying in an interview.
As Atom soars, Otellini pushes embedded
Intel's second-quarter revenue from the netbook- and embedded-oriented Intel Atom processor was $362 million, a 65 percent increase over the first quarter, says the story. In the earnings call, CEO Paul Otellini said that Intel will continue to aggressively push to into the embedded market, mobile devices, and software, says the story.
Meanwhile, Intel expects to complete its $884 million acquisition of embedded Linux development software firm Wind River this summer. According to Fiering, quoted in Burt's eWEEK piece, the move toward embedded and mobile devices is a wise one for Intel, since younger users tend to opt for buying new smartphones and mobile devices before purchasing PCs.
Availability
Michelle Maisto's eWEEK story on iSuppli's PC shipment report may be found here, and her story on the DisplaySearch netbook report may be found here. Jeffrey Burt's eWEEK report on Intel's second quarter earnings may be found here.
---

This article was originally published on LinuxDevices.com and has been donated to the open source community by QuinStreet Inc. Please visit LinuxToday.com for up-to-date news and articles about Linux and open source.