Jul 20, 2011 — by Eric Brown — from the LinuxDevices Archive — 5 views
Roku announced three new versions of its Linux-based, Netflix-ready streaming IP media player, all running on less than two Watts and adding support for casual gaming. The Roku 2 HD ($60) supports 720p playback; the Roku 2 XD($80) moves up to 1080p; and the Roku 2 XS ($100) adds USB and Ethernet ports, as well as a motion-control remote and Angry Birds.
While Roku doesn't promote its tuxified foundations, a Roku rep confirmed to us today that like other generations of Roku boxes dating back to 2004, the Roku 2 runs on embedded Linux. The Roku IP set-top boxes (STBs) have been one of the best-selling Linux-based devices in history along with the Kindle and the TiVO (see farther below for background).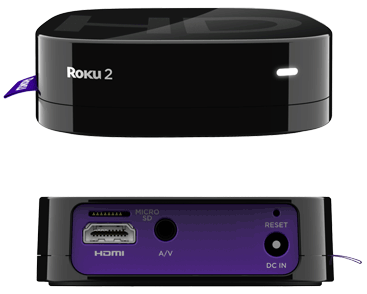 Roku HD (Roku XD looks identical)
The Roku 2 devices upgrade last fall's Roku HD ($60) along with the 1080p-enabled Roku XD ($80) and Roku XDS ($100), all of which
were licensed by Netgear
in November. The Roku 2 devices maintain the same tiered pricing and 720p/1080p breakdown on the various models, but are much smaller and more energy-efficient.
The previous generation measured 4.9 x 4.9 x 1.2 inches and consumed six Watts at peak operation and four Watts on standby. By contrast, the Roku 2 measures 3.3 x 3.3 x 0.9 inches, weighs three ounces, and typically consumes less than two Watts during HD streaming, says the company.

Angry Birds is bundled with the Roku 2 XS, along with a motion control remote
Casual gameplay is now enabled, supported by the new Bluetooth 3.0-enabled Roku Game Remote available with the top-of-the-line XS model. All three devices are being hyped as bringing the first full version of Angry Birds to the TV, and the game is pre-installed on the XS model.
In addition to Angry Birds, new channels available with the Roku 2 include Facebook, EPIX, Major League Soccer, AOL HD, and FOXNews.com, says Roku. Additional games will be available shortly after launch. including Angry Birds Rio and Angry Birds Seasons, says the company.
The new channels advance the platform to up to nearly 300 channels — many free, some pay — with access to 100,000-plus movies and TV shows. Popular channels include Netflix, Hulu Plus, Amazon Instant Video, and Crackle, says Roku.
Additional fare is said to include live and on-demand sports from NBA Game Time, NHL GameCenter Live, and Ultimate Fighting Championship. Music channels are said to include Pandora, MOG, Rdio and TuneIn Radio. There are also photos and videos from Flickr and Vimeo, as well as various international news and entertainment channels, says the company.
The new versions also provide enhanced features for the Netflix channel, says Roku. These are said to include support for English subtitles, Dolby Digital Plus, and — on the XD and XS models — up to 1080p video quality.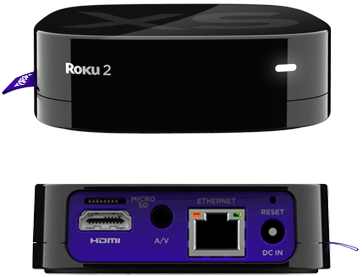 Roku 2 XS
Roku doesn't list the processor or memory on the devices, but says the Roku 2 HD player supports up to 720p HD video, while the Roku 2 XD and XS players move to 1080p HD video. All three models include microSD slots for storage.
Wi-Fi and Bluetooth 3.0 are standard, although the latter is currently supported only on the new Roku Game Remote, which comes with the XS and is a $30 option with the other models. The remote enables motion control with its built-in accelerometer and gyro, and has been "optimized for bird-slinging action on the big screen," says Roku. (A standard IR remote is included on the HD and XD.)

Roku Game Remote
Other standard features include an HDMI port and a composite video RCA mini-jack. The XS adds an Ethernet port and a USB port, said to allow sideloading of MP4 (H.264) and WMV/ASF (WMV9/VC-1) video files. Via USB, the device also supports AAC and MP3 audio formats and JPG and PNG image files.
Features and specifications listed for the Roku 2 include:
Memory expansion — microSD slot
Wireless — 802.11n; Bluetooth 3.0 (currently enabled on Roku Game Remote only)
Networking — 10/100 Ethernet port (XS only)
Other I/O:

HDMI port
composite video RCA mini-port
USB port (XS only)

Video modes — 480i, 480p, 720p, 1080p (XD and XS only)
Audio — 5:1 surround sound
Remotes — Roku infrared remote control; Roku Bluetooth game remote with motion sensing (standard on XS only; optional on HD and XD)
Power — 5.2V, .5A power adapter; less than 2 Watts consumption typical while HD streaming
Dimensions — 3.3 x 3.3 x 0.9 inches
Weight — 3 ounces
Roku background
Roku announced its hackable, Linux-based Roku-HD1000 IP set-top player in Jan. 2004, shipping the device soon thereafter. In 2008, the company recast the player as a much smaller (and not so hackable) $100 Roku NetFlix Player, co-branded with the NetFlix movie service and imbued with the hardware-based digital rights management (DRM) that Netflix now demands from Android vendors who want to offer the video service.
In 2009, Roku announced a scaled-down $80, DVD-quality Roku SD, as well as the 802.11b/g/n-enabled $130 Roku HD-XR. This was followed by the most recent Roku XD player in 2010.
The Roku XD licensing deal with Netgear last November was seen by many as a response to Google's launch of costlier and more complex Google TV IP STB systems, which are based on Android.
Google TV offers more advanced features than does Roku. These include Android phone integration, as well as a common interface and search system for both broadcast TV channels and IP content. Yet, so far Google TV has been something of a flop, as consumers are instead opting for simpler, more affordable, IP boxes like the Roku, most of them based on Linux.
Stated Roku Founder and CEO Anthony Wood, "Roku is the best-selling streaming player on the market because of its simplicity, breadth of content and value. Now we're setting the bar even higher with Roku 2 - a more powerful platform with new features including casual gaming."
Availability
The Roku 2 HD, Roku 2 XD, and Roku 2 XS are expected to be available by the end of July at $60, $80, and $100 respectively. The $30 Roku Game Remote, meanwhile, is bundled with a 2GB microSD card.
More information may be found at the Roku 2 product page.
---
This article was originally published on LinuxDevices.com and has been donated to the open source community by QuinStreet Inc. Please visit LinuxToday.com for up-to-date news and articles about Linux and open source.