Dec 8, 2010 — by LinuxDevices Staff — from the LinuxDevices Archive — 2 views
LG and VMware say they are teaming up to bring virtualization technology to smartphones based on VMware's MVP (mobile virtualization platform) software. Operating system support was not specified, but the technology appears likely to be headed for some of LG's Android phones in 2011.
VMWare's MVP hypervisor — first unveiled in February 2009 and more formally announced in December of that year — will allow a phone to contain differing sets of applications and data "in isolated containers." As a result, "mobile users will be able to safely carry a single device for both personal and work use," the company says.
Stated Stephen Herrod, chief technology officer and senior vice president of R&D at VMWare, "The reality is that today's employee-owned mobile devices are often more advanced than corporate offerings. As a result, the agile enterprise is looking to embrace new end user computing models that allow users to work on the devices they love."
Via MVP, employee-owned devices will be able to access corporate resources securely when needed, VMWare claims. At the same time, it's said, IT departments will be able to manage and provision all mobile end-points from a single interface.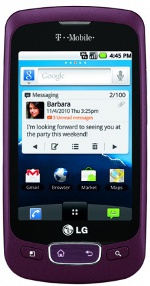 According to today's announcement, the technology will be available on LG smartphones in 2011. No details were provided on many models will be offered, or what operating system the devices will run, but a video obtained by Engadget and embedded at the end of this story suggests an initial focus on Google's Android. LG offers a number of Android phones, including T-Mobile's Optimus T (pictured at right)
Should that be the case, it will be a temporary setback for Microsoft as it tries to sell its latest smartphone OS to enterprise customers. Redmond has touted Windows Phone 7 devices as offering their owners a better opportunity to balance work and the rest of their lives than do other smartphones, but VMWare's MVP goes much further, almost literally turning a single handset into two separate phones. (According to an eWEEK article on MVP by Chris Preimesberger, such devices will even have two separate phone numbers.)
As we explain below, MVP was originally mooted as a means to run two operating systems on a single phone, and is apparently capable of hosting any OS that runs on an ARM CPU. In the Engadget video, however, Android is run throughout.
An initial focus on Android?
LG recently launched the Quantum, a Windows Phone 7 device that includes a slide-out keyboard. LG is, however, sells a variety of Optimus branded Android phones such as the Optimus T mentioned above. The company is expected to release a high-end Android device employing a dual-core Nvidia Tegra 2 processor in early 2011, called the LG Star. Another LG Androider, the LU3000 pictured below, was recently released in South Korea, according to a TrustedReviews story.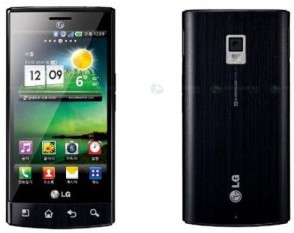 LG LU3000
Regarding the deal with VMWare, LG Vice President of Global Enterprise Solutions Ki S. Kim stated, "The partnership is part of LG's global strategy to develop smart mobile devices for businesses. VMware's industry leadership provides a platform for LG to extend its presence in enterprises and deliver compelling solutions that address the challenges raised by the convergence of IT and mobile communications."
Background
MVP was first discussed at the VMware VMworld Europe 2009 technology conference in early February, at the end of a keynote delivered by CTO Herrod. The technology will allow customers to run two operating systems on one phone, or simply move their phone's contacts, apps, and other data from handset to handset more easily, Herrod told his audience at the time.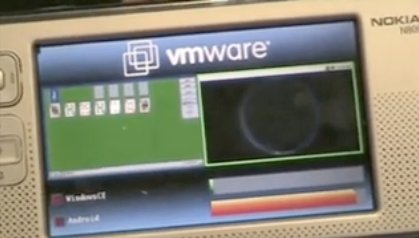 VMWare's MVP running on a Nokia N800 tablet
VMWare's descriptions of VMWare have become more generalized, but in 2009 the product was termed an "ARM hypervisor solution … that decouples application data from the underlying hardware," runs on ARMv4 to ARMv7 CPU architectures, and supports "any proprietary or commercial OS and RTOS." It was said MVP could allow vendors to build their mobile software in the form of a set of applications, along with an underlying operating system, that can then be deployed to any ARM phone with little additional work.
According to Herrod's initial description, MVP could also be used by technical end users, who could install a single phone VM on multiple devices, backing up data and maintaining a familiar working environment as they migrate. Or, he added, users could have multiple VMs on a single device, each embodying a different "persona."
Touted as "very thin and very thrifty," MVP is a hypervisor that loads on a phone's "bare metal" hardware in advance of any operating system, and takes up only about 20KB of memory, according to VMWare's 2009 descrption. The technology, which allows a phone to load single or multiple OSes in virtual machines (VMs), stems from VMWare's 2008 acquisition of Trango, which first shipped its Trango Hypervisor in 2005.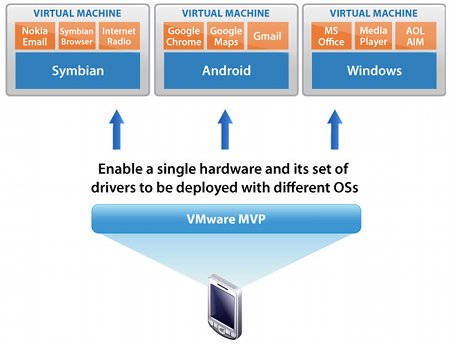 A 2009 diagram of VMWare's MVP architecture
(Click to enlarge)
A "completely isolated" work VM could contain the operating system chosen by an enterprise, with confidential emails, applications, and VPN software. Meanwhile, a separate VM could contain a user's personal emails, photos, and music files. "People don't want to have to carry two phones — the one that's approved by IT, and the cool one that has a little more personality to it," Herrod quipped at MVP's 2009 introduction.
In September, ARM announced its Cortex-A15 MPCore, previously code-named "Eagle," saying that the IP can be licensed now and finished silicon is expected in 2012. Cortex-A15 processors will run at up to 2.5GHz and be capable of addressing as much as 1TB of RAM via a technique called LPAE (large physical address extensions), among other benefits highlighted by the company.
It's said such copious amounts of memory will be especially handy when a Cortex-A15 core is used to run virtual machines, as with VMWare's MVP or somewhat similar schemes such as OK Labs's OK4. A new "Hyp" mode will allow hypervisors to be in complete control of virtualized resources, while at the same time minimally intervening in "routine" guest operating system tasks, according to ARM.

A 2009 demonstration of the Nokia N800 running Windows CE and Android via MVP …
Source: ITPro
(click to play)

… and a recent demo of MVP's new Android focus
Source: Engadget


Further information
More information on MVP may be found on VMWare's website, here.
---
This article was originally published on LinuxDevices.com and has been donated to the open source community by QuinStreet Inc. Please visit LinuxToday.com for up-to-date news and articles about Linux and open source.