Aug 7, 2008 — by LinuxDevices Staff — from the LinuxDevices Archive — 1 views

A fast, fast-booting, implementation of GNOME aimed at netbooks and older hardware has emerged, and shows "a lot of promise." LXDE has already stacked up a heap of commercial partners, including gOS, a distribution favored by leading systems integrator FIC.
(Click for larger view of main LXDE desktop)
The GTK+ 2-based LXDE (Lightweight X11 Desktop Environment) first emerged in late 2006 when two Taiwanese Linux distributions adopted an early version. First came B2D Linux, which apparently no longer uses LXDE, and then came the Ubuntu-based PUD GNU/Linux, which does. Since then, the group, which appears to also be based in Taiwan, has been pretty quiet, but behind the scenes, they have been racking up bundling deals with a number of small Linux distributions that use all or parts of the LXDE code.
LXDE was catapulted into the spotlight in the latest gOS release, announced this week at LinuxWorld. gOS 3 Gadget swapped out Enlightenment E17 in favor of the LXDE desktop. It is not clear that the release will see commercial use, as LXDE is a young project that is not yet complete. However, gOS Founder David Liu said he believes the project has "a lot of promise," describing it as a "scaled-down version of GNOME."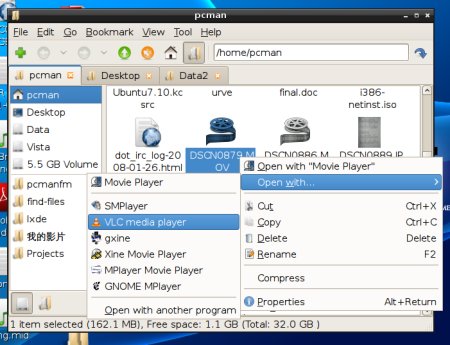 PCManFM file manager
(Click to enlarge)
The full list of distro partners includes:
Aside from its lightweight characteristics, one reason LXDE appears to be so popular with Linux distribution makers is that it's highly modular. Explains a LXDE web page: "We don't tightly integrate every component. Instead, we tried to make all components independent, and each of them can be used independently with few dependencies."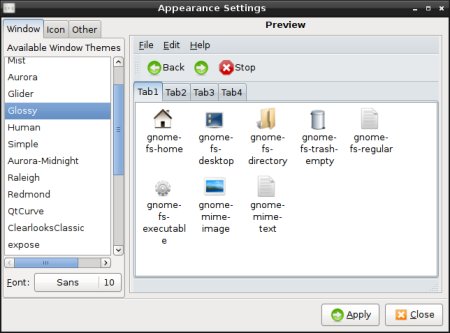 LXAppearance, the GTK+ theme switcher
(Click to enlarge)
The LXDE components include:
PCManFM
— File manager with tabbed-browsing and desktop icons

LXPanel — Desktop panel with configuration done via GUI

LXSession — This standards-compliant X11 session manager offers
shutdown/reboot/suspend support via HAL and gdm. An LXSession Lite version skips on the X11 support, but is "more stable."

LXAppearance — This GTK+ theme switcher can change themes, icon themes, and fonts.

Openbox — This third-party window manager can be swapped out.

GPicView — Image viewer featuring immediate startup

Leafpad — Third-party text editor

LXTerminal — Desktop-independent VTE-based terminal emulator

XArchiver — Third-party desktop-independent file archiver based on GTK+

LXNM — Still under construction, this network connection helper daemon supports wireless connections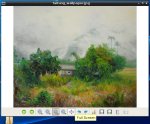 GPicView image viewer
(Click to enlarge)
Finally, here are some choice quotes from the LXDE FAQ:
On why they went with good 'ol GTK+: "The only toolkits with really good i18n supports are gtk+ 2 and Qt, among which gtk+ 2 is lighter. gtk+ is a better choice if portability is important. Writing programs with gtk+ is really a pain, though."
"If Windows 98 and xp work quite well on old machines, why my Linux desktop needs a 1.0 GHz CPU + 1GB RAM?"
"Not everyone on this earth is rich. There must be a nice desktop environment for those who can't afford new fancy hardware, and we have the ability to help them."
"Reinventing the wheel is cool, and we love it!"
Availability
LXDE (version unspecified except for build date) is available now for free from the LXDE site.
---

This article was originally published on LinuxDevices.com and has been donated to the open source community by QuinStreet Inc. Please visit LinuxToday.com for up-to-date news and articles about Linux and open source.