Aug 4, 2008 — by Eric Brown — from the LinuxDevices Archive — 2 views
Movial announced it had joined the LiMo Foundation and will soon release open-source code that it expects to be deployed on LiMo phones. Movial's Browser D-Bus Bridge translates HTML and Javascript commands to D-Bus (Desktop Bus) to create "mashups" of applications and services, including Android-like Google apps mashups, says Movial.
A Finland-based mobile software company known for developing the Scratchbox development tools, Movial has a partnership with MontaVista to integrate its Movial IXS mobile application stack with MontaVista Mobilinux. Movial IXS, which will incorporate the Browser D-Bus Bridge technology, includes a Web 2.0 Internet browser, a media player, and a communicator module that supports VoIP, IM, video telephony, and text messaging. Movial is also a consultant for major technology companies, for example working with Nokia and more recently, ARM.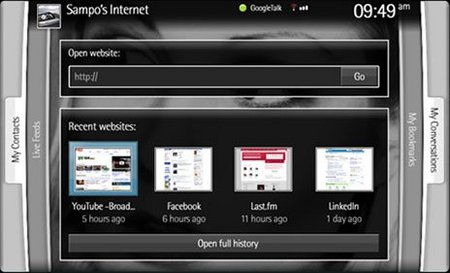 Movial IXS Internet Browser
D-Bus
was developed by FreeDesktop.org. The open source, Linux/Unix-based inter-process communication (IPC) technology links applications with services such as those offered by printers or CD-ROMs. In the mobile world, D-Bus been made part of the
LiMo Platform
spec, as well as OpenMoko's next-generation
FSO framework
initiative for its Neo FreeRunner phone.
The freely available Browser D-Bus Bridge will run on WebKit and Mozilla engines, enabling the UI layer to communicate directly with the D-Bus without going through intermediary application layers. This in essence provides a browser-based UI based on Movial IXS for the LiMo stack, says the company.
The D-Bus Bridge is said to make it possible for applications to initiate platform services like media- or IM engines on mobile devices, and ease the development of sophisticated browser widget apps. The new Web widgets "will blur the lines between local and external services, creating innovative on-device mashups," says Movial.
Movial is joining LiMo along with ten other companies, in the latest round of membership announcements announced today.
A chat with Movial's Tomi Rauste
Movial president Tomi Rauste said in an interview that his company is bringing a greater focus on leveraging "the browser based UI to render the view with the browser, not with GTK." Rauste added that, "The D-Bus Bridge is an essential part of that. It lets you easily combine the services from the Internet in mashups. For example, utilizing location information from a GPS chip and then combining that with a Google Apps API, and then adding some other services that are providing a binding on the UI layer."
Rauste said the D-Bus Bridge is attractive to operators who do not like the licensing and technology demands of Google's Android specification, but still crave Android's integration with various Google services. "Several LiMo members who are mobile operators are interested," said Rauste. "It allows them to provide Google Apps integration, but also make mashups that are operator-branded and operator-integrated. They can bring the Google service platform to their devices without having to join Android. They are deciding which services they are providing and not following what Google provides."
Rauste notes that the technology is not only about Google. "Operators can decide to use Yahoo APIs instead or their own APIs," he said. "You could use it to integrate a phone's media player device with online services, so while you are listening to a song, the app can call up the online music store to check what similar music is available and make suggestions. We believe there are huge opportunities to make very creative new mashups."
Rauste believes the Browser D-Bus Bridge will eventually be folded into the LiMo spec. In the meantime, developers and operators can start making use of the technology. Movial is moving its browser UI and D-Bus Bridge technology to other platforms, as well, said Rauste. As early as last September, Movial was touting its support for MIDs, and for years Nokia has been a staunch supporter of Scratchbox as a development tool for its Internet Tablets.
"Our main focus is on smartphones and high end feature phones, but we have been working with Nokia on Internet Tablets and are now working on MIDs, running on Moblin, as well," said Rauste.
Stated Morgan Gillis, executive director of LiMo Foundation, "Movial is recognized in the industry as a leading contributor to the Linux kernel, for creating Scratchbox and for its work with Gnome Mobile and ARM. Movial's Browser D-Bus Bridge contribution to the Linux mobile community is exemplary of the spirit of LiMo members."
Availability
Movial expects to deliver the Browser D-Bus Bridge as a free download to the Linux mobile community within 90 days, says Movial.
---

This article was originally published on LinuxDevices.com and has been donated to the open source community by QuinStreet Inc. Please visit LinuxToday.com for up-to-date news and articles about Linux and open source.