Sep 26, 2007 — by LinuxDevices Staff — from the LinuxDevices Archive — 22 views

MontaVista will ship a "fifth-generation" Linux-based operating system for mobile phones in mid-November. The company says Mobilinux 5.0 will offer new security, power, networking, and quick-boot capabilities, along with footprint reductions, real-time improvements, and lower build costs for vendors of handsets and other mobile… consumer devices.
(Click for larger view of the Mobilinux-powered RAZR2 V8)
Mobilinux is MontaVista's brand name for the version of its Linux-based OS aimed at mobile devices such as phones. MontaVista claims that Mobilinux powers "90 percent of Linux smartphones," while reductions in footprint may enable future success in lower-end phones. For instance, Mobilinux reportedly powers the GSM/GPRS version (V8) of Motorola's RAZR2 (depicted above), a mass-market feature-phone that is just now reaching market.
Like other MontaVista offerings for vertical markets, Mobilinux is based on MontaVista Linux Professional Edition ("Pro"), and designed for use with MontaVista's Eclipse-based DevRocket toolsuite. Like Pro 5.0, which was announced in April and shipped this summer, Mobilinux 5.0 is positioned as smaller, lighter, and more real-time capable, with sub-50 microsecond latency and footprints as small as 3MB.
Founder and CTO Jim Ready observed that when used in mobile phones, Mobilinux typically has a footprint of about 14MB. "The long pole in the tent is no longer the OS, [but rather] the application space and middleware," he suggested.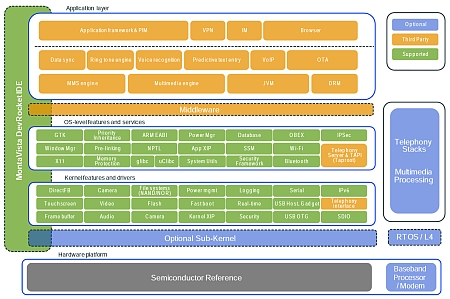 Mobilinux 5.0 software architecture
Like Pro 5.0, Mobilinux 5.0 uses a 2.6.21 kernel, and is the "first mobile operating system" to do so, the vendor claims. Touted benefits of the newer kernel are said to include functionality, performance, and connectivity gains.
In addition to new features that echo Pro 5.0 capabilities, Mobilinux 5.0 includes several enhancements of its own. Of these, "MicroSELinux" is perhaps the most unique. This new feature could be used to build devices that offer multiple users differing levels of access and control, MontaVista said.
Ready said MontaVista created MicroSELinux by miniaturizing and "significantly shrinking policies" of the National Security Agency's Security-enhanced Linux, a set of kernel modifications aimed at protecting system software integrity, configuration information, and system logs. SELinux's adaptation to MontaVista's mobile device OS appears to validate the company's claim that Mobilinux users can easily exploit standard open source software, thanks to the mobile OS's compliance with Linux standards.
Another touted area of improvement is in Mobilinux's "dynamic power management" (DPM) capabilities. MontaVista claims that a DPM-enabled MP3 player running on Mobilinux 5.0 can achieve playback times five times longer than a standard MP3 player application, when run on a TI OMAP2430 processor.
A MontaVista invention, DPM comprises a set of kernel and driver APIs aimed at letting applications power down unused hardware subsystems. DPM capabilities in Mobilinux 5.0 are said to offer fine-grained control over cores, buses, bridge controllers, and other peripherals. "[DPM gets its] fingers into as many willing subsystems as the device hardware allows," Ready said.
Additional touted enhancements in Mobilinux 5.0 include:
"Typical" phones based on Mobilinux 5.0 are said to be capable of booting in under five seconds, and placing calls within 10. Boot times are reduced through XIP (execute-in-place) technology that runs applications directly from flash, without first instantiating them in RAM. Application startup times are reduced by prelinking, including to glibc.
"Standard" support for SDIO (secure digital input output), Wi-Lan/Wi-Fi over USB, USB On-The-Go, ALSA sound drivers, GStreamer, plus "many new devices and the protocol stacks to support them." Additionally, Bluetooth over USB (supporting wireless headsets, headphones, and other items) is supported by a third-party add-on.
Real-time capabilities enable "baseband and application processor consolidation," MontaVista said. Real-time capabilities are said to be based on "100 percent native Linux with real-time performance features, including MontaVista enhancements." These reportedly include fast mutexes, threaded soft and hard IRQ handlers, application-level priority inheritance and queuing, and high resolution nanosecond timers (hrtimers) said to "avoid the compatibility and footprint headaches caused by double-kernel non-Linux add-ons."
Multi-core support, including devices with one baseband and one application processor, and those combining multiple cores in one integrated CPU chip.
MontaVista claims its device development tool chain for Mobilinux 5.0 is the first in the world to provide KGDB over USB — helpful, considering that most phones lack serial ports but include USB interfaces. Mobilinux 5.0 thereby "allows debugging and tracing of both the kernel and applications to be done on the target device itself," MontaVista said.
Additionally, Mobilinux is said to be supported by a third-party ecosystem comprised of more than 100 partner companies, including the likes of Aonix, Aplix, Jataayu Software, RealNetworks, SafeNet, Scalado Software, Sun Microsystems, Trinity Convergence, and Trolltech, MontaVista said.
Matt Volckmann, senior analyst with VDC's embedded software practice, stated, "With Mobilinux 5.0, MontaVista has targeted improved power management, real-time performance, optimized execution, reduced footprint requirements, as well as many other features that allow customers to differentiate through the software stack."
Additional background
Mobilinux was last revised one year ago, with the release of Mobilinux 4.1. It first shipped in April of 2005, but was actually announced as a partner ecosystem several months prior to that.
Like LinuxDevices, MontaVista was founded in 1999, just as Linux was starting to make embedded inroads. After arguably establishing an early lead, MontaVista has faced increasing competition as larger embedded companies such as Wind River have entered the Linux OS, tools, and services market. A change of CEOs last year has worked well for the company, Ready asserted, commenting, "The combination of Tom [Kelly] and Jim has worked out extremely well. He's a great business guy, and great operationally, and my load gets to be more on the center of gravity now."
MontaVista claims its Linux OS has shipped in some 45 million devices — "far more" than any other commercial Linux, it reckons. That figure includes 35 million mobile devices such as phones, GPS devices, and MP3 players from household names like Panasonic and NEC, along with non-mobile consumer devices such as Sony LCD and projection TVs and Samsung DVD players, according to Ready. Medical equipment is another area of success, he says, noting that "We're in a lot of patient monitoring kinds of devices — in-home, as well as in hospitals."
Availability
Mobilinux 5.0 will ship on Nov. 15. However, it has already been delivered to several large companies, concurrent with the mid-summer release of Pro 5.0, and has thus been thoroughly production-tested, Ready said.
---

This article was originally published on LinuxDevices.com and has been donated to the open source community by QuinStreet Inc. Please visit LinuxToday.com for up-to-date news and articles about Linux and open source.