May 31, 2011 — by Eric Brown — from the LinuxDevices Archive — 8 views
Linaro announced an open-platform $199 "Origen" development board made by InSignal that incorporates Samsung's dual-core Cortex-A9 Exynos 4210 processor, a Mali400 GPU, and Linaro open source Linux and Android BSPs. At Computex this week, Linaro is demonstrating its first Linaro Evaluation Builds for Android and Ubuntu, and announced a Linaro Partner Program, with founding members including Canonical and Mentor Graphics.
Linaro is demonstrating the 1.2GHz Origen board at this week's Computex show in Taipei, Taiwan. The board is aimed at tablets, smartphones, and other connected screens, according to ARM-backed Linaro, which says it will offer its first software support for the board in the third quarter.
The company is celebrating its first anniversary in its singular role as a not-for-profit engineering firm intended to standardize open soruce Linux toolchain and other code for ARM processors.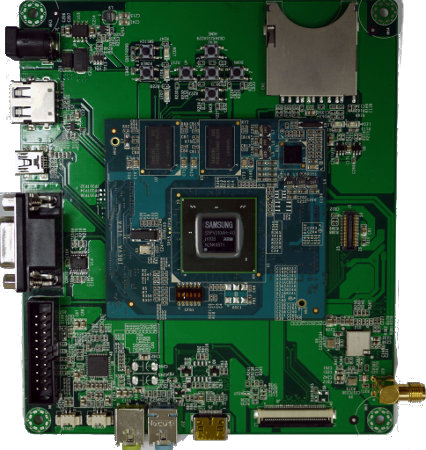 Origen board


(Click to enlarge)
"There has been a real shift in the industry toward these low-cost hacker boards," said Linaro Chief Technology Officer David Rusling in an interview with
LinuxDevices
. "It's a way for semiconductor companies to show off their wares. You see people building all sorts of interesting things using these boards. We expect the Origen to draw significant interest."
Linaro was established in June, 2010 as a vehicle for developing standardized, open source Linux tools, kernel, and middleware software for consumer electronics using ARM Cortex processors. The company is jointly owned by ARM Holdings, Freescale, IBM, Samsung, ST-Ericsson, and Texas Instruments. This core group is now being joined by a group of supporting software companies in the new Linaro Partner Program (see farther below).
Linaro plans to support tools on distributions including Android, LiMo, MeeGo, Ubuntu, and WebOS. The initial builds Linaro is demonstrating at Computex target Android and Ubuntu Linux (see farther below for more information).
Origen
Although Samsung apparently has only a supporting role in the InSignal-built and distributed Origen, InSignal appears to be a startup formed expressly for the purpose of developing the board. Samsung is clearly hoping this low-cost hobbyist development board will help build some buzz for its Exynos 4210 system-on-chip (SoC).
Not that Samsung is starving for attention. With a good chunk of the Android device market, including Samsung's popular Galaxy S phones and Galaxy Tab tablet based on the 1GHz Cortex-A8 Samsung Hummingbird processors, the industry is looking with key interest at this recently available dual-core, Cortex-A9 follow-up.
Samsung and InSignal are following the lead of Texas Instruments (TI) and distributor Digi-key, which have developed an open source BeagleBoard.org community to support the TI Cortex-A8-based BeagleBoard. Meanwhile, TI and Digi-key have followed up with its Cortex-A9-based PandaBoard, and ST-Ericsson and Calao Systems offer their own Cortex-A9-based Snowball board, both of which are also supported by Linaro (see farther below).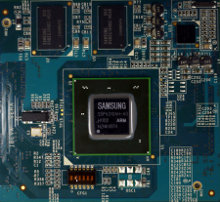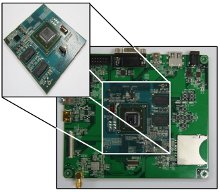 The Origen CPU daughterboard (left) can be removed from the baseboard, as shown at right
(Click on either to enlarge)
The
Exynos 4210
offers dual 1GHz (now apparently 1.2GHz) cores, 1MB L2 cache, dual-display support, and even a GPS receiver. The Cortex A9 cores are each equipped with 32KB data cache and a 32KB instruction cache, and the SoC also includes a 1MB L2 cache, says Samsung.
The Exynos 4210 is further equipped with a variety of hardware accelerators, including a video encoder/decoder that supports 30fps video playback and recording at 1080p resolution, says Samsung. The SoC's graphics processing unit (GPU) is claimed to deliver five times the 3D graphics performance of Samsung's previous processor generation.
The Origen board, however, goes one better by tacking on an ARM Mali-400 GPU. The GPU is said to offer up to 800M pixel/sec. and 45M triangle/sec. performance.
The Origen combines a baseboard with a daughterboard, which includes an Exynos 4210 clocked at 1.2GHz with 1GB of DDR3 memory and a Maxim MAX8997 power management chipset. The design presumes that future baseboards will be developed with upgraded I/O, enabling the CPU daughterboard to be reused.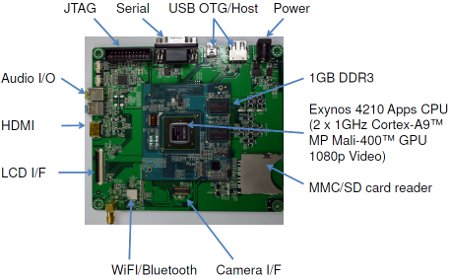 Origen detail
(Click to enlarge)
The current 5.4 x 4.6-inch (139 x 119mm) baseboard includes USB 2.0 host and OTG ports, an RS-232 port, an HDMI port, a camera connector, and dual SD/MMC slots for memory expansion, says Linaro. A Samsung SEMCO SWB-A31 chipset is said to offer Wi-Fi and Bluetooth, and the Realtek ALC5625 D-based audio is supported with audio I/O. A JTAG connector and a DC 5V power connector are also said to be available.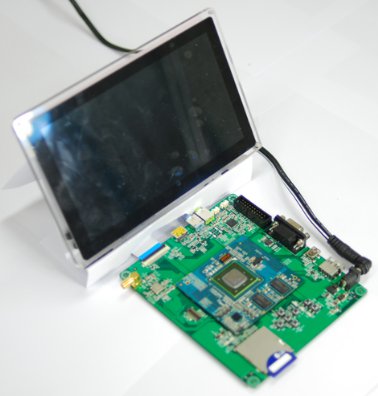 Origen with optional LCD display
An LCD connector supports an optional seven-inch, 1024 x 600 LCD touchscreen (pictured above), says Linaro. Other options are said to include an AC adapter, cable, and a wireless antenna.
Linaro will provide source code downloads for the board in the form of Linaro Evaluation Builds of Android and Ubuntu from its website. The Linaro Evaluation Builds will be built with the latest stable Linux kernel and toolchain. Currently listed firmware includes Linux kernel 2.6.35.7, U-Boot 1.3.4, and Android 2.3.
The Origen builds will be based on the Android and Ubuntu Linux Linaro evaluation builds that Linaro is demonstrating this week at Computex. The builds further develops the Linaro 10.11 toolchain and middleware code released in November. Also available from Linaro is a new Linaro Automated Validation Architecture (LAVA) platform, which runs on a test farm of members' low-cost boards, says the company.
Linaro will oversee an Origenboard.org site that has been established with InSignal to provide support documents, source code, and other resources. It is unclear if Linaro will attempt the full BeagleBoard.org approach, with forums, etc, but a site is up now with some basic resources.
The Samsung Origen is not the first open source project Linaro has supported, but it's the first time the company is taking on the primary role as Linux BSP (boards support package) provider and community caretaker. Earlier this year, Calao Systems announced an open platform, 3.34 x 3.34-inch development board for smartphones and tablets based on ST-Ericsson's dual-core, 1GHz Cortex-A9 "Nova A9500" system-on-chip.
The Snowball board offers extensive wireless and sensor connectivity, HDMI output, support from an open source "Igloo" community, and Android, MeeGo, and Ubuntu BSPs developed by Movial and Linaro. Movial, however, has the primary responsible for the BSP and developer community on the Snowball.
Linaro has also offered Linaro builds that have been tested and verified for the BeagleBoard, as well as the TI/Digi-key backed PandaBoard. This open source board is built around TI's Cortex-A9 OMAP4430 SoC, and sells for just $174.
Stated George Grey, CEO Linaro, "The Origen board and Linaro's provision of software and tools makes it easier, faster and less expensive for developers and companies to develop high-end embedded Linux products."
Stated Dojun Rhee, vice president, System LSI Marketing, Samsung Electronics, "The new low cost 'Origen' board and consolidated software packages from Linaro are expected to enable easy and quick development of mobile platforms incorporating scalability of rich-features on a cutting-edge Exynos 4210 application processor."
Linaro Parter Program
Linaro also announced the Linaro Partner Program, which is designed to enable ISVs, software service providers, and device manufacturers to get involved with Linaro's engineering team. The founding members include Thundersoft (Millos Linux), Canonical (Ubuntu), and Linux development up-and-comer Mentor Graphics, as well as Genesi, which sells Linux-ready Efika netbooks, and Collabora, a UK-based Linux consulting firm. More companies are invited to participate, however.
The Linaro Partner Program will enable members to work together on projects of common interest with Linaro, says the company. "This alignment with Linaro will be beneficial to both sides, extending the engineering effort available to Linaro and enabling the sponsoring companies to work with a larger team and build profitable businesses around Linaro's roadmap," says the company.
Linaro helps clean up ARM Linux code mess
Speaking with LinuxDevices, Linaro Chief Operations Officer Stephen Doel said the partner program signifies the growing interest in Linaro over the last year. Doel also points to successes Linaro has had in providing code to Google's Android project and Canonical's Ubuntu.
Meanwhile, Linaro continues to pushing standardized code back upstream. "We have a dual purpose," said Doel. "We're working on the upstream process, and also trying to get that code out more quickly in better quality products."
As Jonathan Corbet described in an article on Linux.com two weeks ago called "What's up with ARM", there has been growing pressure from Linus Torvalds and others in the Linux community to clean up the increasingly messy ARM code base. Linaro has become a leading force in that effort, says Doel.
"Linus was unhappy about the state of ARM code, so a technical steering committee was formed to consolidate some of this code, and maintain the ARM sub-architecture tree," he said. "Linaro is offering practical help, doing some consolidation work around the device tree."
The problem with ARM code can be considered a sign of ARM's proliferation in mobile SoCs, said Doel. "We have become a victim of our own success," he added.
Doel also noted that without Linaro such a clean-up effort would have been far more difficult. "Linaro can provide the vehicle and provide the means to fix these sosrts of issues, not just for Linaro members, but for vendors across the ARM ecosystem," said Doel.
Availability
The 'Origen' board will be available through from InSignal at the Origen board website at an unspecified date, although Linaro says it won't offer code until the third quarter.
Pricing starts at $199, with an additional $155 for the LCD touchscreen, $40 for a package including a 4G SD card, a power adapter, an antenna, and all cables, says Linaro. Later this year, an $18 USB to Ethernet converter will be made available.
---
This article was originally published on LinuxDevices.com and has been donated to the open source community by QuinStreet Inc. Please visit LinuxToday.com for up-to-date news and articles about Linux and open source.