Oct 27, 2010 — by Eric Brown — from the LinuxDevices Archive — 12 views
Digi-key is shipping a 1080p-ready development board based on Texas Instruments' Cortex-A9-based, dual-core, 1GHz OMAP4430 system-on-chip (SoC). The $174 "PandaBoard" offers 1GB of DRAM, Wi-Fi, Bluetooth, USB, DVI, and HDMI connections, and targets smartphone and mobile device development using open source Linux distributions such as Android, Angstrom, Chrome, MeeGo, and Ubuntu.
Like the related open-platform BeagleBoard.org and newer HawkBoard.org projects, PandaBoard.org developed and supports a board incorporating a Texas Instruments SoC that targets hobbyists, as well as professional developers wanting to prototype new embedded designs. (The HawkBoard is built around the ARM9-based OMAP-L138.)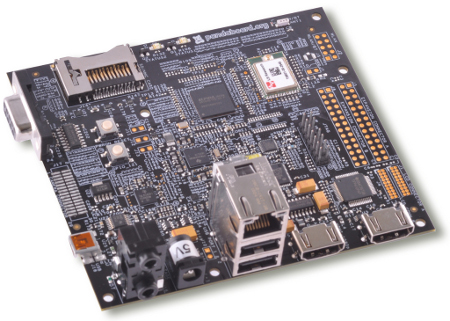 PandaBoard
(Click to enlarge)
Like the BeagleBoard, which recently moved up from its OMAP3530 foundation to a 720p-ready
DM3730
SoC in its
BeagleBoard-xM
version, the PandaBoard is distributed by Digi-Key.
Whereas both BeagleBoard versions are based on ARM Cortex-A8 SoCs and targeted at the general embedded device market, the 4.0 x 4.5-inch PandaBoard moves up to the Cortex-A9-based 1GHz OMAP4430 SoC and is more specifically aimed at smartphones and other mobile devices. The board can record and play back video with 1080p quality at 30 frames per second, says PandaBoard.org .
Texas Instruments began sampling the OMAP

4430 and OMAP4440 in February. At the same time TI introduced a Linux- and Android-compatible "Blaze" hardware/software development platform in smartphone format. The Blaze (pictured) sports a pico projector, dual 3.7-inch displays, three cameras, an HDMI output, a compass, plus a barometer and other sensors.
The OMAP4 family was announced at the Mobile World Congress (MWC) in Feb. 2008, as we reported at the time. These 45nm SoCs (system on chips) are built around ARM's Cortex-A9 processor, which implements the same ARMv7 used on the Cortex-A8 and adds a MPCore interconnect layer for multiple processor support. While as many as four cores are possible (see block diagram, here), the OMAP4 chips use two, as depicted below.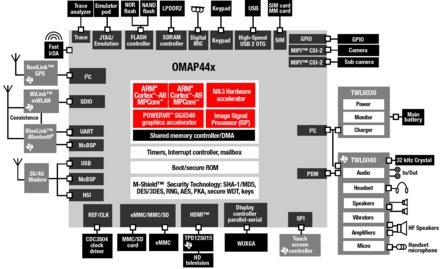 OMAP44x function block diagram
(Click to enlarge)
Touted OMAP44x features include the following:
10+ hours of 1080p HD video playback
4+ hours of 1080p HD record
140+ hours of CD quality audio playback
POWERVR SGX540 graphics engine
3D UI support
Resolutions up to WSXGA (1680×1050)
HDMI compatible
12 x 12 x 0.4mm POP (package-on-package)
Supports Pico projection technology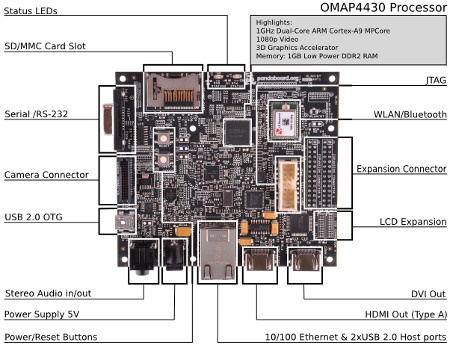 PandaBoard detail


(Click to enlarge)
As noted in the detail photo above and the block diagram below, the PandaBoard is equipped with 1GB of LPDDR2 DRAM and an SD/MMC memory card slot. An LCD expansion slot is provided, as well as HDMI 1.3 and DVI ports, supporting simultaneous dual displays.
Like TI's Blaze reference platform, the PandaBoard is equipped with TI's multipurpose wireless chip, the WiLink 6.0. The WiLink provides the board with 802.11b/g/n Wi-Fi, as well as Bluetooth 2.1 + EDR, FM radio, and a GPS receiver.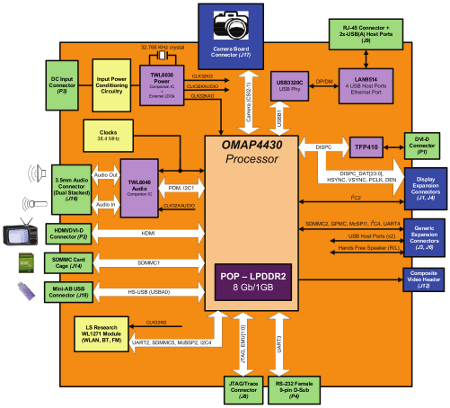 PandaBoard block diagram


(Click to enlarge)
The PandaBoard also has a 10/100 Ethernet port, dual USB 2.0 Host ports, and a USB 2.0 OTG port, says the project. An RS-232 port, camera connector, JTAG port, and stereo audio I/O are also said to be available, along with a "generic expansion connector" that supports interfaces like SD/MMC, USB, GPMC, DSS, ETM, McSPI, I2C, and UARTs.
The PandaBoard measures 4.5 x 4.0 inches (114.3 x 101.6mm), up from 3.25 × 3.25 inches for the BeagleBoard-xM. Equipped with a five Volt power supply, the board features power and reset buttons as well as status LEDs, says the project.
Software
The PandaBoard is currently optimized to run several open source Linux operating systems. These include Ubuntu 10.10 and beyond, as well as a minimal Angstrom Linux distribution. There is also an Android port called Pandroid.
In addition, the platform is said to be generally compatible with Linux distributions such as MeeGo and Chrome OS.
Projects listed at the PandaBoard.org community site include RISC OS on OMAP4, XBMC, Wireless sniffer, Gentoo Linux, MeeGo, GeeXboX, OpenBricks, Pandroid, and Ubuntu on PandaBoard.
Testimonials
Stated Jon Melamut, VP of sales and product management, OEM services for Canonical — in the first example we can recall of Canonical saying Ubuntu will be heading for tablets — "We expect PandaBoard to be adopted across the industry as the platform of choice for developers and also to increase the impact in accelerating the usage of Ubuntu in key target markets like netbooks, tablets and new in-home products."
Stated Ben Cade, executive officer, Linaro, "PandaBoard combines the performance of a PC in the power footprint of mobile at an affordable cost; it is a very exciting option for software developers. Linaro is investing in open source tools and software to ensure that the advanced features of the dual core Cortex-A9 used on the PandaBoard can be easily used by software developers and distributions around the world."
Stated Jim Zemlin, executive director, the Linux Foundation, "We're pleased to see more and more Linux-based projects and products spring up in the embedded space. PandaBoard looks to be a great addition to the Linux developer community and will give developers access to TI's OMAP platform in a low cost way."
PandaBoard introduction video


Source: PandaBoard.org
(Click to play)
Availability
The PandaBoard is available now for $174 from Digi-Key, here. More information on the PandaBoard may be found here, and more on the PandaBoard community and related software should be here.
---
This article was originally published on LinuxDevices.com and has been donated to the open source community by QuinStreet Inc. Please visit LinuxToday.com for up-to-date news and articles about Linux and open source.