Feb 18, 2011 — by Eric Brown — from the LinuxDevices Archive — 38 views
Calao Systems announced an open-platform, 3.34 x 3.34-inch development board for smartphones and tablets based on ST-Ericsson' dual-core, 1GHz Cortex-A9 "Nova A9500" system-on-chip. The "Snowball" board offers extensive wireless and sensor connectivity, HDMI output, support from an open source "Igloo" community, and Android, MeeGo, and Ubuntu BSPs developed by Movial and Linaro.
As we mentioned briefly in our Feb. 16 coverage of ST-Ericsson's announcements at Mobile World Congress, the Snowball board will run on a Nova A9500, dual-core Cortex-A9 SoC clocked at 1GHz. ST-Ericsson offered scant information on the now sampling 45nm-fabricated SoC except to say it can ramp up to 1.2GHz speeds and includes Mali 400 graphics, full HD camcorder capabilities, and support for cameras up to 20 megapixels.
ST-Ericsson also announced a similar, but 32nm-fabricated, Nova A9540 SoC that will clock at up to 1.8GHz. In addition, it tipped a "Nova A9600" SoC using the upcoming, 28nm ARM Cortex-A15 processor core. The SoC will clock at up to 2.5GHz, and integrate Imagination Technologies' speedy "Rogue" graphics IP. Three Cortex-A9-based "NovaThor" smartphone platforms were also part of the jam-packed announcement.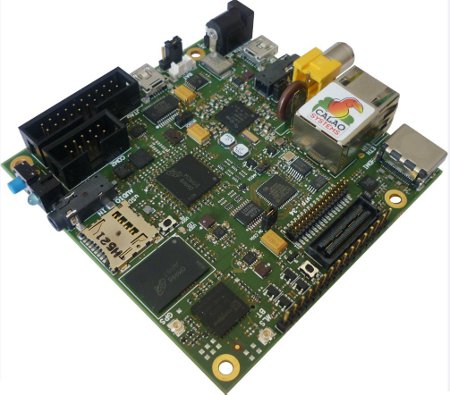 Calao Systems' Snowball


(Click to enlarge)
Calao Systems' Snowball board, also known as the SKY-S9500-ULP, is the second open-platform, community supported development board we know of to incorporate a Cortex-A9 processor, after the October announcement of PandaBoard.org's PandaBoard. (The PandaBoard is distributed by Digi-Key, and is based on the Texas Instruments dual-core, 1GHz OMAP4430 processor.)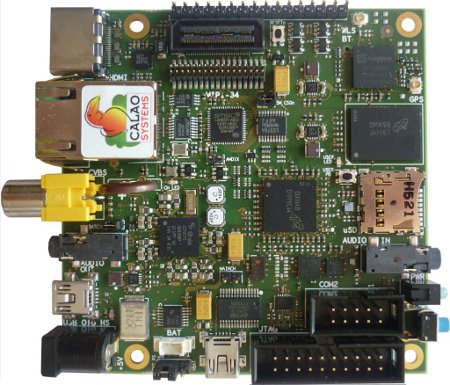 Another view of the Snowball


(Click to enlarge)
Both the Snowball and PandaBoard are supported with low-level Linux code supporting Ubuntu, MeeGo, and Android from the ARM-backed, not-for-profit, Linaro development firm. In November, Linaro
demonstrated its Linaro 10.11
tools running on a variety of Cortex-A8 platforms such as the
BeagleBoard
, plus Cortex-A9 systems such as the PandaBoard.
The Snowball board is being supported by a new "Igloo" open source community, backed by ST-Ericsson, and managed by Movial. In collaboration with Calao and Linaro, Movial and Igloo will develop the final Android and MeeGo Snowball Software Development Kit and Snowball Product Development Kit based on the Snowball board and the Linaro codebase. While the Igloo site mentions only Android and MeeGo builds, ST-Ericsson says the board will also support Ubuntu.
The Igloo community offers an Igloocommunity.org web portal, where device developers, manufacturers, and application developers can gather, exchange information and ideas, and solve problems collectively, says ST-Ericsson. The principal targets for the board are said to be smartphones and tablets, but presumably a variety of other devices could also emerge from the Snowball.
Snowball specifics
To build the "production-grade" Snowball board, ST-Ericsson and its partners turned to French embedded firm Calao Systems, which is known for developing tiny, open source developer boards. These include the Linux-ready, 1.6 x 1.4 inch TinyCore single-board computer (SBC) modules based on Atmel's ARM9-based processors.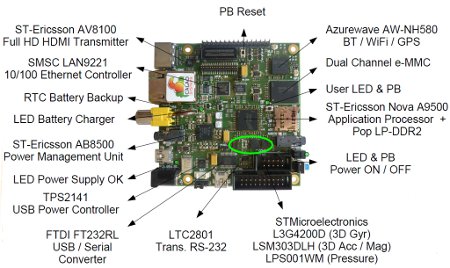 Snowball details


(Click to enlarge)
For the much more powerful Snowball, Calao moved up to a 3.35 x 3.35-inch (85 x 85mm) form factor. The Snowball backs up its dual-core, 1GHz Nova A9500 SoC with 1GB of LP-DDR2 RAM, as well as 4GB or 8GB of e-MMC memory, says Calao. A microSD slot is said to be available for expansion.
The Snowball provides a 10/100 Ethernet port, USB 2.0 on-the-go (OTG) port, and an RS-232 port, says Calao. An HDMI port supporting full HD is available, as is additional audio/video I/O, and debug connections including a JTAG port.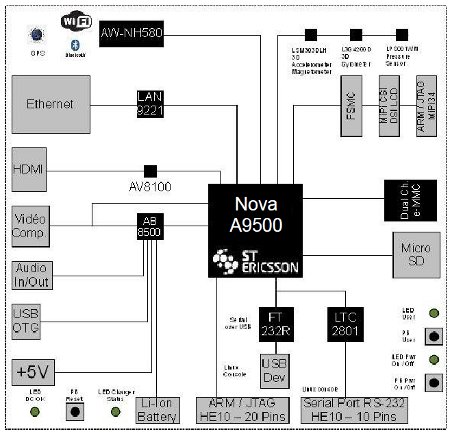 Snowball block diagram
(Click to enlarge)
An Azurewave AW-NH580 wireless module supports 802.11b/g/n Wi-Fi, Bluetooth 2.1, and GPS, says the company. In addition, the Snowball is said to feature MEMS devices including a 3D gyroscope, accelerometer, magnetometer, and barometer.
A wide array of additional I/O is supplied via 16-pin, 60-pin, and 120-pin connectors. Together, these provide interfaces including cameras, LCD displays, I2C, SPI, audio, GPIO, and more.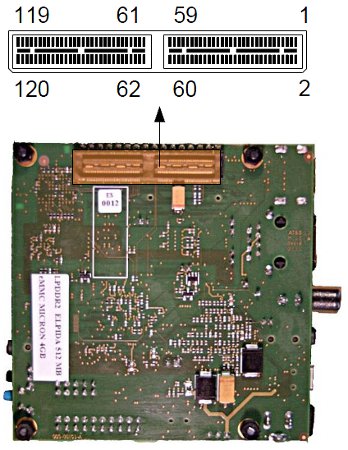 Reverse view of Snowball, showing 120-pin expansion connector
(Click to enlarge)
Specifications listed for the Snowball board include:
Processor — ST-Ericsson Nova A9500 @ 1GHz (dual-core ARM Cortex A9 with Mali GPU)
Memory — 1GB LP-DDR2; 4GB or 8GB e-MMC
Flash expansion — 1 x MicroSD slot
Networking — 1 x 10/100 Ethernet (SMSC LAN9221)
Wireless (via Azurewave AW-NH580 module):

1 x 802.11b/g/n
1 x Bluetooth 2.1
1 x GPS

Other I/O:

1 x USB 2.0 OTG HS
1 x RS232
1 x HDMI (1080p HD)
1 x CVBS video out
1 x audio out,
1 x audio in
1 x 16-pin top connector (I2C, SPI, UART, GPIO)
1 x 60-pin top connector (I2C, SPI, UART, HSI, FSMC, GPIO)
1 x 120-pin bottom connector (LCD, DSI, camera, CSI, audio, FSMC)

Sensors (all STMicroelectronics parts):

1 x 3-axis accelerometer/3D magnetometer
1 x 3-axis gyrometer
1 x pressure sensor

Debug/setup:

1 x JTAG
1 x MiPi34
1 x console-over-USB (FTDI FT232RL) and/or console via RS-232 (LTC2801)

Power:

+5VDC +/-5% via jack, 3.5mm, or USB OTG
Requires 250mA max. (low-power mode)
Li-ion battery charger
RTC battery backup

Operating temperature — 32 to 185 F (0 to 70 deg. C)
Dimensions — 3.35 x 3.35 inches (85 x 85mm)
Operating system — Linux 2.6; Android; MeeGo; Ubuntu
Stated Edgar Auslander, senior vice president, strategic planning of ST-Ericsson, "Snowball is ST-Ericsson's first Nova A9500 application processor developer board and sets new standards by incorporating leading-edge MEMS, GPS and connectivity features, all battery operated and in small form factor."
Stated Stéphane David, CEO of Calao Systems, "With its dual-core processor, combined with support for 3D graphics, HD video and HDMI output, Snowball is a multimedia powerhouse."
Stated Stephen Doel, COO, Linaro, "Developers will be able to come to the Linaro website and download the latest kernel, board support package and tools and know they are getting a great foundation to base their code or product on. Our evaluation builds and validation test farm will ensure that there is a quick way to utilize our engineering directly with the major software distributions on low cost boards such as the Snowball SDK and PDK."
Stated Tomi Rauste, president of Movial Creative Technologies, "Igloo is the one, unified space where Snowball users can quickly ramp up, get recommendations for hardware interfaces and peripherals, as well as complete software packages that are already aligned with open source requirements and standards."
Availability
Two versions of the Snowball developer board will be sold by Calao Systems starting in the second quarter. The software development version will cost about $200, while the product development version (also usable in end products) will cost about $300.
More information may be found at this Calao Systems Snowball page, as well as at the Igloo site. More information may also be found at the Linaro website.
---
This article was originally published on LinuxDevices.com and has been donated to the open source community by QuinStreet Inc. Please visit LinuxToday.com for up-to-date news and articles about Linux and open source.