May 13, 2011 — by Eric Brown — from the LinuxDevices Archive — 47 views
Globalscale Technologies announced a $249, mini-PC hardware/software development kit based on the Marvell PXA510 — a new ARMv7, 1GHz processor capable of 1080p video. The D2Plug clocks the PXA510 at 800MHz, and offers 1GB DDR3 RAM, 8GB flash, a full set of peripherals including 802.11n and Bluetooth 3.0, plus Ubuntu Linux and Android 2.2 support, says the company.
Marvell has not yet formally announced the PXA510 system-on-chip (SoC), but GlobalScale supplies the major specs in its D2Plug announcement. Meanwhile, a video interview with Marvell's Scott Dunagan posted on EngineeringTV provides a few more details on the processor.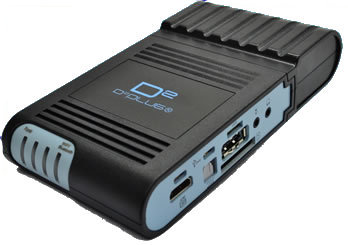 Globalscale D2Plug
The PXA510 updates the long-running Marvell/XScale PXA line of ARM-derived processors with powerhouse features that are somewhat similar to Marvell's newer
Armada
line of SoCs. Whereas the
PXA320
, for example, is based on an ARM11 core with an ARMv5 architecture running at 800MHz, the PXA510 offers a Cortex-A8-equivalent core running ARMv7 at up to 1GHz. (Two of the original four Armada processors — the Armada 500 and Armada 600 families — move up from ARMv5 to ARMv7.)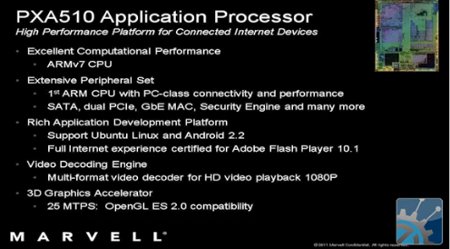 Marvell slide on PXA510
Source: Engineering TV
(Click to enlarge)
The superscalar ARMv7 instruction set and a multi-format decoder help deliver 1080p HD video playback, while MTPS (million triangles per second) 3D graphics acceleration provides Open GL ES 2.0 support. These are both central features in ARM Cortex-A8 processors.
The SoC provides 32KB L1 data and instruction cache, as well as a 512KB L2 cache, says Globalscale. A security engine is also said to be available. In the video, Marvell's Dunagan says the processor supports 3D video, although no further details were provided.
The PXA510 also offers more comprehensive features than the earlier PXA processors, supplying "PC-class peripherals" including SATA, dual PCI Express, 802.11n, and a gigabit Ethernet MAC, says GlobalScale. The processor — and the D2Plug — ship with board support packages (BSPs) for last year's Ubuntu Linux 10.4 ("Lucid Lynx") and Android 2.2 ("Froyo"). Both the processor and mini-PC also support Adobe Flash Player 10.1, says GlobalScale.
D2Plug details

Globalscale is a long-time Marvell hardware partner and a licensee of its 1.2GHz Armada-based SheevaPlug Plug Computer design. In February, it announced a 1.2GHz DreamPlug mini-PC based on the SheevaPlug design. Pictured at right, the device offered dual gigabit Ethernet ports, dual USB 2.0 ports, an eSATA port, Wi-Fi, Bluetooth, and audio functionality.


D2Plug port detail
(Click to enlarge)
The new D2Plug offers an almost identical design, but while the DreamPlug was touted for using less than five Watts, the D2Plug runs on a mere two Watts, claims Marvell's Dunagan in the video. (This was not confirmed by Globalscale, however.)
The D2Plug is designed for rapid prototyping, application development, evaluation, and interoperability testing of cloud-based service deployments, says Globalscale. However, as far as we can see there is nothing cloud-specific in the Linux/Android distributions offered for the device, so applications should be much broader than that. The D2Plug is also available for bundling and white labeling, says the company.


Port detail, reverse side
(Click to enlarge)
Features include a PXA510 clocked to 800MHz, 1GB of DDR3 memory, plus 8GB of flash, an SD card slot, and a powered eSATAp port, says Globalscale. Wi-Fi and Bluetooth 3.0 are built-in, and the device offers HDMI and VGA ports, says the company. As noted, 1080p playback is available, as is dual simultaneous display functionality.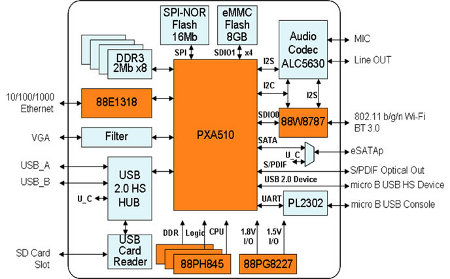 D2Plug block diagram


(Click to enlarge)
A gigabit Ethernet port is available along with a USB device port, says Globalscale. A USB combo connector provides dual USB 2.0 host ports along with the aforementioned eSATAp port. Audio I/O and a JTAG connector are also said to be available.
No power details are mentioned, but the fanless design is said to be the same as the DreamPlug. The D2Plug is larger, however, at 6.7 x 3.22 x 1.3 inches.
As demonstrated in the image below, taken from the video, the D2Plug features a similar detachable power supply unit. The side-mounted AC-DC adaptor spreads heat via conductive methods, and can achieve "much better thermal performance to enable faster computing and high-speed I/O interfaces," according to the company.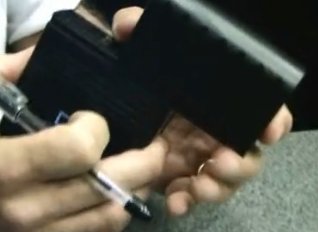 Removing D2Plug power supply


Source: Engineering TV
Specifications for the D2Plug include:
Processor — Marvell PXA510 @ 800MHz; ARMv7 ISA; multi-format HD video decoder; 3D graphics accelerator with Open GL ES 2.0
Memory — 1GB DDR3-800 x32 bus; boot from 4MB to 16MB SPI NOR flash
Storage:

8GB eMMC eSSD, holds Linux OS and Ubuntu rootfs
SD card slot
eSATAp port (powered)

Wireless (Marvell's 88W8787) — 802.11 b/g/n; Bluetooth 3.0
Networking — gigabit Ethernet
Other I/O:

2 x USB 2.0 hostvia USB 2.0 host combo connector (with eSATAp)
USB 2.0 device port
HDMI out (CEC)
VGA out
Audio line out
Mic in
S/PDIF optical out
Console (USB)
JTAG connector

Dimensions — 6.7 x 3.22 x 1.3 inches (170 x 82 x 33mm)
Stated Jack Kang, director of Marvell's Mobil Business Unit, "Marvell is very pleased to witness the D2Plug's commercial launch. The DevKit delivers exceptional, PC-like capabilities in plugcomputer form-an ideal, low-cost, quick-to-market platform for developers of connected devices."
Stated Henry Chiu, vice president of sales and marketing for Globalscale Technologies, "Our collaboration with Marvell allows us to place best-in-class embedded solutions in the hands of some of the industry's most capable developers, vendors and integrators."
Engineering TV

's Bill Wong interviews Marvell's Scott Dunagan about the PXA510 and D2Plug
Source: Engineering TV
(Click to play)
Availability
The D2Plug is available for pre-sale now for $249 at Globalscale, with shipments expected in June. More information may be found at Globalscale's D2Plug web-page and D2Plug data sheet. Developers can access source code and binaries at Marvell's Plugcomputer.org site.
---
This article was originally published on LinuxDevices.com and has been donated to the open source community by QuinStreet Inc. Please visit LinuxToday.com for up-to-date news and articles about Linux and open source.