Jan 5, 2010 — by Eric Brown — from the LinuxDevices Archive — 8 views
Marvell announced a faster, wirelessly connected version of its tiny, Linux-based networking computer reference design, which plugs directly into a wall adapter. The Plug Computer 3.0 design adds WiFi, Bluetooth, and a built-in hard drive, and moves up to a new 2GHz Armada 300 version of its ARM-based Armada processors.
Marvell announced its first Plug Computer reference design last February along with an accompanying open source, Linux-based SheevaPlug development platform that is also available with the new device.
The Plug Computer 3.0 has a wider range of applications than the original, which was focused primarily on network-attached storage (NAS) and media server duties. New applications are said to extend to management of medical and financial records, as well as home monitoring jobs like remote management of lights, thermostat, and irrigation systems. Additional matches might include security and access control, smart grid, industrial automation, agricultural, and mesh and grid computing applications, says Marvell.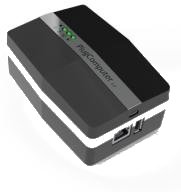 Marvell's PlugComputer 3.0
Marvell offered few details on the new device, except that it moves up from the 1.2GHz Marvell 88F6000, or
"Kirkwood" SoC
to the new 2GHz Marvell Armada 300 processor. (More on the Armada 300, as well as new details that Marvell is offering on its HD-ready mobile media processor, the Armada 610, may be found farther below.)
The company did not list the memory allotment for the Plug Computer 3.0 (the previous model had 512MB of DRAM and 512MB of flash), nor did it mention the size of the new embedded hard disk drive. All the company would say about the new WiFi or Bluetooth radios was that they were based on Marvell technology.
Judging from the photo above, the Plug Computer 3.0 maintains its gigabit Ethernet port and at least one of the two previous USB 2.0 ports. The company did say that "additional peripherals such as Direct Attached Storage (DAS) can be connected using a USB 2.0 port."
The original Plug Computer was notable for its power consumption of below five Watts. Marvell does not list power statistics, but says that the new device still plugs directly into a wall socket and "maintains a very low-power footprint — making Plug Computers more powerful, eco-friendly and efficient." The company also said the device is designed to "draw less than one tenth of the power of a typical PC being used as a home server." The Armada 300, meanwhile, is said to draw less than two Watts.
Despite the minimal information available now, it appears that the company will continue its successful strategy of offering a completely open platform with both hardware design and software development details made available to developers. Multiple standard Linux 2.6 kernel distributions, including Fedora, Ubuntu, Debian, and Gentoo, are supported on the Plug Computer 3.0's SheevaPlug development platform, says the company.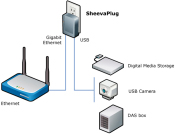 Plug Computer in
typical configuration
(Click to enlarge)
Whereas the original device targeted products that can be sold for about $100, no pricing target was offered for the Plug Computer 3.0. Last May, Marvell CEO Sehat Sutardja told the The New York Times that within two years, Plug Computer devices should be available for $40, opening up even more potential applications.
Armada 300
The original Plug Computer design was built around the high-end 88F6281 version Marvell 88F6000 "Kirkwood" SoC, which uses a Sheeva CPU core clocked to 1.2GHz. The Sheeva core combines elements of Marvell's earlier Feroceon and XScale architectures, both of which implemented ARM Ltd.'s ARMv5 architecture, similar to ARM Ltd.'s own "ARM9" cores.
The Plug Computer 3.0 moves up to the Armada 300, which was announced last month and touted for its 2.0 GHz performance, making it "the industry's most powerful processor for applications utilizing the ARM instruction set," according to Marvell. The Armada 300 is based on the same Sheeva PJx architecture used in the original four Armada SoCs announced in October — the Armada 100, 500, 600, and 1000 models. However, the Armada 300 almost doubles the clock speed of the top-ranked 1.2GHz Armada 1000, although it lacks that SoC's dual-core design.
The Armada 300 is also touted for its low power consumption, claimed to be below two Watts. The Armada 300 is designed specifically to support the Plug Computer 3.0 by integrating functionality supporting its media server applications, as well as adding "new levels of advanced sensor processing for consumer devices," says Marvell.
HD-ready Armada 610 to be showcased at CES
Marvell did not offer further details on the Armada 300, but it did provide some more information on the Armada 610 model, which was announced in October. Touted for its integrated 1080p full-HD encode and decode capability, and 3D graphics support, the SoC is sampling now and on display at CES this week. The Armada 610 targets e-readers, mobile Internet devices (MIDs), tablets, smartbook/netbooks, connected portable media players, smartphones, and new personal information appliances, says Marvell. As such, it appears to compete with mobile media processors such as Qualcomm's Snapdragon and Nvidia's Tegra.
The Armada 610 offers an ARMv7 core like that of the Armada 510, but clocks it down to 1GHz and features "ultra low power operation," according to Marvell. The Armada 610 works with LPDDR1 and LPDDR2 memory as well as DDR3 RAM, with speeds ranging from 400MHz to 1066Hz. Second-level cache is pared to 256KB.
New information offered by Marvell includes the presence of "a highly flexible display controller," touted as being capable of four simultaneous displays at greater than WUXGA resolution. The SoC also incorporates a security subsystem that includes a secure execution processor.
The Armada 610's 3D engine can display 1080p video and screen resolutions up to 2000 x 2000 pixels, says Marvell. The 3D engine supports Open GL ES 2.0 and 1.1 and Open VG, and can render full 2D/3D graphics with "a complete floating point pipeline and unified vertex and fragment/pixel shading," says the company. The engine is further claimed to offer 45M triangles per second, enabling an immersive game-play experience.
Peripheral support includes the MIPI DSI display, MIPI CSI camera, MIPI HSI, and MIPI SLIMbus, says Marvell. Additional interfaces are said to include USB 2.0 HSIC, SD/SDIO/MMC, embedded MMC (eMMC), HDMI with PHY, and "a standard set of lower bandwidth peripherals." The latter includes support for legacy peripherals such as parallel LCD and parallel camera interfaces with integrated laser scanner support, says the company.
Marvell supports the Armada 610 with board support packages and reference boards, the latter incorporating the Armada 610 along with Marvell WiFi and cellular technologies. The development platform supports Linux, Android, Windows Mobile, and Windows CE, says the company.
Plug Computer background
Less than a year old, the Plug Computer has already been integrated into a wide variety of NAS and media server devices. Early hardware licensees of the SheevaPlug design include Ctera Networks for its CloudPlug NAS device, and CloudEngines for its Pogoplug, which enables remote viewing of external storage devices via a web browser. The popular, consumer-focused Pogoplug recently came out in a new version that adds additional USB ports, as well as new synchronization, multimedia sharing, and social networking integration features.
Other products based on the Plug Computer include Seagate's FreeAgent DockStar, WebTView's WebTVPlug IPTV receiver, and Eyecon Technologies' media "control point" reference design. Marvell also announced last year that networked-attached storage (NAS) device vendors Buffalo, D-Link, and LaCie would offer SheevaPlug-based NAS devices.
Stated Dr. Simon Milner, VP and GM, Enterprise Business Unit, Communications and Consumer Group at Marvell, "Following the shipment of more than 10,000 SheevaPlug development kits to date, we're confident that this will be a transformational year, where innovative concepts organically fuel a new generation of rich applications to go hand-in-hand with the always-on lifestyle."
Availability
Marvell did not offer pricing or availability information on the Plug Computer 3.0 or the Armada 300 SoC. However, it did say that Plug Computer 3.0 development kits will be available through Plug Computer vendors such as Globalscale Technologies Inc, Ionics EMS, and Universal Scientific Industries Co.
More information on the products may eventually be found here, although at presstime there was very little about the new 3.0 version. Better yet, hop on a plane to Vegas and check out the Plug Computer Pavilion at the Consumer Electronics Show (CES) at South Hall #30344.
Nearby, Marvell is showing off the Armada 610 SoC at its own booth (South Hall #30642). The Armada 610 is currently sampling to early customers, says the company. More information may eventually be available at this bare-bones page, here.
---
This article was originally published on LinuxDevices.com and has been donated to the open source community by QuinStreet Inc. Please visit LinuxToday.com for up-to-date news and articles about Linux and open source.