May 29, 2001 — by Rick Lehrbaum — from the LinuxDevices Archive — 16 views
Dallas based "Team TuxBot" went to the recent BattleBots competiton in San Francisco with high hopes of being one of the first — if not the first — competitor in the popular rough-and-tough gladiator-style robotic event to boast Linux-based embedded intelligence. While the rolling trapezoidal 'bot fought well — and carried its Linux colors into battle — it did so without the benefit of its MZ104-based embedded Linux computer, due to safety regulations that the design doesn't currently meet.
According to TuxBot programmer Eric Molitor, Team TuxBot will have "Violator" ready for competition with Linux onboard within three months, in time for the next BattleBot event. "We've basically dubbed this one 'Violator 0.1," quipped Molitor.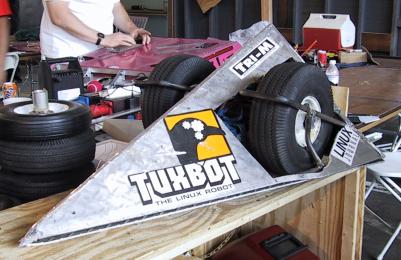 Team Tuxbot's "Violator"
In preparation for this past weekend's San Francisco competition, Brainfood issued the following press release . . .
---
Brainfood Inc. competes in Comedy Central's BattleBots competition
Brainfood competes with a Linux powered robot in the middleweight class preliminaries for the BattleBots TV show in San Francisco.
San Francisco, CA — (press release) — Dallas-based technology group Brainfood has joined the fray in robotic demolition! Team TuxBot, Brainfood's robot team, is currently battling their way up to the championship BattleBots show airing on Comedy Central in the fall.
Team TuxBot of Brainfood Inc. has created a monster! Lovingly referred to as 'Violator', their remote-controlled, Linux-powered (Debian) robot is competing in the BattleBots preliminary competition this week. Sponsored by Brainfood Inc., Linux Journal, and Tri-M Engineering, 'Violator' was engineered to promote open source software and the power of the free Linux Operating System.
The Team has been dealing with the middleweight BattleBot for a number of weeks. "It was a real challenge to figure out what would be the most effective method of tearing up other bots," replied Jerry Pommer, engineer on Team TuxBot, when he was asked about the performance of the Brainfood BattleBot 'Violator'. "From the tests we have made, there is a really good chance of us succeeding."
"Our team is psyched! Even though there is some really tough-looking competition, we are ready to kick some ass!!" commented Ean Schuessler, leader of Team TuxBot, when asked about the team's creation.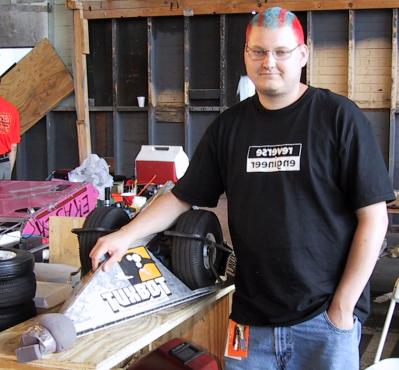 TuxBot with programmer Eric Molitor
"Violator is our first attempt at robotic combat engineering. We put everything we had into this thing that the time allotted. And with less than 2 months of engineering time I consider it 75% of what our original plan entailed. Just wait till this thing is 100% and we roll out our next bot. (Secret Project PinHead)", stated Eric Molitor, System programmer for Team TuxBot.
Linux Journal and Tri-M Engineering have generously donated time and equipment for the completion of the 'Violator', which competes in the middleweight class (fifty pounds and under) preliminaries this week in San Francisco.
At the core of the Violator BattleBot is an onboard computer nicknamed The HAL 1/9000–a MZ104 SBC generously donated by Tri-M Engineering. Also onboard are a ZFLinux 586-133 MHz CPU, 32 MB of RAM, Compact Flash/FlashPROM Storage, 802.11b Wireless LAN, and 900 MHz Wireless Internet. "Overkill… Perhaps. Kill being the keyword here," laughed Jerry.
Jerry states, "Basically, 12-volt batteries power Violator's core which receives instructions from a Futaba Radio Transmitter. The HAL 1/9000 decodes these movement instructions using custom code we made to tell the dual DeWalt Drill Motors which direction to rotate and at what speed."
Any and all winnings from BattleBots will be given to charitable organizations such as The Free Software Foundation and the Electronic Frontier Foundation.
---

This article was originally published on LinuxDevices.com and has been donated to the open source community by QuinStreet Inc. Please visit LinuxToday.com for up-to-date news and articles about Linux and open source.