Mar 18, 2008 — by Eric Brown — from the LinuxDevices Archive — 17 views

[Updated: March 19] — Taiwanese manufacturer Synology has shipped an AJAX-enhanced upgrade to browser-based management software it ships with its hackable Linux-based NAS systems. Disk Station Manager (DSM) 2.0 extends Synology's NAS devices with features such as video surveillance, photo blogging, and game system… support.
(Click for larger view of the Synology CS407)
NAS devices typically use ultra-low powered system-on-chip processors optimized for power efficiency in storage applications. As a result, many NAS devices have drawn criticism for having slow web-based user interfaces. Synology claims that by incorporating AJAX (asynchronous Javascript and XML), it has pepped up interactive UI processes. Given that Javascript executes on the client rather than the host, any speedup likely requires a fairly powerful client PC, however.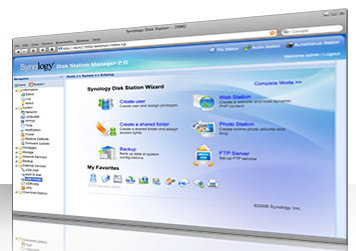 Synology Disk Station Manager 3.0
Other touted new features in the new DSM UI include:
More familiar and intuitive features like wizards
"Surveillance Station" option aims to convert a Synology NAS device and connected IP cameras into a network video recorder (NVR). It works with multiple network cameras, and supports both continuous and motion-detection modes, Synology said.
Upgraded Photo Station 3 web-sharing application adds blogging support, and support for streaming media to Sony PS3 and Microsoft Xbox360 boxes via digital media adapters, Synology said.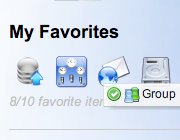 DSM 2.0's icon-based interface
More traditional network storage applications have also been enhanced, Synology claims. New capabilities here include on-the-fly RAID 5 volume expansion when a new drive is added, "without volume deletions and re-creations"; more streamlined backups, and encrypted backup.
Synology DMS 2.0 works with the company's Linux-based Cube Station (CS), Rack Station (RS), and Disk Station (DS) NAS devices. The lower-end models in each category use a Freescale MPC8241 PowerQUICC III system-on-chip (SoC) while the more powerful units use a Marvell 5281 SoC. All are said to offer SATA 3.5-inch hard disk drive (HDD) support, Windows Active Directory Server authentication, USB printer sharing, and data backup.
Recent Synology models include:
CS407 — The Cube Station four-bay server is targeted at small to mid-sized businesses. Based on a 500MHz Marvell 5281 processor with 128MB of RAM, the device is equipped with four hot-swappable 3.5-inch internal hard drives for a maximum of 4TB of storage, with RAID 1/5 protection. It also offers two external HDD interfaces via USB 2.0 ports.

An RS407 model is identical except that it comes in a IU rackmount format and and offers hot-swappable drives. There's also a lower-cost CS407e version of the Cube Station that uses a Freescale MPC8241 clocked at 266MHz with only 64MB RAM.


CS407 (left) and DS207+


DS207+ — The tower-format Disk Station is a two-bay server aimed at the small business market. It is equipped with a Marvell 5281 clocked at 500MHz, backed up by 128MB RAM, and offers RAID 1 protection for up to 2TB of internal storage. The DS207+ also has three USB 2.0 ports plus an eSATA port. A lower-cost DS207 version for the home market sports a Freescale MPC8241 running at 266MHz and lacks the eSATA port.
DS107+ — Similar in format to the DS207+, but aimed more at the SOHO market, the DS107+ differs in that it lacks RAID support and offers only a single bay for 1TB of maximum storage. It is equipped with a Marvell 5281 clocked at 500MHz like the DS207+, but comes with either 64MB or 128MB of RAM. Like the DS207+, it offers three USB 2.0 ports plus an eSATA port. A lower-cost DS107 version aimed at the home market uses a using Freescale MPC8241 clocked at 266MHz and offers only 64MB of RAM. There is also an older home-oriented 106j version that runs at only 200MHz with 32MB of RAM.
Synology also sells two home and personal storage USB-based devices not supported by DSM 2.0: the USB Station and the personal iUSB device.
Earlier models of some of the above devices, especially the DS101, have been hacked by the Linux NSLU2 community, which started out by exploring the Linksys NSLU2 (aka "Slug"). Hacks such as Slim Server integrations and Angstrom ports can be found at the NSLU2 Synology page. In October 2007, Synology "opened up" to the hacker community by enabling Telnet access for its NAS products. The company also offers a modder forum and modder wiki. As allowed by the GNU GPL, the company charges a modest shipping and handling fee for each GPL source request that it fulfills.
Availability
Synology Disk Station Manager 2.0 is pre-installed on all new Synology NAS products, says the company, and can be downloaded for users of most existing models here. Hardware street prices range from about $340 for a drive-less DS107+ to about $600 for an unpopulated CS407 and $2,000 for the fully loaded 4TB version.
---

This article was originally published on LinuxDevices.com and has been donated to the open source community by QuinStreet Inc. Please visit LinuxToday.com for up-to-date news and articles about Linux and open source.