Apr 18, 2011 — by Eric Brown — from the LinuxDevices Archive — 3 views
Libelium announced an updated version of its Debian Linux-based multi-protocol mesh router and sensor network gateway, now including dual database servers. The Meshlium Xtreme includes Ethernet, Wi-Fi, Bluetooth, GPS, and GPRS, offers local or external database options, and enables the transmission of SMS alarms to GSM-enabled mobile phones, says the company.
Libelium announced its original Meshlium router in 2008. Like the Meshlium and Libelium's later, outdoor-mountable N-Vio WiFi routers, the Meshlium Xtreme runs on Libelium's Debian GNU/Linux-based OS.
Like the original Meshlium, the Xtreme supports wireless mesh networks, which enable quick daisy-chaining of networks in areas lacking infrastructure. Each router can serve as a repeater for the other routers, letting users extend the range from a wired network drop simply by adding more devices, creating a "mesh" of overlapping radio coverage areas.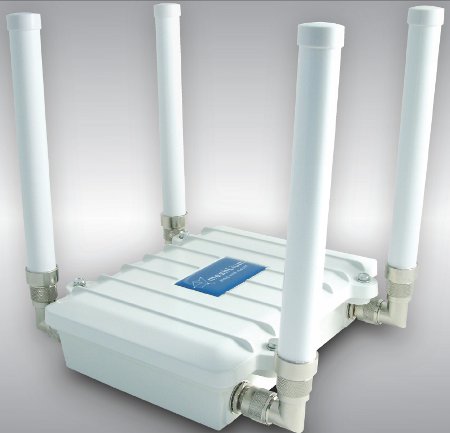 Meshlium Xtreme
(Click to enlarge)
According to Libelium, the new Meshlium Xtreme "uniquely" supports five wireless standards — Wi-Fi, ZigBee (802.15.4), GSM/GPRS, Bluetooth, and GPS — as well as offering wireline Ethernet. Three Internet connections can be offered at once. Typically, the wireless router collects input from ZigBee-enabled sensors. It then transmits the data to a central computer or to other Meshlium routers via GSM/GPRS, Wi-Fi, or Ethernet (see diagram below).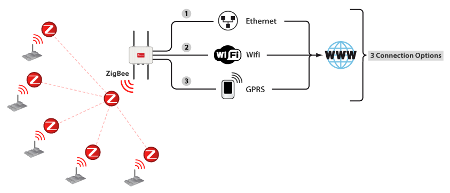 Typical Meshlium Xtreme deployment


(Click to enlarge)
Mobile mesh networks are supported with the help of GPS and Bluetooth, which are optional on nine of the ten models available. The GPS module enables real time location by providing parameters such as latitude, longitude, and speed in real time, says Libelium.
The Bluetooth module includes a "discover and store" application that allows Meshlium to scan and store the MAC addresses of users in a database in order to track their routes. Other features are said to include the ability to transmit SMS alarms to GSM-enabled mobile phones.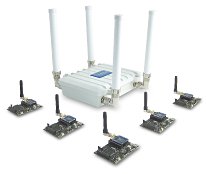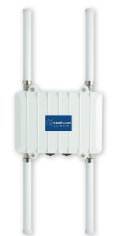 Meshlium Xtreme with Waspmote mote sensors (left) and Xtreme with antennas deployed flat
Ten versions of the Meshlium Xtreme are available with various options, including 2.4GHz (802.11b/g) and 2.4GHz/5GHz (802.11a/b/g) Wi-Fi radios. The Wi-Fi radios provide access to internally-stored sensor data, as well as act as an Internet access point. The latter can be set up within a minute, says the company.

Libelium offers a Waspmote mote-sensor platform (pictured) designed to work with the Meshlium Xtreme routers. Waspmotes are not required for Meshlium networks or vice versa, but the two are said to be optimized for use together. The Waspmote is available with a Linux IDE for C++ development.
A key advancement in the Xtreme line is the addition of local and external database support. Two database servers are supported, with a choice of three options: local file system, local data base, and external data base.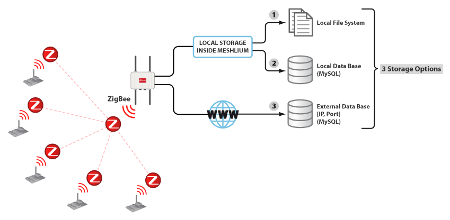 Typical Meshlium Xtreme deployment showing database options
(Click to enlarge)
Physically, the device appears to be very similar to the original, offering an unnamed 500MHz x86-based processor, likely an AMD Geode LX800. The system has 256MB DDR memory, and now comes standard with 8GB flash memory, expandable to 16GB or 32GB, says the company.
The Meshlium Xtreme's four antennas are now 5dBi omnidirectional instead of dipole models, and the device is now said to be protected from the elements by an aluminum IP67 waterproof enclosure. Operating temperature has been expanded downward, so the Meshlium Xtreme is now said to support -4 to 122 deg. F (-20 to 50 deg. C) operation.
Meshlium Xtreme options include mounting kits for streetlights and vehicles, where the device can be powered by a car battery Solar panel kits are also available. Otherwise, the device can be powered by Power over Ethernet (PoE), says the company. Consumption is said to typically run at 270mA .
As before, the router runs a Debian Linux distribution, and offers open-source "Meshlium Manager System" software made available via an onboard web server. Based on AJAX and the PHP scripting language, the software offers graphical visualizations of the status of communicating interfaces, networks, mesh configuration, cryptography, and intercommunications with other linked Meshlium networks.
Specifications listed for the Meshlium Xtreme include:
Processor — 500MHz x86
Memory — 256MB DDR
Flash — 8GB, 16GB, or 32GB
Antennas — 5dBi omnidirectional
Wi-Fi (2.4GHz and 2.4GHz/5GHz) — Atheros AR5213A
ZigBee — XBee-PRO (IEEE 802.15.4)
Bluetooth — BT100 Bluetooth 1.1
Cellular — quad-band GSM/GPRS (Hilo)
GPS — Vincotech A1084; -159dBm tracking sensibility
Security — Authentication WEP, WPA-PSK, HTTPS, and SSH access.
Data base support — 2 x database servers with choice of local file system, local data base, and external data base
Power:

5W (18V)
270mA normal consumption; 450mA high
PoE capable, with solar panel, car lighter, and battery support

Operating temperature — -4 to 122 deg. F (-20 to 50 deg. C)
Ruggedization — IP67 external protection
Weight — 2.6 lbs (1.2Kg) without antennas
Dimensions — 8.27 x 6.89 x 1.96 inches (210 x 175 x 50mm); car and streetlight mounting kits optional
Operating system — Debian-based Linux with Madwifi drivers; Meshlium Manager System
Prior to the introduction of the Waspmote sensor devices, Libelium offered an open source, ZigBee-enabled SquidBee mote sensor that appears to have been discontinued. The SquidBee was based on an Arduino microcontroller module design, and Libelium continues to host the Arduino Open Hardware Contest, which recently opened for 2011 contributions, due May 31.
Stated Libelium CTO David Gascón, "Meshlium Xtreme delivers a completely flexible gateway to the Internet for operators of ZigBee sensor networks."
Availability
The Meshlium Xtreme appears to be available now. More information, including a request for pricing page, may be found at Libelium's Meshlium Xtreme page.
---
This article was originally published on LinuxDevices.com and has been donated to the open source community by QuinStreet Inc. Please visit LinuxToday.com for up-to-date news and articles about Linux and open source.