May 9, 2008 — by Eric Brown — from the LinuxDevices Archive — 54 views

Zaragoza, Spain-based Libelium announced an x86-based multi-protocol mesh router with a Debian GNU/Linux-based OS and a user-extensible browser-based open source management interface. The modular "Meshlium" router targets ultra-long-range Zigbee-based sensor networks, fleet tracking with least-cost GPRS/WiFi… routing, and multiprotocol WiFi/Bluetooth hotspots.
(Click for larger view of the Meshlium router)
Wireless mesh networks enable quick daisy-chaining of networks in areas lacking infrastructure. Each router can serve as a repeater for the other routers, letting users extend the range from a wired network drop simply by adding more devices, creating a "mesh" of overlapping radio coverage areas. Other Linux-based mesh routers include Saxnet's Meshnode III, the Meraki Mini, and the Marvell Libertas controller/radio built into the One Laptop per Child XO system.
Each Meshlium router is based on a 500MHz x86-based processor, likely an AMD Geode LX800. The system has 256MB DDR memory, and 100MB of flash memory, expandable to 32GB in 8GB increments, says Libelium. Developers can mix and match a variety of communications modules for various distances, bandwidth requirements, and applications:
WiFi with MadWifi drivers:

2.4GHz low power (100mW)
2.4GHz/5GHz high power (600mW)

Bluetooth 1.1 for short-range communications (200 meters, or over 650 feet)
ZigBee module based on a 100mW XBee-Pro radio
Dipole antennas are available for all of the above radio modules. The Zigbee module is claimed to work at distances up to a mile (1,600 meters), when the low-power protocol is piggybacked onto a WiFi carrier. A TriBand GSM/GPRS cellular modem (900MHz/1800MHz/1900MHz) module is also available for longer-distance links.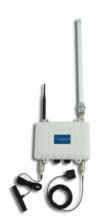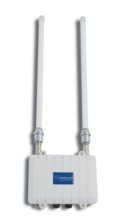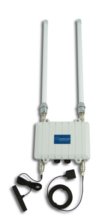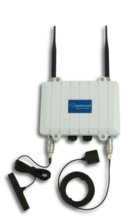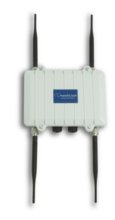 Meshlium router with various antennas
(Click any image to enlarge)
Each router can be powered through a Power Over Ethernet (POE) connection, but also comes with a battery for outdoors use claimed to last from four to 14 days, depending on options and usage, says the company. There are also automobile-power and solar-panel options, as well as a enclosure.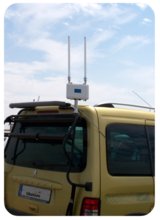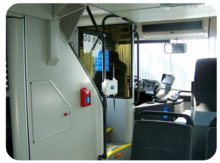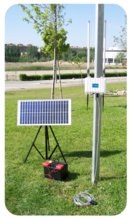 Meshlium router in car, bus, and solar-powered installations
(Click any to enlarge)
The Meshlium runs the Debian-based Voyage Linux distribution compiled with the 2.6.23 kernel. It comes with open-source "Meshlium Manager System" software made available via a web server on the device. Based on AJAX and the PHP scripting language, it offers graphical visualizations of the status of communicating interfaces, networks, mesh configuration, cryptography, and intercommunications with other linked Meshlium networks. The GPS interface is said to integrate Google Maps.
Libelium is planning to release an API to enable the development of custom management plugins. Meanwhile, the site offers a wealth of documentation, letting developers start exploring the hackable, open-source, system in-depth.

Libelium's SquidBee mote sensor
The Meshlium is said to be compatible with Libelium's ZigBee-based SquidBee "mote" sensor (pictured at right), which is built entirely with open-source hardware and software. Intended as a common platform for universities and research centers developing sensor networks, the SquidBee is based on Arduino, an I/O board with 11 digital and six analog inputs that supports a wide variety of sensors, including GPS, temperature, humidity, light, presence, and pressure.
Specifications listed for the Meshlium include:
Processor — 500MHz x86
Memory — 256MB DDR
Flash storage — 100MB (8GB to 32GB optional in 8GB increments)
Antennas — 5dBi Dipolo
WiFi 2.4GHz low power — 802.11b Atheros AR5213A
WiFi 2.4GHz/5GHz normal power — 802.11b Atheros AR5414
ZigBee — XBee-PRO (256Kbps)
Bluetooth — BT100 Bluetooth 1.1 (721Kbps)
Cellular — Tri Band GSM/GPRS – 900MHz (EGSM) Class 4- 2W; 1800MHz (DCS) Class 1 – 1W; – 1900MHz (PCS) Class 1 – 1W; uplink 42.8Kbps, downlink 85.6kbps
GPS — Tyco A1037-A
Power — 5W -15W (min. 7V, max. 20V)
Power consumption — 240mA (high-current consumption 450mA)
Operating temperature — 32 – 122 degrees F (0 – 50 degrees C)
Weight — 2.6 lbs (1.2Kg) without antennas
Operating system — Debian-based Voyage Linux
Availability
The Meshlium appears to be shipping now, with a typical pricing between 525 Euros (currently about $811) and 900 Euros, depending on choice of WiFi radios. Communications modules range between an extra 150 Euros (Bluetooth) to 330 Euros (ZigBee), and 8GB of storage costs 75 Euros. More pricing and ordering information should be available here. An English-language developers section is available, which includes hardware and software details and two mailing lists, here.
---

This article was originally published on LinuxDevices.com and has been donated to the open source community by QuinStreet Inc. Please visit LinuxToday.com for up-to-date news and articles about Linux and open source.