Nov 19, 2008 — by LinuxDevices Staff — from the LinuxDevices Archive — 1 views

[Updated 12:50PM] — Neuros Technology is shipping a set-top box aimed at delivering Internet video on-demand to high-definition TVs. The $300 Neuros LINK works with a free Neuros.TV service to let users play popular video content on-demand, without subscribing to cable or satellite television broadcast services,… Neuros says.
(Click for larger view of Neuros LINK and Keymote)
Once envisioned as a powerful information sharing network, the Internet has arguably morphed into just another television channel, and one with the lowest possible barrier to publishing. Issues of quality aside, the Internet does offer one compelling advantage over broadcast media channels — the promise of asynchronous or on-demand playback.
This is where the LINK comes in. Combined with a free "Neuros.TV" service, it aims to provide a convenient system for discovering, downloading, and playing back video from the increasing body of video content available on-demand over the Internet.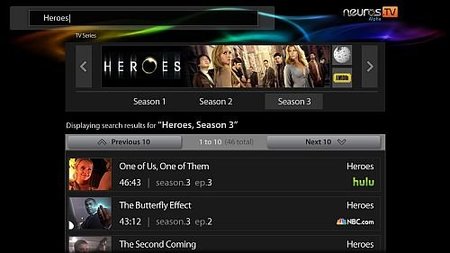 The Neuros Link service
(Click to enlarge)
Supported content sites listed by Neuros include Hulu, NBC, CNN, YouTube, Fancast, and CBS. Specifically supported shows listed by the company include:
Family Guy
YouTube
24
30 Rock
The A-Team
Arrested Development
Babylon 5
Burn Notice
Chuck
The Colbert Report
The Daily Show with Jon Stewart
Family Guy
Friday Night Lights
Fringe
House
It's Always Sunny in Philadelphia
Kath & Kim
King of the Hill
My Name is Earl
NOVA
The O.C.
Prison Break
Rescue Me
Saturday Night Live
Terminator: The Sarah Connor Chronicles
What's under the hood?
The LINK itself is a small, nearly silent (27dB) mini-ITX system. Instead of the low-powered TI RISC/DSP processors used in earlier Neuros designs, it opts for a more mainstream AMD Athlon 1640 processor, clocked at 2.6GHz. Supporting the chip is AMD's +780g chipset. The system has 1GB of RAM, and boots from 4GB of Flash. It eschews a hard drive. The system is currently based on an off-the-shelf Asus board, but the supplier may change as production ramps up, Neuros said.
The LINK runs a Linux distribution based on Ubuntu 8.10 ("Intrepid Ibex"). It includes all the most popular open source video players, including mplayer, VLC, and Xine. Additionally, the LINK's software stack is completely user-modifiable, and the company has traditionally sought to involve community developers by offering "bounties" for the successful execution of various coding projects. Thus, over time, Neuros's products become more capable, it maintains.
Other salient features of the LINK, as listed by Neuros, include:
Play back 1080p video encoded in H.264
HDMI output up to 1080p (1920 x 1200)
"High-definition" 6-channel audio output
Optical S/PDIF output
Gigabit Ethernet
Builtin 802.11b/g WiFi
Six-plus USB 2.0 ports
Under 27dB of noise
RF (2.4GHz) wireless keyboard trackball controller ("keymote")
For about five years now, starting with its original OSD ("open source device"), Neuros has worked to leverage open hardware and software in a mass-market product. The original OSD aimed to help video service subscribers transcode content for playback on mobile devices. Other early product efforts sought to distribute multimedia content around the home. The new LINK, however, appears to have far more mainstream appeal than any of the small, Chicago-area company's earlier marketing efforts.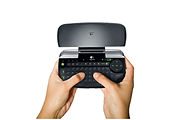 An alternative to
the "keymote"
The weak link in products that connect computers with TVs is usually the human-machine interface (HMI). Computers are generally controlled with a keyboard, while set-top boxes have remote controls. Neuros here seeks to span the gap with a "keymote" that connects the user to the device using the unregulated 2.4GHz RF spectrum (presumably calibrated not to interfere with the LINK's built-in 802.11b/g WiFi).
The choice of RF over IrDA is commendable. A/V gear should be heard, but not seen, in our opinion, and RF allows gear to be hidden in a closet. But, we're skeptical of wireless keyboards in general, due to their penchant for chewing up batteries at a rapid rate. Meanwhile, 25-foot USB cables and USB keyboards are widely available, and should work fine with the OSD 2.0 hardware. Yet another option is Logitech's "Dinovo" thumb keyboard, pictured at right, according to Neuros.
Availability
The LINK is available now, priced at $300. It requires a T1-speed or better DSL line (1.5Mbps or faster). It also requires a TV or projector with HDMI input. More details can be found here.
---

This article was originally published on LinuxDevices.com and has been donated to the open source community by QuinStreet Inc. Please visit LinuxToday.com for up-to-date news and articles about Linux and open source.