Sep 16, 2008 — by LinuxDevices Staff — from the LinuxDevices Archive — 19 views

Neuros Technology has started shipping its second open set-top box, which targets both consumers and product companies. The high-definition capable "Open Source Device 2.0" (OSD 2.0) runs several open Linux stacks on a tiny TI Davinci-based CPU module delivered with a mini-ITX I/O board and enclosure.


Original OSD
(Click for details)
Neuros launched its original OSD (pictured at right) in Sep. of 2006, in a release aimed at developers. That device eventually found favor with consumers, who used it as a tiny DVR (digital video recorder) capable of encoding analog broadcast and cable television streams and storing them on removable storage, for playback on mobile devices such as PMPs (portable media players). The OSD's open, hackable Linux operating system also resulted in its adaptation as a UPnP music server by a Google "Summer of Code" participant, among other interesting uses. To encourage community involvement, Neuros offered cash bounties to developers willing to take on challenges such as TiVo integration.
Neuros announced the OSD 2 — then dubbed the "Open Internet Television HDPlatform" — in April of this year. Supplying early-release hardware to qualifying developers, it also launched at the time a "six month phased program" of development bounties aimed at getting the open source community to help "build and optimize" the new hardware design, and create software for it.
Compared to the original OSD, the OSD2 adds the ability to encode high-definition video at 720p in MPEG-4, and D1 resolution in the H.264 format. Neuros CEO Joe Born, in a phone interview, said, "What really makes this hardware compelling is its ability to encode from an analog input."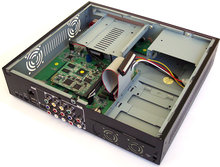 Neuros OSD2, front, open, and back
(Click any view to enlarge)
Supplied with free "as in beer" codecs from TI that take advantage of the device's DSP (digital signal processor) core, the OSD2 can encode H.264 D1 resolution (DVD quality) video from an analog source, then upscale it for output at 1080i, or transcode it for viewing on a PMP (portable media player). "It could be a great $250 MythTV, recording video that looks great on a TV or an iPhone," Born said.
A "super-reference design"
The OSD2 aims to be more than just a consumer device, however. Describing it as a "super-reference design," Born explained that one aim for Neuros has been to create an open hardware design that can be used as the basis for other products, by customers who want to make set-top boxes, but do not want to design their own hardware. "We're trying to do for the TV set what the IBM PC did for the computer — provide an open platform so Visicalc doesn't have to be in the hardware business," Born explained.
Another goal, Born suggested, was to build a hardware target that would appeal to open source software developers. The more complete the software ecosystem that grows up around the device, the higher the level at which product companies and individual developers can innovate, he suggested. The OSD2 debuts with a port of the DirectFB project's interesting Disko framework and complete "MorphineTV" DVR software stack, according to Born.
Also available, albeit with a few "rough edges," Born says, is a port of the increasingly ubiquitous VLC cross-platform media player, which runs on Linux, Windows, and MacOS. Born commented, "VLC is great at playing and transcoding, for doing 'SlingBox' type content delivery over the Internet, or for recording for portable devices."
According to Born, the OSD2 has already chalked up customer wins with product companies. He cited examples that include:
WhereverTV, primarily a digital TV software and services provider that used the original OSD as the basis for its WhereverTV Receiver appliance product, and has now ported its software stack tg the OSD2
Hupla, a vendor of hardware/software reference designs for IPTV, DVRs, and "communications devices," which will port its framework for videophones and
media players to the OSD2
Hardware specifications
The heart of the OSD2 is a "DM6446M02" processor module using a custom form factor described as "30 percent larger than a credit card." The module is powered by a TI DaVinci 6446 chipset, and has 256MB each of RAM and NAND flash soldered onboard.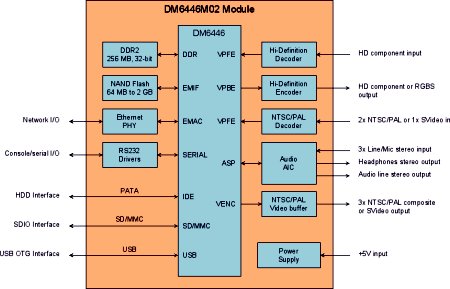 DM6446M02 module diagram
(Click to enlarge)
The DM6446M02 CPU module mates to an I/O baseboard, as shown below.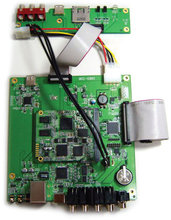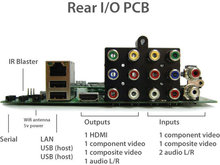 OSD2 CPU module, top and front views
(Click either to enlarge)
The OSD2's baseboard offers real-world I/O connectors that include:
Serial port
IRBlaster port
Wifi antenna connector
10/100 LAN
2 x USB host ports
A/V Out:

HDMI
Component
Composite
Stereo audio

A/V In:

Composite
Component
2 x stereo audio
Additionally, the baseboard connects via ribbon and power cables to a small front I/O board that adds an SD card slot, IR receiver, USB host port, composite video in, and a pair of LEDs.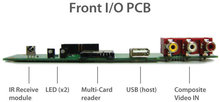 Front I/O board
(Click to enlarge)
On the software side, the OSD2 is completely open to the installation of user-modified software — in contrast to DVRs like the TiVo, whose locked bootloader led GPL 3.0 co-author Richard M. Stallman to coin the word "Tivo-ization." The OSD2 also comes standard with a Linux-based firmware stack. Delivered in upgrade cycles based on downloadable binary images, the stack is said to support a wide variety of A/V file formats — a complete list can be found here. More information about the standard software stack, meanwhile, may be found here.
Another "open source device" company is OpenMoko, a user-modifiable mobile phone design recently tapped for an educational program and a datacast receiver, as well as the earlier Dash Express personal navigation device.
Availability

The OSD2 is available now, packaged for consumers, priced at $250, including the accessories shown at right (click photo to enlarge).
Additionally, the OSD2 is available at discounted pricing to volume customers. For example, the DM6446M02 processor module by itself, sans mini-ITX carrier board and case, goes for $130 in quantities of 100, Born said.
More details may be available on Born's blog, here.
---

This article was originally published on LinuxDevices.com and has been donated to the open source community by QuinStreet Inc. Please visit LinuxToday.com for up-to-date news and articles about Linux and open source.